This Seafood Curry is bursting with robust Cape Malay flavors that will transport you to South Africa with every bite.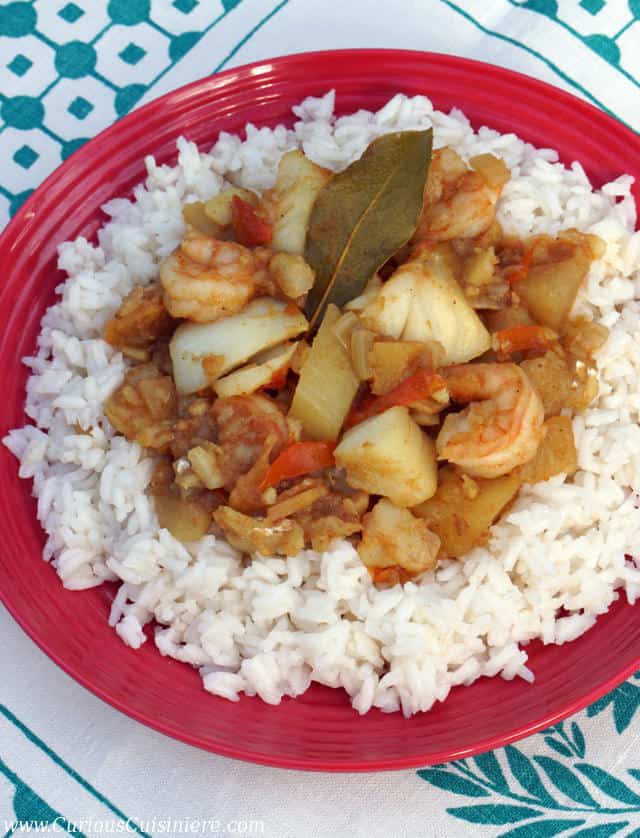 "One, Two! One, Two, Three! All together now!"
These words being shouted from a stage at a multi-national group of tourists visiting Cape Town might not seem like the typical start to dinner. But, then again, dinner at Gold Restaurant in Cape Town is no ordinary experience.
Dinner at Gold Restaurant in Cape Town
Before sitting down to our meal, we were ushered into a large room and each given a traditional djembe drum . On stage before us, two drummers in traditional African dress beat out rhythms and taught us some drumming basics.
We worked up quite an appetite drumming, which was a good thing, because it got us ready for the 14-item fixed menu that they call an "African taste safari".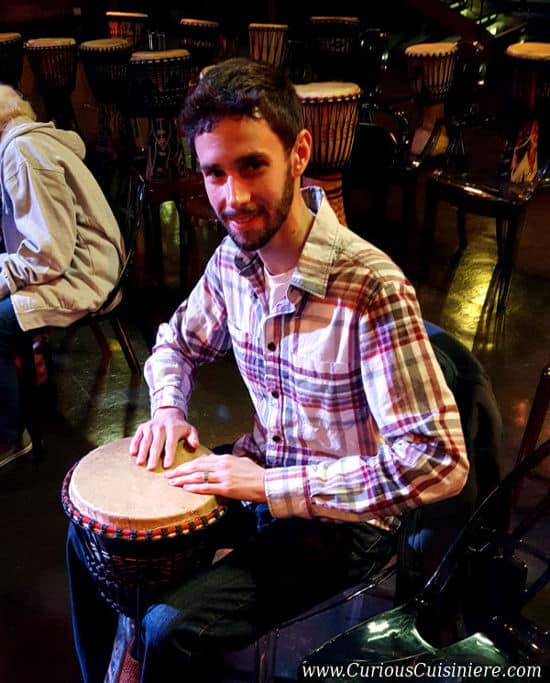 The meal proved to be a beautifully crafted ride of flavors from throughout the African continent. We tasted xhosa bread from South Africa, a refreshing dip called lab from Ethopia, mango chicken from Tanzania, and a cashew cake called bolo polana from Mozambic, in addition to MANY other dishes.
Between the courses, we were entertained by traditional dancing, singing, and drumming. The performers were so energetic that it was hard not to find yourself tapping your foot or even joining in the dancing!
One of the dishes we were served from South Africa was a Cape Malay Seafood Curry. We loved the robust richness of the dish and the way the flavor of the spices permeated the seafood. While in Cape Town, we had the opportunity to taste many Cape Malay dishes, but this seafood curry stuck out to us as a great example of the spice profile in Cape Malay cooking.
What is Cape Malay?
Contrary to what the name would suggest, "Cape Malay" is the name for the group of people in South Africa who originated from Indonesia and India. Indian and Indonesian peoples were brought to South Africa as slaves by the Dutch starting in the mid 1600s.
The Cape Malay community is predominately Muslim, and this was the first group to introduce Islam to South Africa. It is uncertain why these people came to be know of as "Malay", but one thought is that the word was taken from the Malayo-Portuguese language that was common in many Asian port cities at that time.
As you might imagine with Indian and Indonesian roots, Cape Malay cuisine is incredibly distinctive in its use of spices. Turmeric, garlic, ginger, coriander, chili, fennel, cumin, bay, cardamom, cloves and allspice are all very common. The cuisine can be spicy, but even the curries are more mild than typical Indian curries.
Our Cape Malay Seafood Curry
This curry is definitely not an exact replica of what we were served at Gold Restaurant. While it was inspired by the curry we ate at Gold, our recipe represents the characteristic Cape Malay flavors as we experienced them while we were in Cape Town.
A fusion of spices is what really makes Cape Malay cooking special. Spices like corriander and cumin are important for creating the base of the Cape Malay flavor in this dish. Adding just enough cinnamon and cloves gives the dish the characteristic, lightly sweet depth of flavor.
Cape Malay flavors do work nicely with chicken and beef, but we love the way the seafood absorbs the flavors and adds just a hint of that fishy flavor. In South Africa, this curry would be made with local fish like kingklip or hake and prawns. However, in the States we substitute shrimp and a firm fish like cod or haddock.
We love that this is such an easy curry to put together, and that it is not particularly hot spicy, so it is a great curry for those who don't tolerate heat well. We guarantee that one bite will transport you to the South African coast. Who knows, you might even find yourself drumming out a beat as you get into the African spirit!
---
Cape Malay Seafood Curry
A delicious seafood curry that hails from the coastal region of South Africa.
Ingredients
1

lb

firm white fish fillets

(cod or haddock)

1

lb

shrimp,

peeled shelled

1

tsp

olive oil

1

onion,

diced

2

garlic cloves,

peeled and minced

1/2

inch

fresh ginger,

peeled and minced, or 1/8 tsp dry, ground ginger

2

tomatoes,

diced (or 1-14.5 oz-can of diced tomatoes, lightly drained)

2

medium russet potatoes,

peeled and diced

1

tsp

curry powder

½

tsp

cumin

1/8

tsp

ground fennel

1

tsp

ground coriander seeds

1/8

tsp

cinnamon

1

pinch

ground cloves

1

bay leaf

¼

tsp

turmeric

1

c

water

½

tsp

salt
Instructions
Cut the fish into 1 in pieces and peel the shrimp. Set aside.

Heat the oil in a large sauté pan. Fry the onion over medium-high heat, until golden brown, 4-5 min. Stir in the garlic and ginger. Sauté for 1 min.

Add the diced tomatoes, diced potatoes, seasonings (except salt), and water. Stir to mix in the spices. Simmer the mixture, covered, over medium heat for 15-20 minutes, until the potatoes are very tender.

Add the salt and mix well. Add the fish and prawns and stir. Simmer, uncovered for 10 minutes, until the seafood is opaque and cooked through.

Serve the curry over white rice.
---

If you liked this recipe, here are some similar dishes you may enjoy!