When a bratwurst meets a deep and flavorful currywurst sauce, an epic combination is born.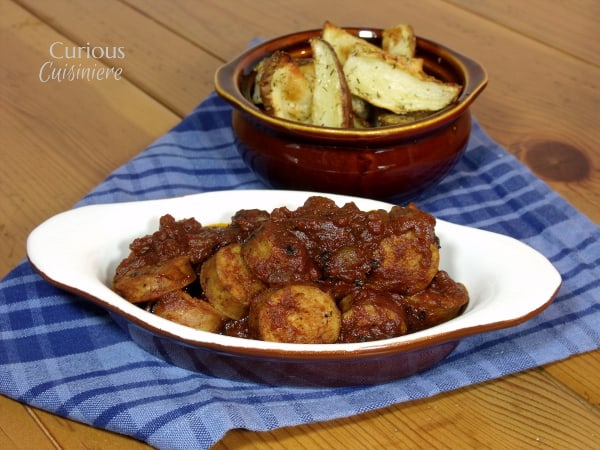 In search of an authentic German pretzel
The one thing (after the beer) that we knew we wanted while in Munich was a brezel. A jumbo, authentic, brezel. (No, that's not a typo. Brezel is German for pretzel.)
Our final day there, we set out to find one. Problem being, it was Sunday, during a holiday weekend, so nothing was open. There wasn't a brezel to be found anywhere on the streets of Munich.
A few very hungry and tired hours later, we finally headed into the one place that was open: the train station.
There we finally found our brezels, and another dish that shook our understanding of sausage: currywurst.
Oktoberfest Fare
Of course during Oktoberfest, you can't only drink beer for 16 days straight.
There has to be some food mixed in.
Many traditional dishes have become favorites such as: sausages, potato pancakes, sauerkraut or cabbage, spatzle, and currywurst.
Bratwurst, meet Currywurst Sauce
The currywurst we ate in that train station was probably similar to what would be served on the Oktoberfest grounds.
It was a hefty sausage, slathered in a sweet and spicy curry sauce.
The dish was served in one of those disposable paper boats that really should be used to serve something dry.
Like popcorn.
But, no.
In this instance, it was asked to be the vehicle for transporting piping hot sausage and curry sauce.
The sauce seeped through the paper boat and through the pile of napkins we grabbed when we saw the potentially disastrous situation that lay ahead.
One bite in though, and we had completely forgotten about the mess.
We were WAY too busy licking the sauce off of our fingers. (Who really needs a fork to eat a steaming hot sausage covered in curry sauce anyway?)
Our train station currywurst was served with a roll, but, fries are a traditional side, perfect for dipping the your extra curry sauce.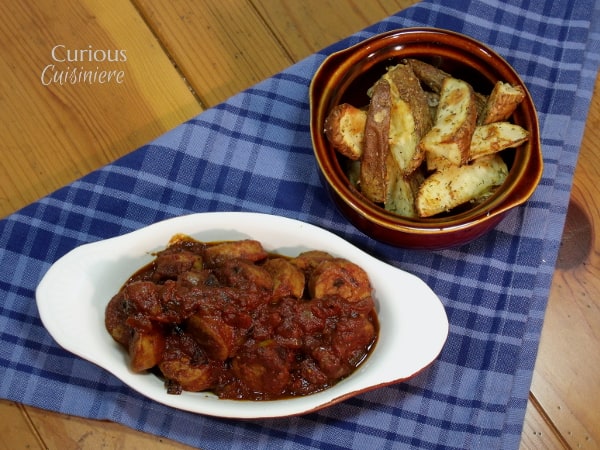 Currywurst with Baked Dill Wedge Fries
When a bratwurst meets a deep and flavorful currywurst sauce, an epic combination is born.
Yield 1 c curry sauce
Ingredients
For the Potatoes
3

large

baking potatoes

1

Tbsp

oil

2

tsp

dill

1

tsp

salt
For the Sauce
1

lb

tomatoes,

whole, cored

1

tsp

salted butter

1

onion,

diced fine

2

Tbsp

curry powder

1

Tbsp

paprika

3

Tbsp

sugar

2

Tbsp

red wine vinegar
Instructions
For the Potatoes
Preheat oven to 450F.

Cut potatoes into wedges. Place wedges in a large bowl, add oil, dill and salt. Toss to coat.

Place seasoned wedges on an aluminum foil lined baking sheet and bake 30 minutes, stirring half-way through, until potatoes are crisp and tender.
For the Currywurst
In a medium soup pot, heat 2 quarts of water to boiling. Drop the whole, cored tomatoes into the water and boil for 1 minute. Remove the tomatoes from the water, place on a wire rack, and let them cool to touch. When the tomatoes are cool, peel them and discard the skins.

Place the peeled tomatoes in the bowl of your food processor. Process until pureed.

Heat the butter in a large, non-stick frying pan. Add the onion and mix until well coated. Add 1 Tbsp water and cover the pan. Cook over medium heat until the onions begin to caramelize, 5 min, stirring occasionally.

Add the tomato puree, curry powder, and paprika to onions. Mix well. Add the sugar and red wine vinegar. Bring the mixture to a simmer and simmer, uncovered, over medium heat until thick, 10 min.

Remove the sauce from the pan to a bowl and wipe the pan out slightly.

Add the bratwurst to the pan and cook, covered, until firm (5-7 min). Remove cooked brats from pan and slice into rounds. Return rounds to the pan, cover in the curry sauce and simmer, 5 min, over medium low heat.
Nutrition
Calories:
670
kcal
|
Carbohydrates:
62.1
g
|
Protein:
22.2
g
|
Fat:
38.7
g
|
Saturated Fat:
12.4
g
|
Cholesterol:
86
mg
|
Sodium:
1579
mg
|
Fiber:
6.7
g
|
Sugar:
15.3
g
If you liked this recipe, here are some similar dishes you may enjoy!