Easter is a huge celebration for Italian Christians. A special occasion deserves special Italian Easter recipes for food that is traditionally enjoyed only during the Easter festivities. While many Easter foods do vary by region, there are a number of dishes that are enjoyed all over Italy!
Italian Easter Traditions
In Italy, preparations for the Easter (Pasqua) celebration begins the week before, on Palm Sunday.
The week between Palm Sunday and Easter, known as Holy Week, is a solemn time of reflection and special church services. This week is also the time to start preparations for the Easter meal.
There's no greater way to build even more anticipation after a 40 period of fasting during Lent, than to watch the pieces of the Easter meal come together!
And, the Italian Easter festivities don't end with Easter Sunday!
In Italy, Easter Monday is known as "Little Easter" (Pasquetta). Easter Monday is a final day to celebrate with family, typically with an outdoor picnic. It's a day to relax and enjoy Easter leftovers as you bring the Easter season to a close.
Italian Easter Dinner
Easter Sunday in Italy is typically celebrated with family and friends and centers around a long luncheon meal.
The main dish for the Easter meal is traditionally lamb, served any number of ways.
The Italian Easter table is also laden with spring-inspired dishes like artichokes, spinach, asparagus, and eggs. You will also find lots of cheese and rich breads.
And, of course tasty desserts and chocolates!

Stracciatella Soup
It is traditional to start the Easter meal off with a bowl of soup. While in the States we may think of soup only in winter, in Europe soup is enjoyed year-round.
Stracciatella is a soup that you would find gracing many Easter tables in and around Rome. This is an easy soup, containing only 4 ingredients: eggs, spinach, Parmesan cheese, and broth.
The simple ingredients don't mean this soup is lacking in flavor. It is full of a light brightness that definitely rings in the bright and cheerful days of spring.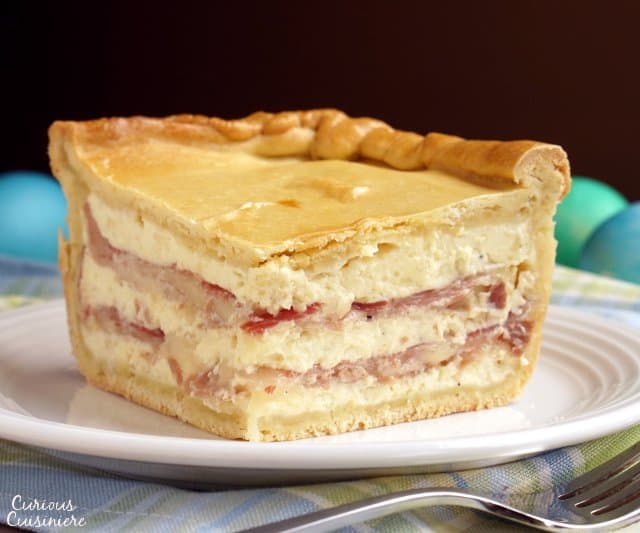 Pizza Gaina (AKA Pizza Rustica or Italian Easter Pizza)
Don't let the name of this dish fool you, there's no tomato to be found in this Neapolitan layered pie. Instead, the pizza crust is stuffed to the brim with rich cheeses and Italian cured meats.
Pizza gain is the perfect dish to serve as a chilled appetizer or an Easter Monday lunch, but it also makes a beautiful Easter brunch centerpiece.

Italian Easter Dinner: Lamb
In Italy, you will nearly always find the main course of Easter dinner to be a lamb (agnello, in Italian). This lamb may be served any number of different ways: prepared as a stew, simply roasted, or even with an egg and cheese sauce!
Abbacchio A Scottadito is a simple, grilled dish of marinated lamb cutlets. While you may think cooking lamb to be an intimidating task, this dish from Rome is the perfect, easy introduction to this tasty meat.
And who wouldn't love to spend Easter Sunday tending a grill?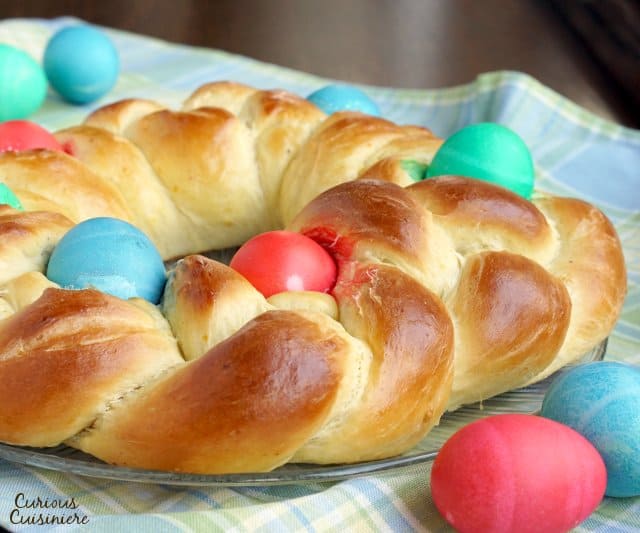 Italian Easter Bread
After 40 days of fasting from dairy and eggs, it makes sense that the Italian Easter table would be laden with rich, eggy and buttery breads.
Studded with brightly colored eggs, this Italian Easter Bread (Pane di Pasqua) makes for a beautiful Easter table centerpiece. The bread is incredibly fluffy and bursting with bright spring flavors of orange and anise. The eggs are a fun surprise, cooked right into the dough!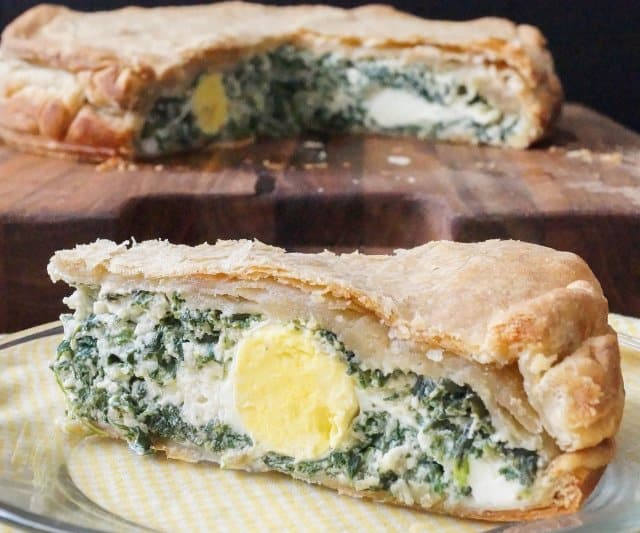 Torta Pasqualina
Torta Pasqualina is a savory Italian pie filled with greens and ricotta cheese that is traditionally enjoyed for Easter.
The making of this recipe is a bit of a feat. Its crust can consists of up to 33 layers of thinly rolled pastry! The result is a super flaky crust that beautifully complements the creamy, rich filling.
Raw eggs are cracked directly into the filling, creating a unique presentation as the pie is sliced.
This Italian Easter pie is quite impressive to behold and great for serving a crowd. If you're celebrating with just a few people for Easter, our torta pasqualina for two is the perfect dish for a few people to share.
Even if you are celebrating with small numbers, Easter should be full of tasty food!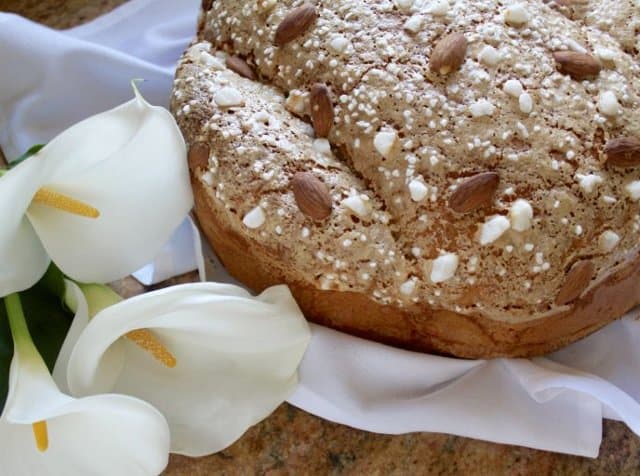 Colomba di Pasqua: Easter Dove Bread
Colomba di Pasqua (literally "Easter dove") is a panettone-like bread that is shaped in the form of a dove.
The dove is a symbol of peace and the Holy Spirit, and while a dove shape may be a bit tricky to achieve with a loaf of bread, the rich symbolism of this bread remains.
This bread is rich and eggy, scented with citrus and vanilla. The topping adds a unique texture and touch of toasted almond flavor, as the loaf is scattered with ground and whole almonds before baking.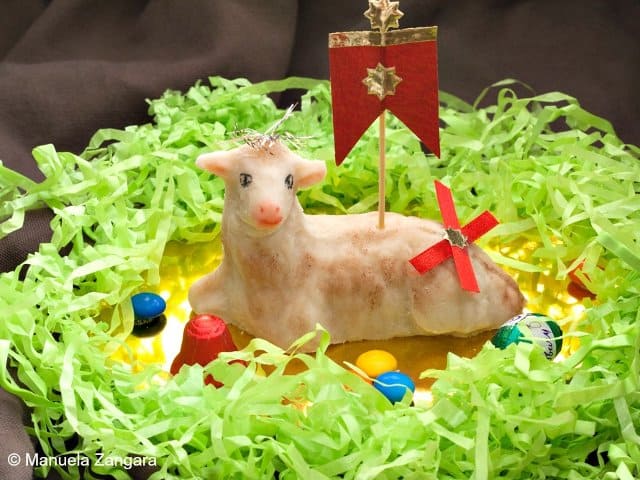 Marzipan Lambs: Pecorelle di Pasqua
These cute marzipan lambs are a traditional Sicilian Easter treat that highlight the symbolism of Christ as the "Lamb of God".
Marzipan is an almond-flavored sweet that comes together quite easily. It's kind of like working with fondant.
Cute lamb molds give the marzipan a festive shape. And they can even be painted to add extra decorations.
Whether your family has Italian heritage, or your just looking for new and unique recipes to add to your Easter table, give some of these traditional Italian Easter recipes a try! They are rich in symbolism and (of course) quite tasty!
If you liked this recipe, here are some similar dishes you may enjoy!