Pizza Gain (also known as Pizzagaina, Pizza Rustica, or Pizza Chiena) is an Italian Easter Pizza that is unlike any pizza you have ever tasted. Forget the tomato sauce, this filled pizza is more like a cheese and salami pie with a pizza crust. With beautiful layers, this impressive pie is the perfect dish for Easter brunch!
Italian Easter Pizza: A Pie With many Names
Pizza in Italian simply means pie.
We'll let that sink in a moment.
That's why this pizza probably looks so un-like any pizza you've come across.
While un-familiar to non-Italians, this Easter pizza is widely popular across Italy. It's so popular that this celebratory dish really doesn't have a name.
Rather, it has many names, all meaning the same thing.
The History Of Italian Easter Pie
This Italian Easter pizza comes from Naples and can trace it's history back to the 17th century.
During this period, it was a staple Easter treat. After fasting for 40 days from dairy and eggs, this was the perfect, indulgent dish to break the Lenten fast.
In and around Naples, the dish is known as pizza rustica, pizza ripiena, or pizza chiena. The different spellings and names come from the different dialects in Italian but they all mean the same thing: "stuffed pizza".
And stuffed is what this pizza is.
Since the begining, pizza rustica has been built out of layers of cured meats, fresh salami, and traditional Italian cheeses.
All "stuffed" into a sturdy pizza crust.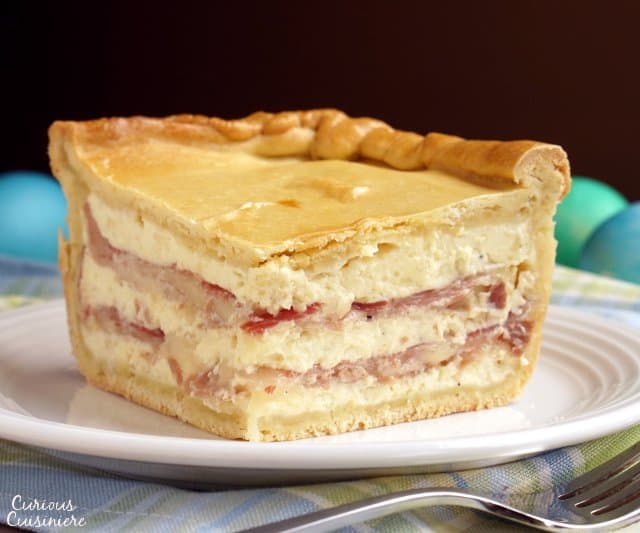 Pizza Rustica Comes To The States
When Neapolitans and other Southern Italians immigrated to America, they brought their recipes with them.
It was in America that pizza rustica took on a new name: pizza gain (or pizzagaina).
In America, it was difficult to get many of the specialty ingredients that the Italians were used to using to make their pizza rustica, so they improvised.
Traditional Italian salamis and cured meats were replaced with ham and pepperoni, and more easily accessible cheeses were used to get those nice, cheesy layers.
Pizza Gain Today
What this means for us is that pizza rustica (or pizza gain) is more of a concept than a set in stone recipe.
If you can't find a particular meat, substitute something you can find.
If you can't locate the cheese it calls for, use what you have on hand.
The idea is to create a beautiful creation of layers that fills the soul with rejoicing that the Lenten fast is over and Easter has come.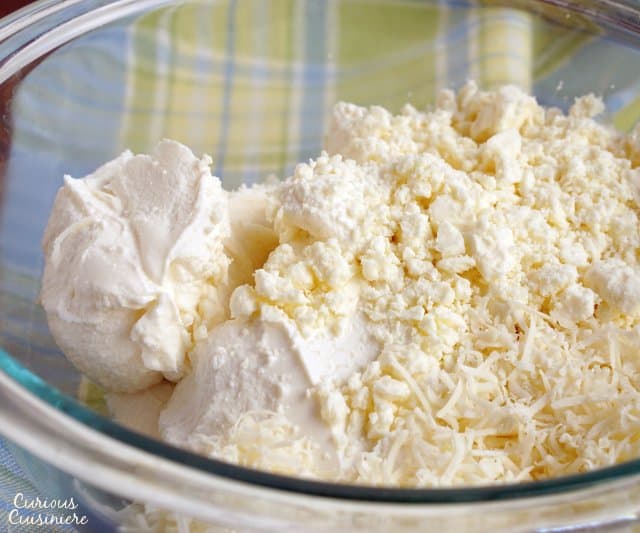 What Cheese Is Traditionally Used In Pizza Rustica?
One traditional ingredient you will find in every traditional recipe for pizza rustica is something called "basket cheese".
Basket cheese is a fresh cow's milk cheese that is pressed in baskets as it drains. After it is pressed, it keeps the basket's imprint, giving it its name.
Unless you live near a good Italian deli or grocer in the States you probably won't be able to find basket cheese. (And even if you do, it might only make an appearance for a few weeks before Easter.)
But, don't worry if you don't have the in on this special Italian cheese.
A good substitute for basket cheese is Greek feta or a ricotta salata (salted ricotta).
These cheeses add a nice softness and flavor to the pizza rustica.
Cured Italian Meats In Pizzagaina
Layered with the cheese mixture are a collection of traditional Italian cured meats. Some of the traditional meats you've probably heard of before, like prosciutto. But many you may be unfamiliar with.
Prosciutto – Dry cured ham that originates from Parma, Italy. Prosciutto is sliced thin and has a buttery texture, with a slightly salty flavor. Serrano ham is a good substitute, but any thinly-sliced, salty deli ham will do.
Soppressata – An Italian dry, pork salami, soppressata is often peppered, although seasonings can vary. The texture and flavor is similar to deli hard salami (particularly a peppered hard salami), which works great as a substitute.
Capicola – Dry cured, spiced and smoked pork neck that some consider a cross between prosciutto and sausage. Capicola has a flavor and texture similar to prosciutto, but it's meatier and less salty. Prosciutto or thinly-sliced, smoked deli ham would be a good substitute.
Mortadella – While not a cured meat, some recipes for pizza rustica use mortadella. This is a large, unsmoked, Italian sausage or lunch meat, often referred to as "Italian bologna". With its pink hue and smooth texture, bologna or olive loaf would make a good substitute.
If you don't live near a good Italian deli, you might have difficulty finding some (or all) of these meats. We've listed some economical substitutes above, so don't be afraid to substitute for meats you can find easily.
As we touched on earlier, pizza gain is more of a concept than a set-in-stone recipe. Each region in Italy (and each family) makes their Easter pizza differently, according to what they have locally available to them.
So, have some fun experimenting with the combination of meats and cheeses that sounds good to you!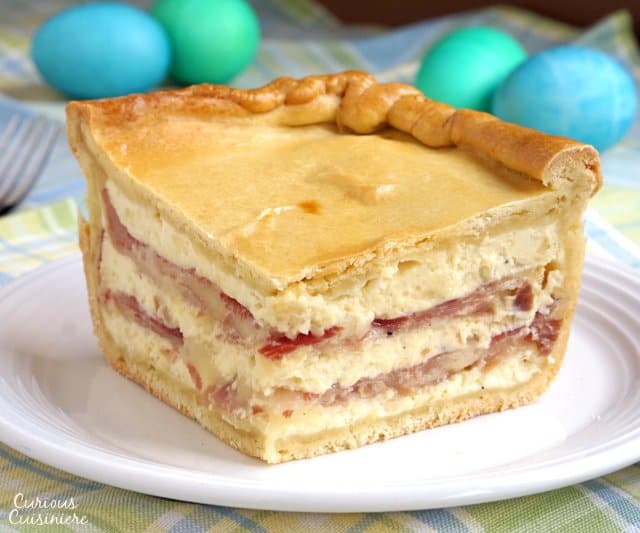 How To Make Pizza Rustica
The process to making this impressive pie is relatively simple.
The dough is slightly stiff, but it comes together fairly easily.
While the dough rests, the cheese mixture is easily mixed together.
Once the dough has rested, it is divided into two pieces: roughly 2/3 and 1/3 of the total dough. Your larger section will become your bottom crust, and your smaller section will become your top crust. The dough takes a little patience to roll out, because it has a bit of a spring. If you have too much trouble, cover the dough with a damp tea towel and let it rest for 5 minutes before continuing rolling.
After rolling, when your bottom crust is in the baking dish, it's time to layer the cheese mixture, meat slices, and more cheese!
Really, the hardest part of making pizza rustica is trying not to sample all of the sausages and cheeses as they go into their respective layers.
"A little for the pie… A little for me…"
Here's a tip, you might want to buy more meat and cheese than you need, so you can have a snack while you're constructing your pie.
Just sayin'.
After layering, the whole pie is baked for one hour in order to get the crust nice and golden and the insides hot and bubbly.
Our Italian Easter Pizza Gain Recipe
For our pizza gain, we thought we were going to have to do some serious substitutions on the meats, but imagine our surprise when we found that our Aldi grocery store had prosciutto, capicola, and soppressata sitting right next to their sliced sandwich cheeses.
We were super excited!
Sadly, the basket cheese was another story.
So, instead of basket cheese we used feta. And, we can honestly say that the results were delicious!
We baked our pie in a standard 8×8 baking dish, and it was plenty to serve 8 people.
The crust is so sturdy that with a well-greased dish, the pie just popped out after cooling. So, if we had wanted to present it free-standing, we could have.
If you're feeding a crowd, the recipe below could easily be doubled to fill a 9×13 baking dish, or a 10 inch springform pan, if you want to get really fancy and deep-dish pizza-like.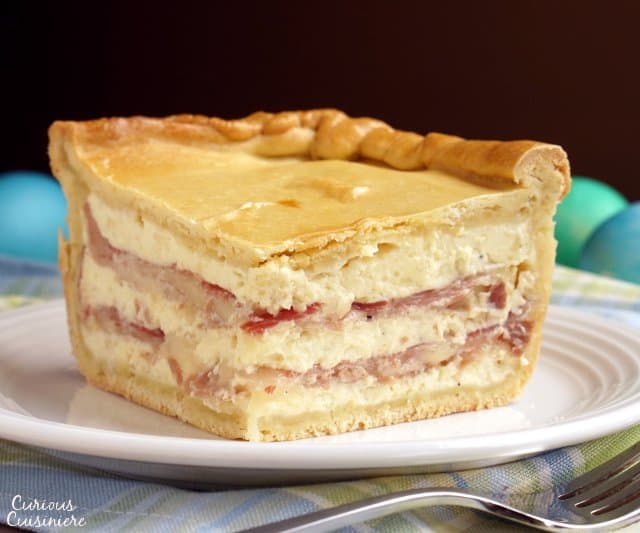 How To Serve Pizza Gain
With all the cheese inside of a pizza gain, it is necessary to let the pie rest for 20-30 minutes before serving. This way, the cheese will set and the slices will hold together nicely as you distribute them.
Since this dish is typically eaten for Easter brunch or as an Easter appetizer, it is often made ahead, to ease the Easter-day oven load.
If making your pizza gain ahead of time, be sure it is completely cool before covering and refrigerating it.
To serve, it can be warmed in a low oven (300F) for 30 minutes, if you'd like to serve it warm. (Tent the pizza loosely with aluminum foil to keep the top crust from darkening too much.)
Pizza gain is delicious warm or cold, so don't be afraid to serve your made-ahead pizza gain chilled as an appetizer, an entree for Easter brunch, or even as a light lunch.
(And, if you're looking to complete your Italian Easter menu, check out more of our Italian recipes and specifically our collection of Italian Easter recipes.)
Pizza Gain AKA Pizza Rustica (Italian Easter Pizza)
Pizza Gain (also known as Pizzagaina, Pizza Rustica, or Pizza Chiena) is an Italian Easter Pizza that is unlike any pizza you have ever tasted.
Yield: 1 (8x8) baking dish. (Recipe can be doubled to fill a 9x13 or 10" springform with 2.5-3" sides)
Ingredients
For The Dough
½

tsp

salt

2

tsp

baking powder

2

eggs,

lightly beaten

¼

c

olive oil

½

c

water (plus more as needed)
For The Ricotta Filling
1

lb

ricotta

½

lb

feta cheese

(patted dry, if moist), crumbled

¼

c grated

Pecorino Romano cheese

3

eggs

⅛

tsp

ground black pepper
Putting It All Together
3

oz

prosciutto,

thinly sliced

3

oz

soppressata,

thinly sliced

3

oz

capicola,

thinly sliced (or mortadella)

6

oz

mozzarella,

sliced

4

oz

provolone,

sliced

1

egg beaten with 1 tsp water

(for the egg wash)
Instructions
For The Dough,
In a medium bowl, combine the flour, salt, and baking powder.

Add the eggs and oil. Mix by hand until evenly distributed.

Add the water and mix with your hands (adding more water, 1 Tbsp at a time, as necessary) until the dough comes together.

Cover the dough and let it rest while you prepare the filling.
For The Ricotta Filling
In a medium bowl, add the ricotta, crumbled feta, grated Romano, eggs, and pepper. Mix until smooth and even.
Putting It All Together
Preheat your oven to 350F.

Divide the dough into two portions, roughly ⅓ and ⅔ of the bulk.

Cover the smaller portion and roll the larger portion out to a 13x13 inch square. Press the rolled out dough into your greased 8x8 baking dish, leaving about ½ inch overhanging the sides.

Spread 1/3 of the ricotta filling over the bottom crust.

Top the ricotta layer with half of the prosciutto slices, followed by half of the mozzarella, half of the soppresata, half of the provolone, and half of the capicola.

Spread another 1/3 of the ricotta filling over the meat and cheese layers.

Layer the remaining meat and sliced cheeses, as done above.

Finish it off with the remaining ricotta mixture.

Roll your smaller portion of dough out into a, 8x8 inch square arrange it over top of the ricotta mixture.

Lightly moisten the edges of the crust with a little water, and fold the overhanging bottom crust over the top crust, to create a nicely rolled edge.

Brush the crust with egg wash.

Using a sharp paring knife, carefully cut a few vent holes into the top crust.

Bake the pizza for 1 hour, loosely tenting the pie with aluminum foil if the top crust begins to brown too much.

Cool the pie on a wire rack for 20-30 minutes before serving. Or, cool completely (2-3 hours) before refrigerating (covered) until ready to serve.
If you liked this recipe, here are some similar dishes you may enjoy!