This light and eggy Italian Easter Bread, Pane di Pasqua, is slightly sweet and bursting the with the flavors of citrus and anise.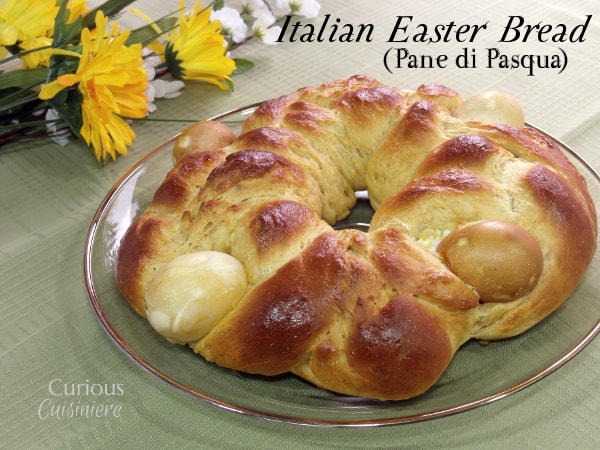 Happy Easter!
It is no surprise that bread has incredible significance around many cultures' Easter tables.
Just as bread for centuries has been the prime source of bodily sustenance for daily life, Christ, whose resurrection we celebrate on Easter, is "the bread of life," (John 6:35), in whom believers will find their daily, spiritual sustenance.
This Italian Easter Bread is braided with eggs, which also hold incredible Easter significance as signs from nature of new life, just as we are celebrating new life in the risen Christ.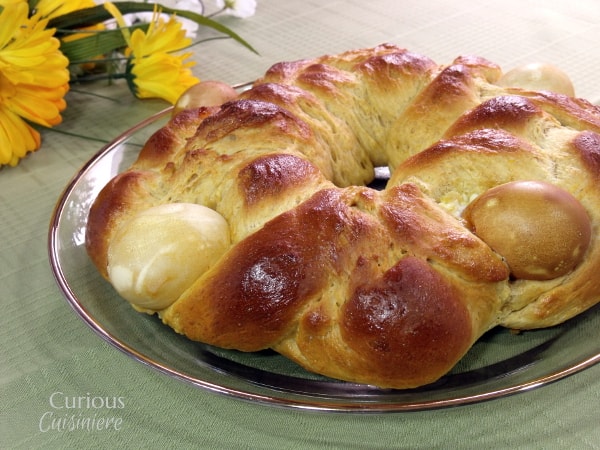 Due to the ending of the fast of Lent, where households would traditionally refrain from rich and sweet dishes, Easter breads are often rich, eggy breads that can range in sweetness, and sometimes are studded with dried fruit (which at one time was a luxury item).
These are truly celebration breads that each household adapts to their own definition and means of celebrating.
In Italy, one traditional Pane di Pasqua, or Easter Bread, is this fluffy and every so slightly sweet bread flavored with citrus and anise.
Raw, died eggs are braided into the dough before it is shaped into a ring and baked. The eggs cook as the bread bakes, so you end up with a stunning loaf, and the bonus of hard-cooked eggs!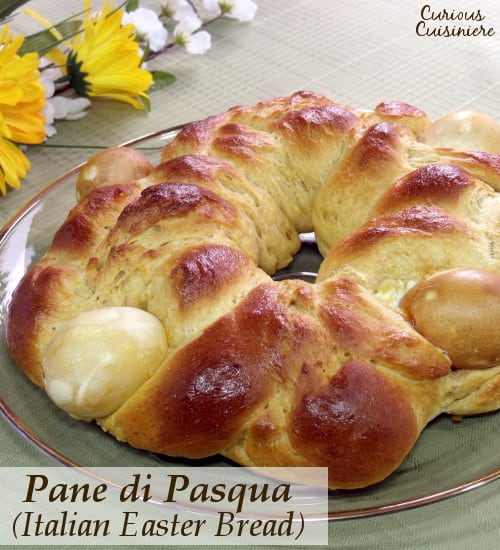 Italian Easter Bread (Pane di Pasqua)
Yield 1 (11-12" diameter) braided ring loaf
Author:
Sarah | Curious Cuisiniere
Ingredients
For the Bread
½ c milk, 2%, warmed slightly to 100?F
¼ c sugar
2 ¼ tsp active dry yeast
2 c all purpose flour
¾ c + 3-4 Tbsp white whole wheat flour (or all purpose)
1 tsp salt
1 orange, zested and juiced
3 eggs
1 Tbsp butter, melted and let cool slightly
½ tsp ground anise or pure anise extract
For the Braid
4 raw eggs, dyed if desired
Instructions
In a small bowl, activate yeast by mixing warm milk with the sugar until dissolved. Add yeast and set aside until the mixture begins to foam slightly, 5-10 min.
While the yeast is activating, in a large bowl, mix together 2 c all purpose flour, ¾ c white whole wheat flour, and salt.
In a small bowl, lightly beat 2 eggs.
In a medium bowl, whisk together orange juice and zest, beaten eggs, melted butter, and anise.
Add yeast mixture and orange juice mixture to the flour, stirring until moistened. Add white whole wheat flour to the dough 1 tablespoon at a time, until the dough comes together.
Turn the dough out onto a lightly floured surface and knead 5-10 minutes, until the dough is soft and smooth.
Place the dough in a greased bowl, turning to coat the dough. Cover with plastic wrap or a damp tea towel, and set in a warm, draft-free place (70-75?F) to rise for 1 hour.
Once the dough has doubled, knock back and turn the dough onto a lightly floured surface.
Divide the dough into 3 equal pieces and gently roll each into an 18" rope. (If the dough springs back on you, cover the ropes with a damp towel and let rest for 5-10 minutes to relax the gluten. Then try rolling them out again.)
Pinch one end of all three ropes together and braid loosely. Shape the braid into a ring on a parchment-lined baking sheet.
Gently tuck the dyed, raw eggs into the braid. (Be sure to place them on top, or slightly closer to the center of the ring, as opposed to near the outer edge, as the eggs will tend to roll to the outer edge of the ring during the final rising time.
In a small bowl, beat the final egg with 1 Tbsp of water. Brush the ring with the beaten egg and water.
Cover the dough and let rise again for 35-45 minutes. Until nearly doubled in bulk.
Near the end of your rising time, preheat the oven to 350?F.
Bake the bread for 25-35 minutes, until the ring is golden and sounds hollow when tapped gently.
Let cool on a wire rack for at least 5 minutes before serving.
Nutrition Information
Serving size:
1/12 th OF LOAF, BREAD ONLY
Calories:
155
Fat:
2.6g
Saturated fat:
1.1g
Carbohydrates:
28g
Sugar:
6.4g
Sodium:
222mg
Fiber:
1.9g
Protein:
5.3g
Cholesterol:
44mg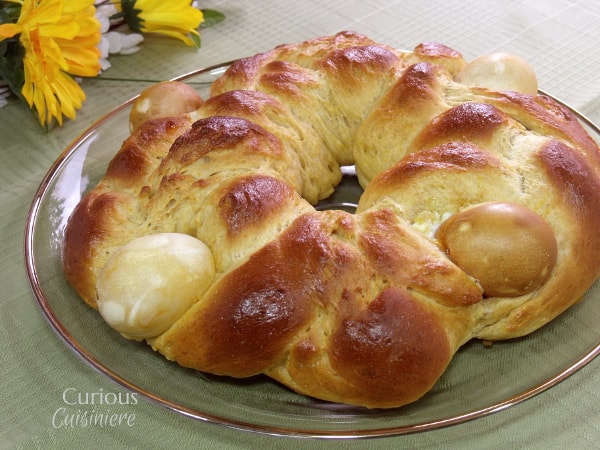 If you liked this recipe, here are some similar dishes you may enjoy!