Spiced, fruit-studded Hot Cross Buns are a delicious Easter bread that have quite a bit of folklore associated with them.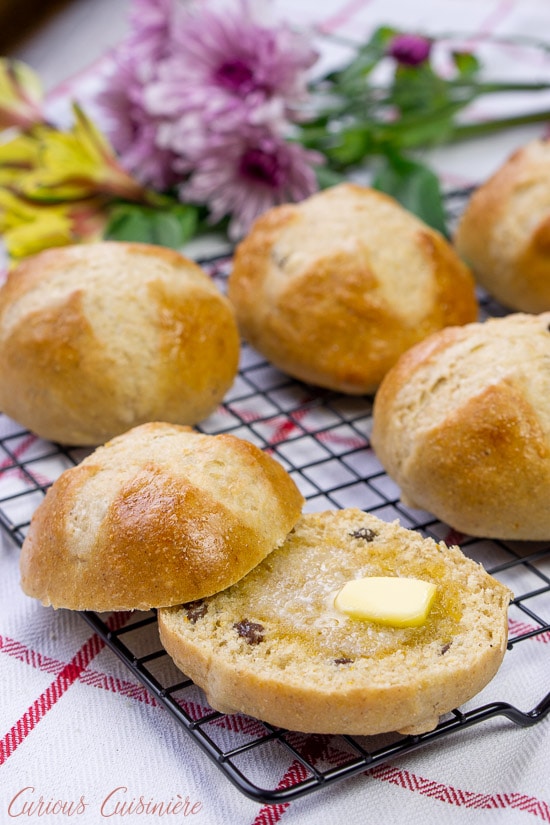 Hot cross buns!
Hot cross buns!
one a penny, two a penny,
Hot cross buns!

If you have no daughters,
give them to your sons.
One a penny two a penny,
Hot cross buns!
The History of Hot Cross Buns
Hot cross buns are spiced sweet buns that are traditionally eaten on Good Friday in the UK and countries with a strong British influence.
Historically, plain buns, made without dairy were eaten during Lent, which is a period of fasting from excess. So, as Easter approached, it was quite a treat to have sweetened buns like these.
The tradition of marking the buns with a cross is thought to originate back to a 12th century monk who first marked buns with a cross in honor of the upcoming Easter celebration.
The buns were so popular and considered so special that in the late 1500s, Queen Elizabeth I decreed that the buns could only be sold for Good Friday, Christmas, or burials.
But, people loved them so much, they just started making them at home.
You can't keep people from good bread!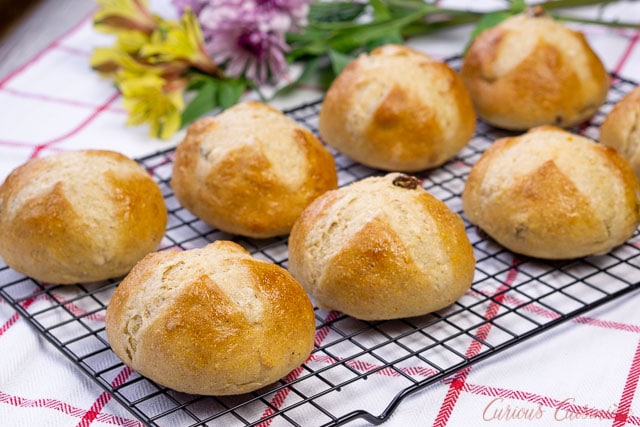 Superstitions Surrounding Hot Cross Buns
Since these buns have quite a long history, it is natural that there are many legends in English folklore about them.
One legend has it that a Hot Cross Bun hung in your kitchen on Good Friday will remain fresh throughout the entire year. (I don't know that I'd try it, though.)
The cross on the top of the buns is thought to expel evil spirits and prevent kitchen fires. (So, they might be quite handy to have hanging around the kitchen. You never know!)
It is also said that those who share Hot Cross Buns will share a strong friendship throughout the next year.
Making Our Hot Cross Buns Recipe
The eggs, butter, and milk in these buns makes them incredibly soft and fluffy. The dough should be soft, with just enough flour that it doesn't stick to your hands and the counter as you knead.
We've included a little white whole wheat flour in these buns, which you can find with all the other flours in the baking aisle of your grocery store. You can learn more about the benefits of white whole wheat and unbleached flours HERE.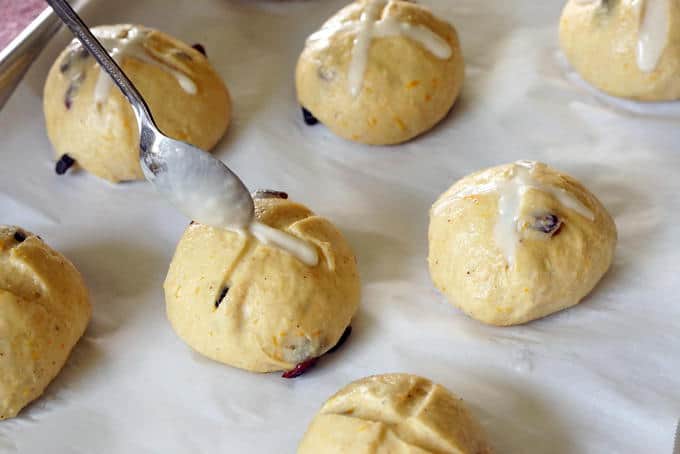 Making The Cross For Hot Cross Buns
Originally, the cross on the buns was made from a flour and water paste that was applied to the bun just before baking. Since the bun is brushed with an egg wash to help promote browning, but the flour paste is not, the cross stays lighter colored as the bun rises and darkens around it.
Now, it is common for the buns to be baked like traditional rolls and topped with a cross of frosting, making them just a little sweeter.
Either way you enjoy them, they are a wonderful breakfast treat for the Easter season.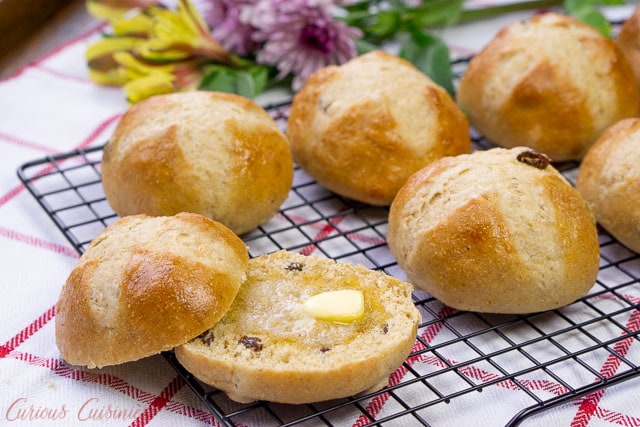 More Easter bread recipes from around the world
Easter is a time for elegant and indulgent loaves of bread. It seems every culture has their own. Here are a few to try.
Hot Cross Buns
Spiced, fruit-studded Hot Cross Buns are a delicious Easter treat and have quite a bit of folklore associated with them.
Yield: 8 (3 oz) hot cross buns
Ingredients
For the Buns
¾

c

milk,

warmed to 80-90F

1 ¼

tsp

active dry yeast

2

Tbsp + 1 tsp

sugar,

divided

1 ½

c

unbleached all-purpose flour,

divided

1

orange,

zested (roughly 1 Tbsp fresh zest)

1

tsp

salt

½

tsp

cinnamon

1/8

tsp

allspice

1/8

tsp

nutmeg

¼

c

golden raisins

¼

c

raisins

2

Tbsp

salted butter,

melted and cooled

1

egg,

slightly beaten
Instructions
In a small bowl, mix together warm milk, yeast and 1 tsp sugar. Let stand until foamy, 5 min.

While your yeast is foaming, in a large bowl mix 1 c all purpose flour, 1 c white wheat flour, 2 Tbsp sugar together with the orange zest, salt, cinnamon, allspice, nutmeg, golden raisins, and raisins.

Stir the yeast mixture and add it to the dry ingredients, along with the melted butter and egg. Mix well, until a sticky dough forms.

Add as much of the remaining ½ cup of all purpose flour as needed to bring the dough together into a soft dough. Then, turn the dough out onto a floured counter top and knead for 5-8 minutes until a soft and smooth dough forms, adding flour as necessary to keep the dough from sticking to the counter or your hands.

Place the dough in a greased bowl and cover with a damp tea towel. Let rise in a warm, draft-free place for 1 hour.

After the dough has risen, turn it out onto a lightly floured surface and knead it a couple of times. Divide the dough into 8 roughly even pieces, and roll each into a ball. Place the rolls onto a greased baking sheet.

Using a serrated knife, lightly cut a cross into the tops of each of the buns, barely breaking the surface of the dough. Cover the buns and let them rise for 20 minutes.

Preheat your oven to 400F.

Once the rolls have proofed, mix together the egg white and 1 Tbsp milk in a small bowl. Gently, bush the rolls with the egg white mixture.

In another small bowl, mix 2 Tbsp flour and 1 Tbsp sugar together with just enough water to form a thick, but spreadable paste (roughly 1 Tbsp of water). Using a spoon, toothpick, or piping bag. Use the paste to fill the cross you traced in the dough before it had risen.

Place the rolls into the oven and bake for 12-15 minutes, until puffy and golden.

Let the rolls cool on a wire rack for 5 minutes before enjoying warm. (These rolls can be stored in an air-tight container on the counter for up to 4 days.)
Notes
*All purpose flour can be used for the white whole wheat. Keep in mind that you may need a little extra flour to get your dough to come together if using all purpose.
Nutrition
Serving:
1
bun
|
Calories:
226
kcal
|
Carbohydrates:
43.3
g
|
Protein:
7
g
|
Fat:
3.8
g
|
Saturated Fat:
2
g
|
Cholesterol:
29
mg
|
Sodium:
194
mg
|
Fiber:
2.9
g
|
Sugar:
12.2
g
---
This is one of the recipes from the early days of Curious Cuisiniere. We've updated our pictures since we first shared it, but we've left some originals here, in case you've found us in the past and are looking for that old, familiar image.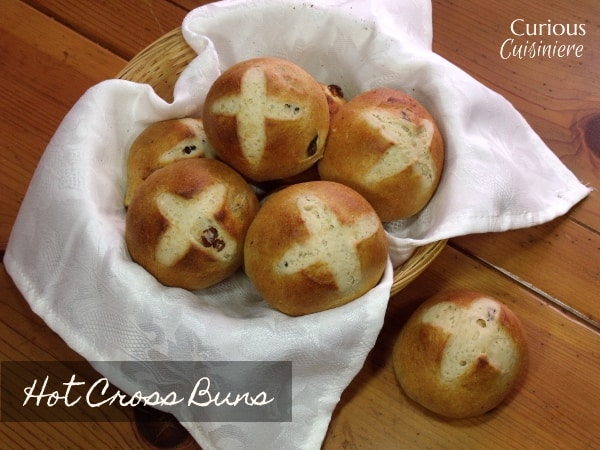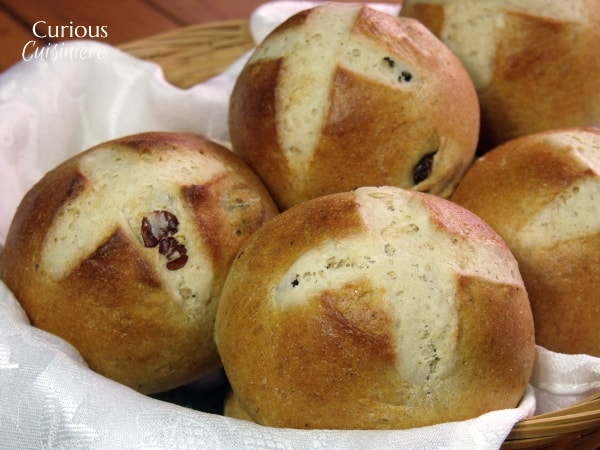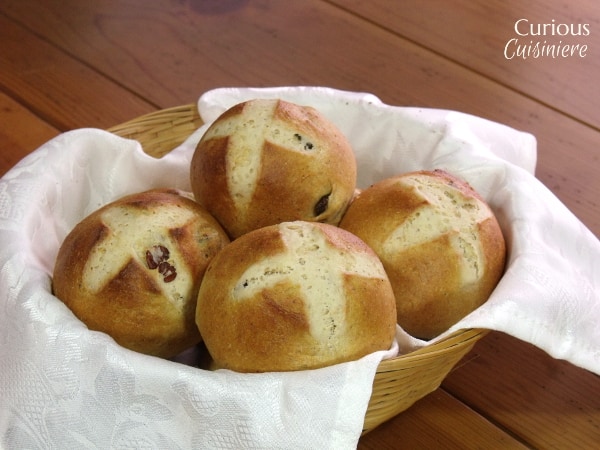 If you liked this recipe, here are some similar dishes you may enjoy!