If you like this dish, sign up for our newsletter for tasty, cultural inspiration in your inbox!
South Indian Vegetable Korma is a creamy coconut curry that is light on spice but big on flavor. This tasty dish is easy enough for a weeknight dinner!
Indian Korma
Korma (or Kurma) is an Indian dish of vegetables (and sometimes meat) that is simmered in a fragrant and creamy sauce until thick and comforting.
Korma is popular all across India, and you will find it made differently in each region. Generally speaking, in northern India they will add yogurt and cream to their korma, while in southern India they add ground nuts to give their korma a creamy consistency.
The most common version of Korma is Chicken Korma, which includes bite-sized pieces of meat, but today we're making an all veggie version that is no less satisfying.
Our South Indian Vegetable Korma Recipe
Since we are using ground cashews in our korma (and not using yogurt or cream), this recipe fits more closely to a south Indian style of korma.
What we love about this recipe is how versatile it is. You can throw in whatever veggies you have on hand!
We chose to use potatoes, carrots, peas, and green beans. But, you could just as easily use sweet potato, cauliflower, corn, other cooked beans, the list goes on!
If you really wanted to go crazy, you could throw in a little fresh paneer cheese too!
Wow, would that be good!
Making an Easy Korma Recipe
Typically Korma looks like a very daunting recipe with a long list of ingredients and many steps.
First toast the spices. Then, saute some ingredients. Blend some stuff together. Then, saute some more. And on and on.
It doesn't make korma something we'd want to make on a weeknight.
So we made it easier.
While our list of ingredients is still a bit long, don't worry because most of them are spices that go straight into your food processor to make a fragrant and flavorful puree.
We're simplifying the process quite a bit too by skipping some of the initial spice prep work and heading straight to the food processor. Yes, purists will say that we're losing out on some flavor by not first toasting our spices and sauteing our onions. And, yes, we know we might be missing a bit of extra oomph.
But, honestly, we didn't miss it in the final dish!
See, our trick is this: after pureeing the spices and onions, we saute the mixture for a few minutes to let it get nice and fragrant. Then we add the tomatoes, coconut milk, and bay, and we saute a bit more. This helps develop flavor without taking too much time on the front end.
Then, you simply add your veggies and simmer until everything is cooked through to your liking.
Blend. Saute. Simmer.
See. It's easy!
And, if you really feel like dry toasting some whole spices before grinding them for the paste or giving your onion and garlic some golden saute love before tossing them into the food processor. Be our guest!
Serve this curry up with some fresh baked naan and you seriously can't go wrong!
South Indian Vegetable Korma
A flavorful and warming, vegetarian dish.
Ingredients
For the Spice Paste
1

onion,

roughly chopped

4

garlic cloves,

smashed

1

inch

fresh ginger,

peeled and sliced (or 1/4 tsp dry, ground ginger)

¼

c

cashews

1

tsp

ground coriander seeds

½

tsp

cumin

½

tsp

cinnamon

½

tsp

red chili powder

¼

tsp

turmeric

¼

tsp

cardamom

⅛

tsp

ground cloves
For the Curry
1

Tbsp

ghee

(clarified butter) or oil

1

tomato,

finely diced

½

c

coconut milk

(we prefer full fat)

1

bay leaf

½

tsp

salt

2

c

waxy potato,

peeled and diced (red or yellow potato)

4

c

vegetables

(peas, sliced carrots, chopped green beans, white button mushrooms, cauliflower, etc) chopped and thawed if frozen
Instructions
For the Spice Paste
Place all the Spice Paste ingredients in the bowl of your food processor or blender. Add ½ c water and puree until you have a smooth mixture. Set aside
For the Curry
Heat oil in a large skillet over medium high heat. Pour the spice paste into the skillet and sauté for 1-2 minutes, until fragrant.

Add the tomatoes, coconut milk, bay leaf, and salt. Sauté for 1-2 minutes.

Add the potatoes and vegetables. Mix well.

Taste and add salt as desired.

Bring the mixture to a simmer and reduce the heat to medium low. Cover and simmer the curry for 10 minutes.

Uncover the curry and simmer for an additional 5-10 minutes, until the potatoes are tender.

Serve immediately with basmati rice, naan, or roti.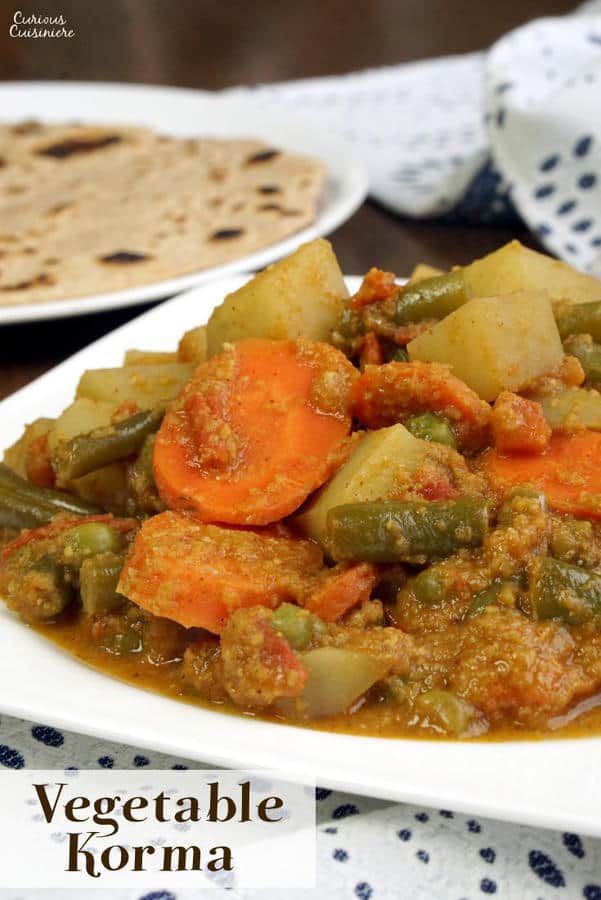 If you liked this recipe, here are some similar dishes you may enjoy!