This Goan Fish Curry is a warm and tangy fish curry that is cooled with coconut milk. It's a perfect Indian seafood curry recipe to warm up with!
Indian Curry: Goan Fish Curry
India has lots of coastline, so it's no surprise that fish and seafood are common ingredients in Indian curries.
Goa, the smallest state in India, located on the western coast, is no exception.
In Goa, the fish curries use coconut milk and mustard oil, making them creamy with a bit of a unique spice. They get a tart tang from tamarind, and they are known to be fairly spicy.
It's the tangy-ness that really sets Goan curries apart. This unique element comes from a Portuguese influence (which would have first been seen in the form of wine and vinegar in curries).
The mingling of the spices with the coconut milk works beautifully to bring out the mild sweetness of the fish, creating a delicious fish curry with nice warmth and a fun tangy kick.
What are Kashmiri Chilies?
Another unique element to a Goan fish curry are the Kashmiri chilies.
Kashmiri chilies are Indian chilies that are known for their bright red hue, rather than for a searing heat. They come in at 1,000-2,000 on the Scoville scale of pepper heat (which puts it right there with Anaheim and Poblano peppers).
These chilies are typically dried and used as flakes or powder to give dishes a wonderful color.
If you're eating an authentic Indian dish whose color pops right off the plate (like tandoori chicken or this curry), then it probably gets some of its color from Kashmiri chilies.
What is a substitute for Kashmiri Chilies?
Since Kashmiri chilies are mostly used for their color, when it comes to finding a substitute for Kashmiri chilies, we're really looking to pump color into our dish.
We have found that a mixture of sweet paprika (not smoked) and cayenne powder do a nice job to add color and a bit of heat, akin to what you would get from the harder to find Kashmiri chilies.
We use a ratio of 3 parts paprika to 1 part cayenne, but if you want less heat, feel free to dial the cayenne down a bit.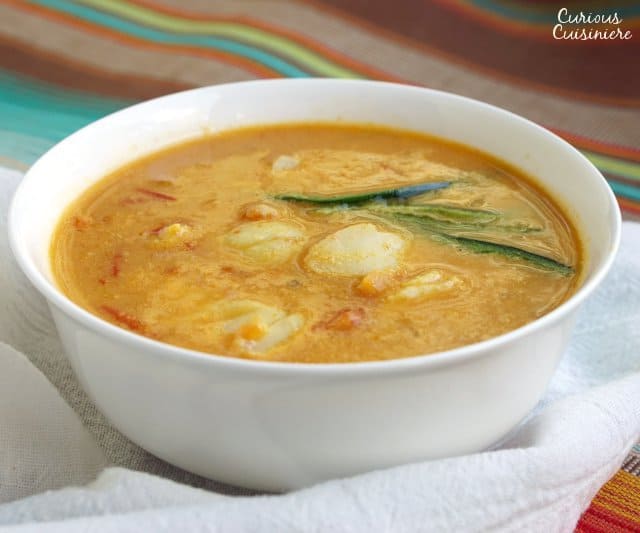 Our Goan Fish Curry Recipe
Of course, this dish traditionally uses firm Indian fish, but you can substitute any firm white fish, like pollock or haddock.
The fish gets added at the very end of the cooking time, so it doesn't fall apart in the cooking broth. But, choosing a firm fish will ensure that you still have nice chunks of fish as you serve your fish curry.
Traditionally, to make an Indian curry, whole spices would be first toasted in a skillet and then ground with garlic and ginger to form a spice paste, called a masala.
For our recipe, we're cutting down on prep time and making things easier by starting with ground spices and getting that toasted flavor by sautéing the spice mixture briefly with the onions.
Another step we've made to make this recipe easier is to go the more Portuguese route and added vinegar to our curry recipe to give it the characteristic tart tang.
If you'd like to go the more traditional route and use tamarind paste for tartness in this curry recipe, go ahead and add it to taste in place of the vinegar that we call for in the recipe below.
Goan Fish Curry
This Goan Fish Curry is a warm and tangy fish curry that is cooled with coconut milk. It's a perfect Indian seafood curry recipe to warm up with!
Serve this curry with white rice.
Ingredients
For The Curry
1

Tbsp

coconut oil

or vegetable oil

1

onion,

finely chopped

2

garlic cloves,

crushed

1

inch

fresh ginger,

grated

2

tomatoes,

diced fine

1

c

coconut milk

(regular or light)

½

c

water

2

mild green chilies,

cut into strips

¾

lb

firm white fish

(pollock, cod, haddock), cut into 1 inch pieces

1

Tbsp

white vinegar
Instructions
In a small bowl, mix all the masala spices. Set aside.

In a large saucepan, heat 1 Tbsp of oil over a medium high heat. Add the onion and sauté until lightly golden, 3-4 min.

Reduce heat to medium and add the garlic, ginger, and spice mixture. Cook, stirring constantly, until the spices are fragrant, 1-2 minutes.

Return the heat to medium high. Add the tomatoes and cook until most of the liquid has evaporated, 3-5 minutes.

Mix in the coconut milk, water, and chilies. Bring the mixture to a boil.

Reduce the heat to medium and simmer, uncovered, until the sauce thickens slightly, about 10 min.

Add the fish, and cook until opaque and firm, 5-7 min.

Add the vinegar. Taste and adjust the seasonings as desired.

Serve with white rice.
Notes
This recipe from 2013 was updated in September 2017. We made a few tweaks to make the curry even more authentic. Enjoy!
Nutrition
Calories:
421
kcal
|
Carbohydrates:
62.3
g
|
Protein:
32.9
g
|
Fat:
3.9
g
|
Saturated Fat:
0.8
g
|
Cholesterol:
107
mg
|
Sodium:
555
mg
|
Fiber:
4.9
g
|
Sugar:
6.1
g
---
This is one of the recipes from the early days of Curious Cuisiniere. We've updated our recipe and pictures since we first made it, but we've left the original images here as a fun throwback and shout out to how far we've come. Enjoy!
---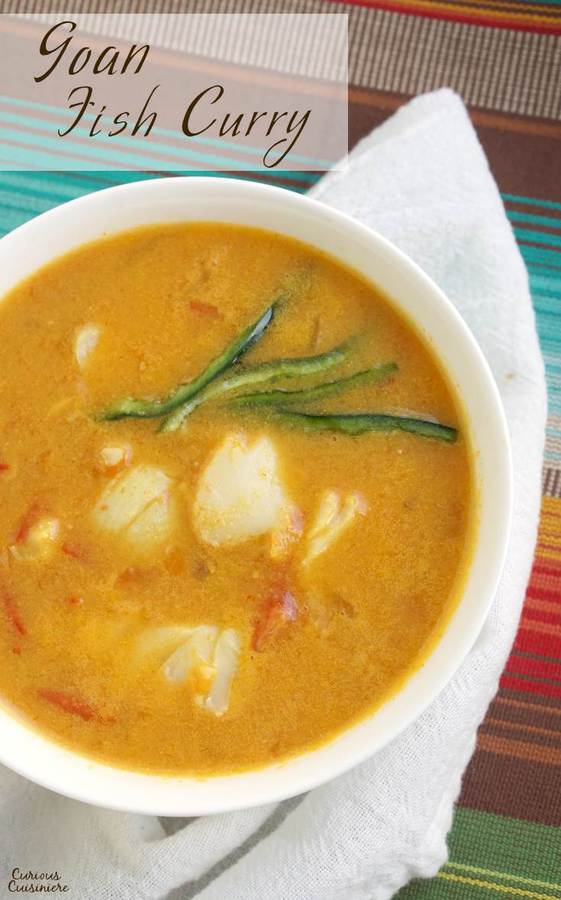 Save
Save
If you liked this recipe, here are some similar dishes you may enjoy!