If you like this dish, sign up for our newsletter to get tasty, cultural inspiration straight to your inbox. Where will you travel this week?
If you've never made guacamole from scratch, you'll be surprised how fun our Authentic Easy Guacamole recipe is. With just a few ingredients, you can be dipping away!
How To Make Guacamole
Guacamole is a delicious avocado-based dip that originated with the Aztecs in Mexico. You're probably familiar with it as a party chip dip, but it is also great as a condiment for tacos or a topping for salads.
Guacamole is traditionally prepared in a large, Mexican mortar and pestle, called a molcajete. If making your guacamole this way, the onion, cilantro, and chilies are crushed together first with some salt, to release their flavors and natural oils. Then the avocado and tomato are added, and everything is blended to a wonderfully chunky paste.
What we love about guacamole is that it is such a simple dish to make at home. Even if you don't have a molcajete, it is incredibly easy to make authentic guacamole with just a bowl and a fork.
Choosing An Avocado for Guacamole
The most important thing about guacamole is to use good quality, fresh ingredients. This will make all the difference in your guac.
Fresh cilantro, fresh chilies, ripe tomatoes. The flavor is just so much better this way!
It can sometimes be hard to know if the avocado you pick at the store will be good through.
The easiest way to tell if an avocado is ripe is to push on the smaller, top part, where the stem connected. If the skin gives a little, then your avocado is perfect. If it is firm, then your avocado isn't ripe enough, and it would benefit from a couple days in a paper bag on your counter to ripen.
Our Authentic Easy Guacamole Recipe
As with any recipe that has gained wide-spread popularity, there are as many ways to make guacamole as there are people who dip their chips in it.
There are many questions about what makes a truly 'authentic' guacamole. From what we can find, the most basic, authentic guacamole is simply avocado, onion, tomato, cilantro, and a little green chili (not enough for any real heat, just enough for flavor) blended with salt and pepper.
Some people will add lime juice to their guacamole (we do tend to like a splash in ours), but lime seems to be a later addition to the truly authentic recipe.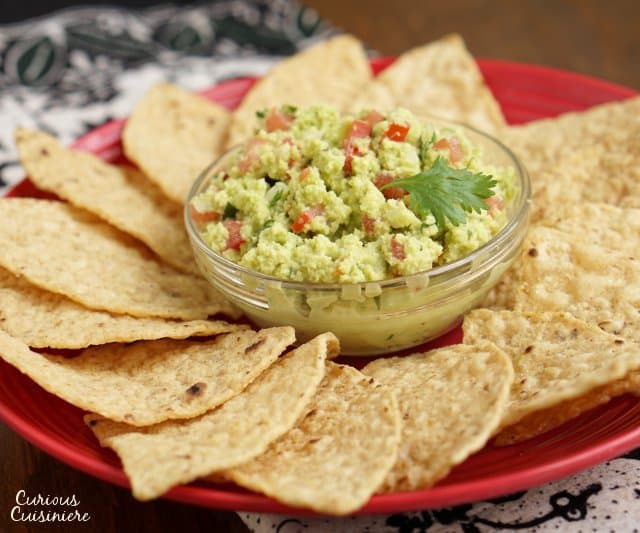 How Long Does Guacamole Last?
If you've ever dealt with avocados, you'll know that the pulp turns brown after a short while. This leads a lot of people to ask how long their guacamole will last.
First, if the guacamole discolors a bit, your guacamole might not be as pretty, but it is still edible and perfectly safe.
From our experience, guacamole keeps in the refrigerator for 2-3 days. Just make sure it is well sealed. (Cover the top with plastic wrap before sealing the container to help slow down the browning.)
Why Do Avocados Turn Brown?
Speaking of browning avocados, have you ever wondered why these pretty green fruits turn brown so fast?
The browning of avocado flesh happens because of exposure to air, in addition to an enzyme that the avocados contain called polyphenol oxidase. When the avocado's cells are cut and exposed to air, these enzymes convert to other compounds on the molecular level, a change which shows itself to us in the appearance of a brown color. (It's the same chemical reaction that happens when your apples turn brown after being cut.)
But, don't worry if your avocado discolors a little bit. A brown avocado is still just as good to eat. Actually, the change in chemical process helps the fruit to resist bacteria in the air and last longer after being exposed to oxygen.
How cool is that!
If you'd like to preserve the bright green color of your avocado, rubbing a little lemon juice on the cut flesh will slow down the chemical process.
And, on that lovely note, grab some chips and dive into this guacamole, while it's still bright and a pretty shade of green!!
Authentic Easy Guacamole
With just a few ingredients, you can be dipping away in some tasty, fresh, homemade guac!
Yield: 1 cup
Ingredients
1

avocado,

very ripe and soft

2

Tbsp

white onion,

finely chopped

½

small Serrano or jalapeno chili

1

Tbsp

fresh cilantro,

chopped

1/8

tsp

salt

3

Tbsp

tomato,

minced

Dash

ground black pepper
Instructions
Cut The Avocado
Cut around the avocado, lengthwise, until you feel the knife hit the pit. Then, rotate the avocado to cut all the way around the pit, dividing the avocado in half. Twist the two halves apart.

Place the half with the pit on a cutting board and whack it with a large chef's knife, aiming to imbed your knife in the center of the pit. Once imbedded, twist the knife to release the pit from the avocado. Tap the knife on the side of a bowl to remove the pit from the knife.

Use a large spoon to scoop the avocado flesh out of the skin. Place the avocado flesh into a bowl.
Make The Guacamole
Place the onion, chili, cilantro, and salt in a medium bowl. Mash them with the back of a fork to release some oils.

Add the avocado and mash with a fork until slightly chunky.

Add the remaining ingredients and mash and mix until combined.

Taste your guacamole and adjust the salt and pepper to taste.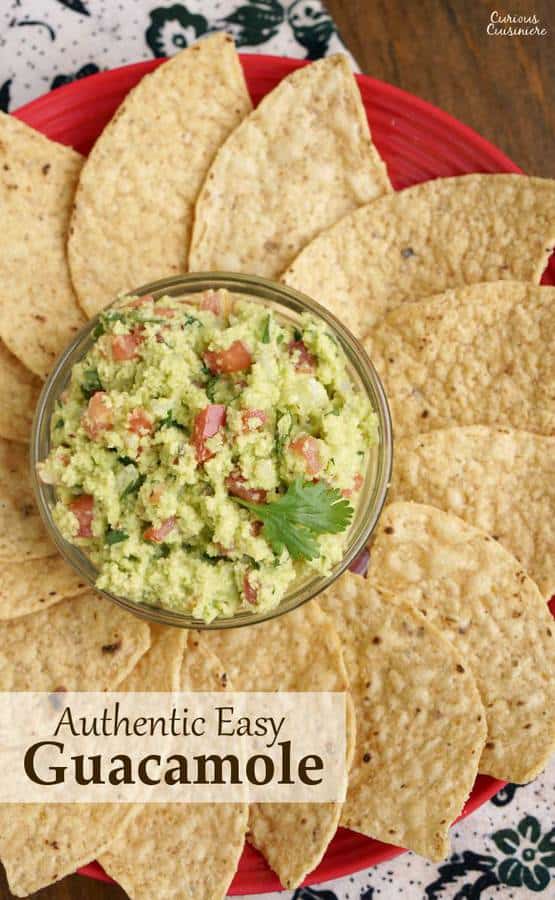 If you liked this recipe, here are some similar dishes you may enjoy!