If you like this dish, sign up for our newsletter to get tasty, cultural inspiration straight to your inbox. Where will you travel this week?
Light and bright strawberries take on a savory depth in this recipe for Chicken with Strawberry Mole Sauce. If you love mole and strawberries, you need to try this unique twist on the classic Mexican mole.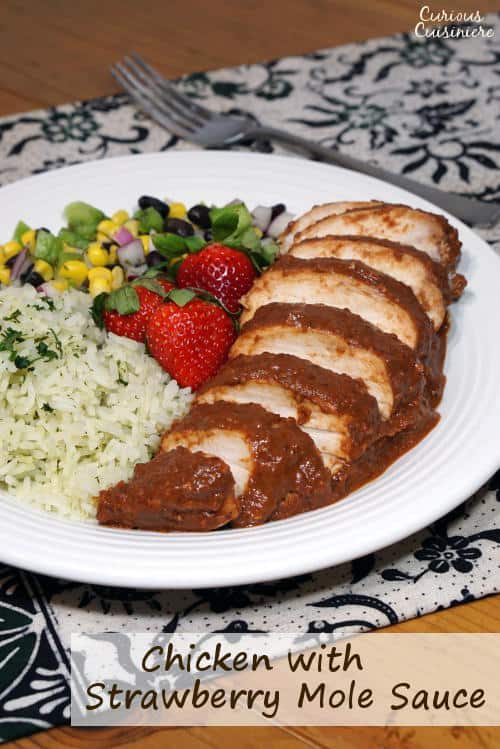 Disclosure: This post is sponsored by the Florida Strawberry Growers Association in conjunction with a social media campaign through Sunday Supper LLC. All opinions are my own.
This week the Sunday Supper crew is teaming up with the Florida Strawberry Association and Strawberry Sue to bring you recipes for a healthy and nutritious, strawberry filled Valentine's Day. Did you know that Florida Strawberry season falls while most of the US is in the dead of winter? Take a look at the strawberry containers the next time you're at the supermarket. There's a good chance that those little bundles of spring-time hope come from Florida.
It's easy to incorporate the nutritious benefits of strawberries into breakfast and dessert. We love sliced strawberries over our winter oatmeal or muesli. And strawberry desserts are our favorite! But, what about bringing their bright, sweet flavor into a dinner main dish?
Strawberry Mole Sauce
Would you believe us if we told you that the sweet and slightly tart flavor of strawberries is the perfect complement to the robust flavors of a Mexican mole sauce?
You might not, but we're here to tell you that it is SO true!
A mole sauce is a category of thick and richly flavorful Mexican sauces. We like to think of mole as the Mexican version of a curry or pasta sauce: an incredibly comforting sauce with a million and one ways to change it up and make it your own.
How to Make Mole Sauce
No matter which type of mole sauce you want to create, it should always included some form of dried Mexican chilies. These chilies don't necessarily give a lot of heat to the sauce, but they do give a smoky and robust undertone.
For our Strawberry Mole Sauce, we chose to go with equal parts ancho and guajillo chilies. The ancho chilies give the deep, raisin-like flavor and texture that is so characteristic of mole sauces. The guajillos give more of a bright and smooth flavor that we can only describe as very "red." It is the guajillos that we think are the key to opening this sauce up to our crazy strawberry variation.

What Does Mole Sauce Taste Like?
Ok, so we know it can be done. But the flavor is the real question. Right?
Just imagine a light and bright strawberry sweetness mingling with deep and robust Mexican chilies and just a hint of chocolate. It is lightly sweet, but just savory enough to pair oh so well with your main meat, so it really feels like you're eating a savory dish. And, amidst all the savory and robust mole notes, you find the unmistakable flavor of strawberries. As if the flavor wasn't enough, the light crunch of the tiny strawberry seeds mingles with the nuttiness of the ground almonds, letting you know that this sauce is seriously infused with 100%, real, Florida Strawberries.
Mole sauces can be incredibly rich and heavy, but for this Strawberry Mole Sauce, we didn't want to overshadow the fact that fresh Florida Strawberries are such a healthy and nutritious ingredient. By using flavorful ingredients and cutting back on the oil that would be used in a traditional mole sauce, we were able to create a sauce that is rich in flavor and still healthy. It's a win all around that really lets the natural goodness of the strawberries shine through!
Pairing Wine with Mole Sauce
We would recommend pairing this Strawberry Mole Sauce with a juicy, berry-forward red like a Pinot Noir or Malbec. The juicy flavors with complement the robust depth of the Strawberry Mole Sauce, and the wine's slight sweetness won't overshadow the light sweetness of the strawberries. If beer is more your thing, we'd reach for a lightly colored beer with a mild hops flavor, like a German Kölsch style. The beer's lightness will nicely contrast the deep flavors of the Strawberry Mole Sauce, and the hint of hops will bring out the sauce's bright strawberry flavors.  
Did you know 8 medium strawberries equal your daily requirement of vitamin C? You can find more information about Florida Strawberries on the Florida Strawberry Growers Association website, Facebook, Twitter, Instagram, and Pinterest accounts.  And, you can follow Strawberry Sue on Twitter and YouTube for more tasty fresh Florida Strawberry recipes!
Be sure to check out the Sunday Supper Florida Strawberry Pinterest Board for more fresh and healthy Florida Strawberry recipes!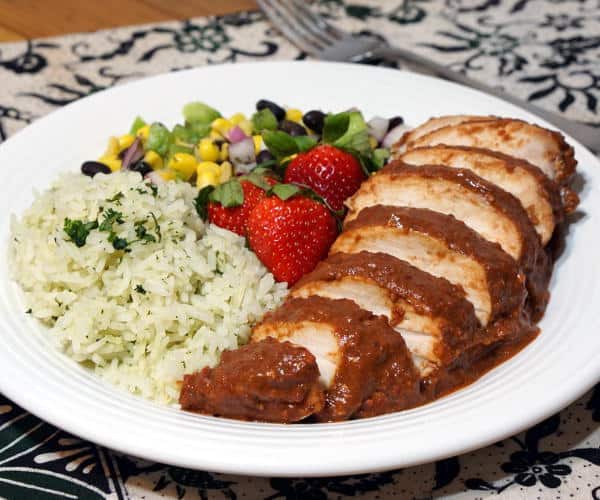 Chicken with Strawberry Mole Sauce
Light and bright strawberries take on a savory depth in this recipe for Chicken with Strawberry Mole Sauce. If you love mole and strawberries, you need to try this unique twist on the classic Mexican mole.
Strawberries bring a unique brightness to mole sauce that is perfect for pairing with chicken.
Keyword:
mole sauce, savory fruit, strawberries
---
Ingredients
2

chicken breast

(roughly 1 lb each)

Salt and pepper
For the Strawberry Mole Sauce
2

dried ancho chiles,

stemmed and seeded

2

dried guajillo chiles,

stemmed and seeded

¼

c

whole almonds

¼

corn tortilla,

torn

1

Tbsp

canola oil,

divided

2

onion slices,

½ inch

1

garlic clove,

peeled

2

c

ripe strawberries,

washed, stemmed, and quartered

1

tsp

cocoa powder

⅛

tsp

ground cinnamon

⅛

tsp

ground coriander seeds

1

c

water

⅛

tsp

salt

(more to taste)

Additional

sugar

(to taste)
Instructions
For the Chicken
Preheat your oven to 350F. Lightly sprinkle the chicken breast with salt and pepper. Place the chicken breasts on an aluminum foil lined baking sheet and roast for 45 minutes, or until an insta-read thermometer inserted in the center reads 160-165F.
For the Mole Sauce
In a large, dry skillet with high sides, add the dry chilies, almonds and tortilla piece. Toast over medium heat, 1-2 minutes, until fragrant.

Remove the chilies from the pan and place them in a bowl. Cover them with boiling water and set the bowl aside until the chilies have softened, 10-15 minutes.

Place the toasted almonds and tortilla pieces in the bowl of your food processor. Pulse until the almonds are finely and evenly chopped. (Leave this mixture in the processor. We'll come back to it in a bit.)

Heat 1 tsp oil in the sauté pan and add the onion slices and garlic clove. Cook over medium-high heat until the onions begin to brown, 2-3 min. Reduce the heat to medium. Mix in the strawberries and sauté 1-2 minutes, stirring occasionally, until softened.

Add the strawberry and onion mixture to the food processor. Remove the, now rehydrated, chilies from the soaking liquid and place them in the food processor as well. Add the cocoa powder, cinnamon and coriander. Pulse the mixture until a smooth paste forms.

Heat the remaining 2 tsp of oil in the sauté pan and pour the pureed mixture into the hot oil. Sauté for 2-3 minutes over medium high heat, stirring frequently. Add the water and bring the mixture to a simmer over medium low to low heat. Cook for 7-10 minutes, stirring often, until the mole is smooth and thick. Season with sugar and salt to taste. (The amount of sugar needed, if any, will depend on the sweetness of the strawberries.)

Cut the cooked chicken in to serving sized pieces. Add the cooked chicken to the Strawberry Mole Sauce. Reduce the heat to low, cover, and cook for 15–20 minutes.

Garnish the chicken with sliced fresh strawberries to serve, if desired. Serve the chicken with rice and beans, corn salsa, or roasted potatoes for a wonderfully complete meal.
---
Recipe Notes
This mole sauce works great with any chicken or pork.
Prepared Strawberry Mole Sauce will keep in the refrigerator for up to 1 week or can be frozen for later use.
If you liked this recipe, here are some similar dishes you may enjoy!