This is an easy recipe for a classic red mole sauce that we've paired with strips of venison steak. This Mexican mole rojo would pair just as well with beef.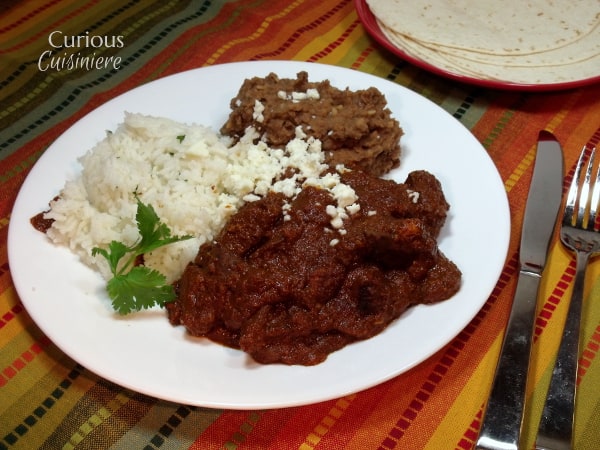 Choosing Mexican Chilies
A while back, we picked up some ancho and guajillo chilies. We've been waiting for a special occasion to use them and start delving more seriously into the world of chilies.
Now, this was our first endeavor into using chilies, so those of you who know chilies will probably be laughing or rolling your eyes at us, but we thought "Ok, they're chilies, so they'll be hot."
Turns out ancho and guajillo chilies are pretty mild.
The guajillo did offer a slight heat compared to the anchos, but in the fire realm, we were left disappointed. Luckily, we had a jalapeno on hand that we could throw in to kick things up a bit.
But, jalapenos lose their spice during cooking, so by meal time, we found ourselves with a very flavorful and tasty sauce, but not the fire we were looking for.
Making a Mole Rojo or Red Mole Sauce
This was also our first attempt making a mole. (No, there's nothing like taking new adventures one at a time in this house.) Once we started researching, the sheer number of types of moles had our heads spinning. We ended up choosing a red mole, or Mole Rojo, simply because the recipes we found called for ingredients we had on hand.
As we typically do when attempting a very new dish, we gathered a few recipes and found the common methods and ingredients. Then, we used their differences as suggestions for altering our mole to our tastes and ingredient availability.
The Flavor of a Mole Rojo
Despite the spice disappointment, this was a fantastic dish. The peanuts and almonds gave a rich nutty flavor to the sauce, while the raisins added a perfect dark sweetness.
Now that we've started, we'll be on the lookout for more chilies so we can work our way through the different mole varieties.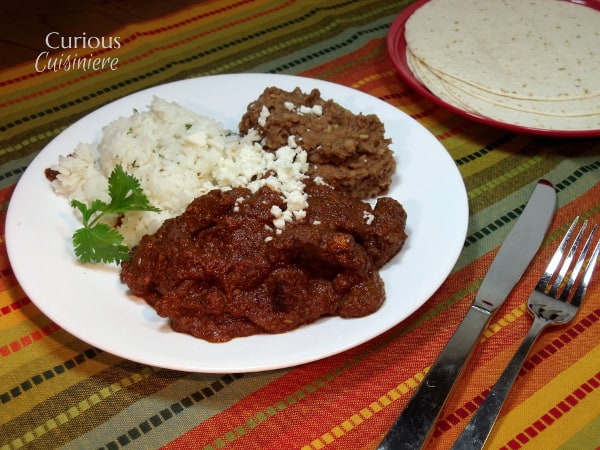 Mole Rojo (Mexican Red Mole) with Venison
This is an easy recipe for a classic red mole sauce that we've paired with strips of venison steak. This Mexican mole rojo would pair just as well with beef or chicken.
This Mole Sauce recipe yields roughly 3 cups of sauce, which is enough to coat 2-3 lbs of meat, depending on how saucy you like things.
Ingredients
For the Red Mole Paste
6

medium

dried ancho chile peppers

(or 3 large pasilla chile peppers*)

1

large

dried guajillo chile pepper

(or 4 small pulla chile peppers*)

4

large

garlic cloves

½

c

raisins

1

medium

onion,

diced

½

c

almonds

¼

c

peanuts

1

Tbsp

oregano

1

Tbsp

thyme

2

tsp

salt

1

tsp

cinnamon

¼

tsp

ground cloves

Reserved chili soaking liquid

(As needed for consistency)
For the Mole Rojo Sauce
¼

c + 2 Tbsp

cacao powder

2

Tbsp

piloncillo

or brown sugar

1

c

water
For the Meat
2

lbs

venison steaks

(or beef sirloin steaks or chicken breast), cut into strips
Instructions
For the Mole Paste
Place chile peppers in a large bowl and cover with hot tap water. Place a plate or other item on chilies to keep them submerged. Soak for 30-45 min, until soft and pliable.

Remove chiles from the soaking water. (Don't throw the water out just yet.) Discard the stems and seeds and place the chile flesh in the bowl of a food processor or blender. Add he remaining Red Mole Paste ingredients (except the soaking liquid). Blend until mostly smooth, adding the reserved chile soaking liquid add needed to blend the mixture to a smooth paste.
For the Mole Sauce
Pour the chile paste into a large, non-stick skillet. Add the cacao powder, piloncillo, and 1 c water. Mix well and simmer, uncovered, until thick and no raw onion flavor remains (5-10 minutes).

Remove the mole sauce from the pan to a bowl, and set it aside.
For the Meat
Sear the venison strips in the same non-stick frying pan you just used for the mole sauce. Once all the sides of the meat are nicely browned, add the mole sauce back to the skillet. Simmer 5 minutes more, or until the meat is cooked through.

Serve with rice, beans, and/or tortillas.
Notes
*Substituting pasilla and/or pulla chile peppers will give a slightly spicier mole sauce.
This recipe from 2013 was updated in 2019. We made the mole sauce even better. Enjoy!
If you liked this recipe, here are some similar dishes you may enjoy!