A thick, dark chocolate crust creates the perfect base for bright and sweet strawberries in these elegant, mini versions of a Strawberry Black Bottom Pie.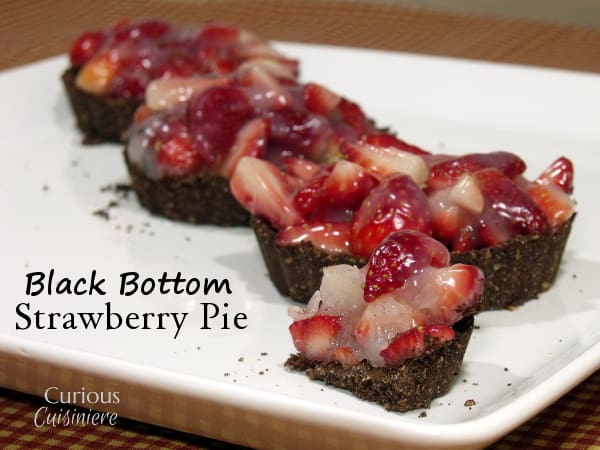 Happy Pi Day!
Sure, we've got the wrong kind of pie, but any excuse to eat pie is a good one. Right?
Tim reminded me a couple weeks ago that 3/14 is the day to celebrate the math constant Pi, which stands for the the ratio of the circumference of a circle to its diameter. The numerical value is never ending, but is shortened to 3.14.
Hence the March 14th celebration.
And, why wouldn't you want to celebrate circles? So many tasty things come in circles.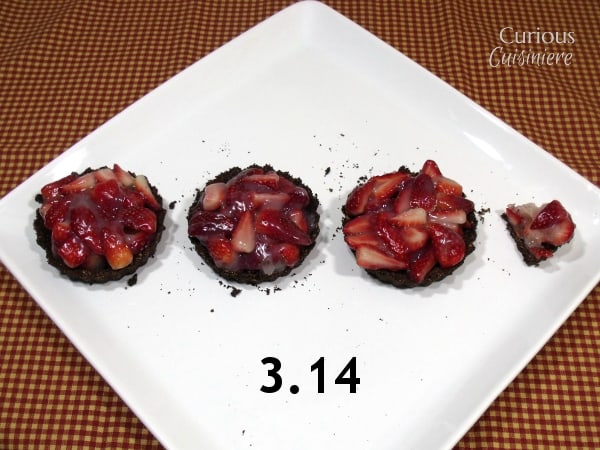 Like these pies.
Black Bottom Pie
The name Black Bottom Pie comes from chocolate custard pies with a thin meringue topping that became popular in the early 1900s in the South. The layers gave the pie the look of a 'black bottom.'
That's an easy way to name it.
Since the 1900s, many variations have developed: pastry crusts, chocolate crusts, graham cracker crusts, heavy on the chocolate, light on the chocolate and heavy on the whipped cream or meringue. I've seen black bottom banana cream pies and pecan pies and custard pies. You name it, someone has probably called it a black bottom pie.
As long as there's a dark layer in there, apparently it can be called 'black bottom.'
Which is good for us.
Mini Strawberry Pies
When we made these pies, we were looking for a crisp and crumbly, chocolate base for bright, fresh strawberries. While custard would have been tasty, we just wanted a bit more substance.
The result was these intensely flavorful pies with a dark chocolate crust that crumbles ever so nicely in your mouth, but stays pretty solid on the plate. The strawberries shine as the main topping, held together with a thin glaze to accent their sweetness.
I don't know about you, but give me strawberries and chocolate, and I'm one happy camper.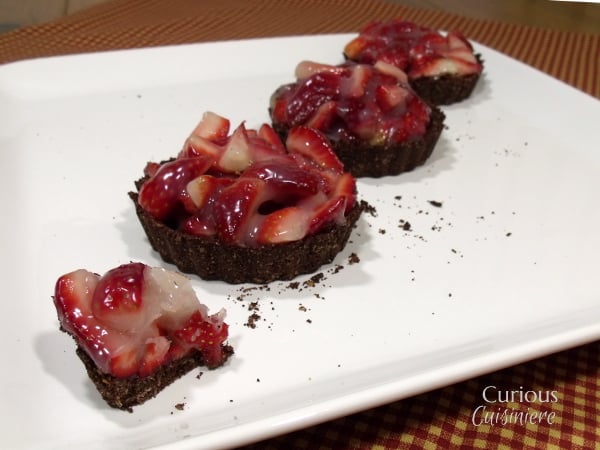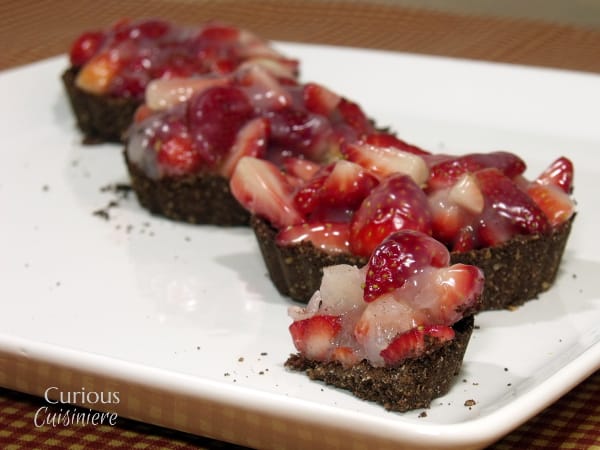 Strawberry Black Bottom Pie
A thick, dark chocolate crust creates the perfect base for bright and sweet strawberries in these elegant, mini versions of a Strawberry Black Bottom Pie.
Yield: 4 (4 inch) mini-pies (See the Recipe Notes for a 9" traditional pie variation.)
---
Ingredients
For the Crust
½

c

oats

½

c

cocoa powder

4

Tbsp

salted butter

melted

2

Tbsp

sugar
For the Filling
½

c

sugar

(more if your strawberries are on the tart side)

¼

c

cornstarch

1/8

tsp

salt

1

c

water

1

qt (roughly 4 c)

ripe strawberries,

washed, stemmed, and quartered
Instructions
For the Crust
Preheat oven to 350F.

Place oats in a food processor and pulse until ground into a coarse flour. Add remaining ingredients and pulse until the mixture resembles wet sand.

Press the crust mixture into greased mini pie tins and bake for 10 minutes.

Remove from the oven and cool completely before filling.
For the Filling
As the crusts are cooling, place berries in a large bowl.

In a 2 qt saucepan, whisk together sugar, cornstarch, and salt. Turn heat to medium-high and add water, whisking to dissolve the sugar mixture. Simmer until mixture becomes thick and opaque (5 min). Pour warm sugar mixture over berries, and stir to coat.

Immediately fill each, cooled mini pie crust with 1 c of berry mixture.

Chill the pies for 2 hours or overnight in the refrigerator before serving.
---
Recipe Notes
For a 9" traditional pie: double the crust ingredients and make the pie as instructed.
If you liked this recipe, here are some similar dishes you may enjoy!