Cevapi are easy to make, grilled sausages from Southeastern Europe that burst with smoky flavor and are perfect for serving with flatbread and sliced onions.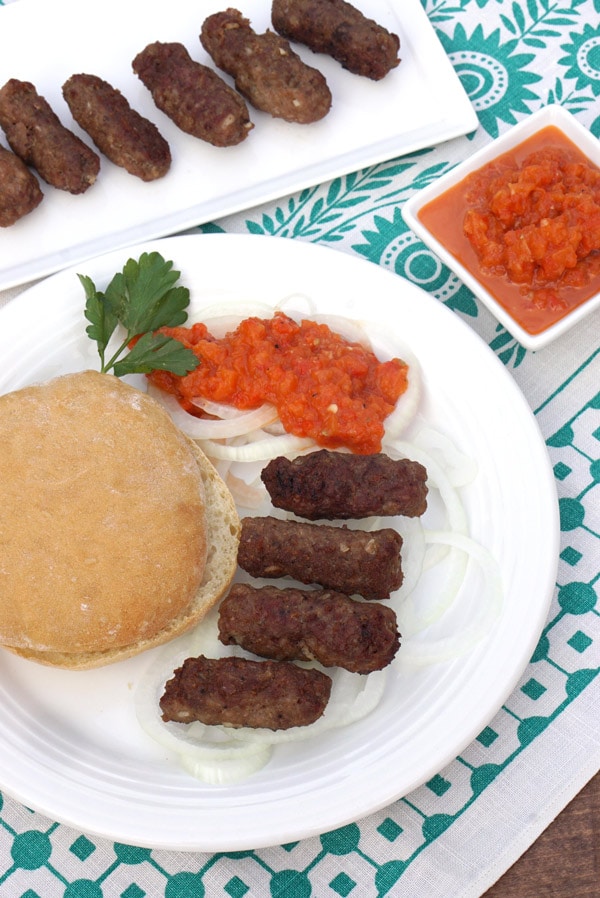 Cevapi (pronounced CHAE-vap or CHAE-vap-ee) are hand-shaped, case-less sausages that are popular in Croatia, Serbia, Bosnia-Herzegovina, Bulgaria, and other countries in the Balkans/Southeastern Europe region.
Even though we are titling this article "Serbian sausages", chevapi really have such a long history, that it is impossible to give complete credit for the creation of these sausages to any one country alone.
Turkish Influence
Cevapi (or cevapici) originated in the Balkans during the time of Turkish rule (the Ottoman Empire).
You can see the Turkish influence in the similarity of cevapi to a Turkish kofta kebab, which is a mixed-meat sausage that is molded onto skewers for easy grilling.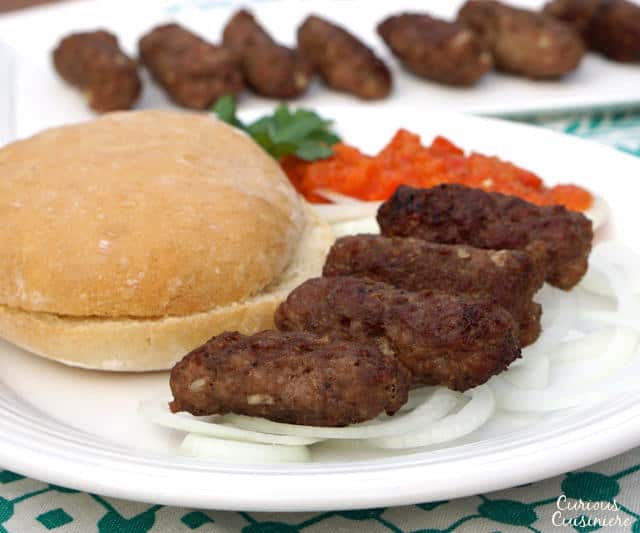 A truly unique sausage
There are many things that make cevapi unique. For starters, they are made with a mixture of beef, lamb, and/or pork. This mixture of meats creates a very unique flavor and texture in the sausage.
Another unique element to these sausages, and a very exciting one, is that they are un-cased. That means that unlike bratwurst, boerwors, or other cased sausages, you don't have to have a sausage stuffing attachment to make these tasty sausages!
This makes them super easy to make. Which is a big win!
Finally, these guys are grilled, which means, like any grilled sausage, they benefit from a nice infusion of smoke. However, since these sausages don't have a casing keeping all the smoky goodness on the surface, the smoke flavor really penetrates deep into the sausage.
And, since these sausages are made up of fatty meat, as the fat drips onto the coals, the flames spring upward, creating a beautiful hiss and pop, and a smell that is incredible!

The many faces of Cevapi
As with any food that is popular over a wide area, cevapi can vary greatly depending on the country you are enjoying them in.
In Bosnia, they are short and slightly fat. Bosnian cevapi are typically made from two different types of ground beef (like flank or rib meat mixed with chuck).
Serbian cevapi are made with a mixture of beef, lamb and/or pork.
Croatian and Bulgarian cevapi are made with a mixture of beef and pork. However, in Croatia, the cevapi are slightly longer and thinner than the Bosnian version, which are fat and shorter.
Using baking soda in sausage making
Baking soda might seem like a strange thing to add to a sausage meat mixture.
However, the baking soda we add to our cevapi help create a nice, springy texture.
Not all cevapi recipes will call for baking soda, but we loved what it did for the texture of these sausages!
How to eat Cevapi
Don't even think about reaching for that bun!
Now that we have that out of the way.
In some areas cevapi are served over potato wedges or fries, but the most popular way to eat cevapi is as a street food.
To make the sausages easy to eat, sausages are served stuffed into local flatbread, called lepinja, and garnished with sliced onions and a sweet red pepper sauce, called ajvar, or sour cream.
These sausages pack so much flavor we could eat them all on their own!
But, pairing them with a chewy flatbread, a light smear of sauce, and the bite of raw onion takes them from tasty sausages to an incredible meal.
If you make these for your next summer cookout, be careful, your guests might never leave!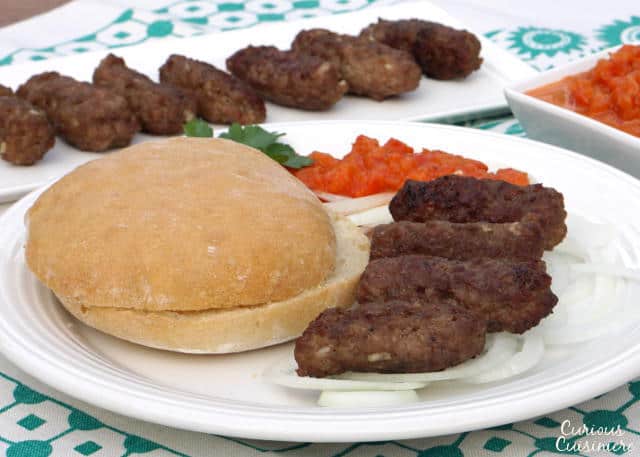 Yield: 2.5 dozen sausages
Cevapi (Grilled Serbian Sausages)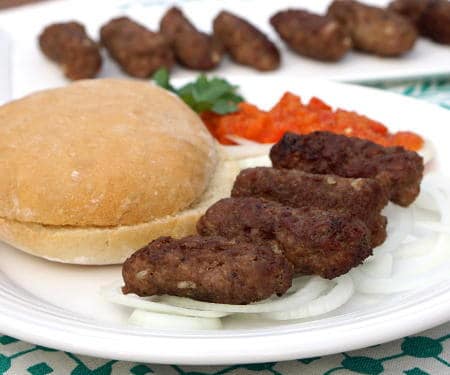 Cevapi are easy to make, grilled sausages from Southeastern Europe that burst with smoky flavor and are perfect for serving with flatbread and sliced onions.
For best flavor, let the sausages marinade in the refrigerator for at least 1 hour, up to overnight.
Ingredients
1 lb ground beef, 85% lean
½ lb ground pork
3 garlic cloves, minced
1 ¼ tsp salt
1 tsp ground black pepper
1 tsp paprika
¾ tsp baking soda
Instructions
In a large bowl mix together all ingredients.
Using slightly over 1 Tbsp of meat mixture per sausage, shape the mixture into sausages the size and shape of a fat finger (roughly 3 inches long and ¾ of an inch in diameter).
Place all the formed sausages in a single layer on a platter. Cover the platter and refrigerate for at least 1 hour (up to overnight).*
When you are ready to cook your sausages, preheat your grill to medium heat, 350-400⁰F. (You should be able to hold your hand a few inches from the cooking grate for 5-7 seconds.)
Grill the sausages using a fine grate grill pan for 4-5 minutes a side, until golden and springy.
Serve the cevapi with sliced sweet onions and flatbread (like lepinja or pita).
Notes
*The sausages can also be frozen at this point for cooking later. Simply freeze the sausages in a single layer on a platter for 2 hours. Then, transfer the frozen sausages to an air-tight container.
Frozen sausages will keep for 2-3 months.
To cook from frozen, simple place the frozen or thawed sausages on the grill and cook as directed.
Nutrition Information:
Yield:
5
Serving Size:
6 sausages
Amount Per Serving:
Calories:

300
Unsaturated Fat:

0g
If you liked this recipe, here are some similar dishes you may enjoy!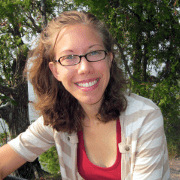 Sarah is one of Curious Cuisiniere's founding duo. Her love for cultural cuisines was instilled early by her French Canadian Grandmother. Her experience in the kitchen and in recipe development comes from years working in professional kitchens. She has traveled extensively and enjoys bringing the flavors of her travels back to create easy-to-make recipes.