Galbi, Korean BBQ Short Ribs, takes grilled short ribs to a whole new level with a unique cut and a sweet and salty marinade. 
A Special Cut of Beef for Galbi
Traditional Galbi are called Wang Galbi, or King Ribs, this version, the ribs are cut into 2-3 inch segments and the meat is butterflied away from the bone to create a thin layer of meat that is connected to the bone on one side.
When Koreans immigrated to Los Angeles, this cut was very hard to come by, so they started using what is now called LA Cut (or flanken cut, if you're not in LA). For this cut, the meat is cut across the ribs, creating thin slices of meat that have small, 1 inch sections of rib bones along one side. (See below.)
The important thing about either of these cuts is that they can be grilled quickly, rather than having to be cooked low and slow like an entire rack of ribs.
Improvising the Cut of Meat
If you're not in LA, these two cuts of meat can typically be found at an Asian or Korean market or grocery store. Unfortunately, we don't have either nearby, so we had to improvise for our version of Galbi.
What our local grocery store does carry is boneless "country style" short ribs. While these ribs aren't technically short ribs, since they are cut from the chuck portion of the cow, they are the closest we can get, and so, we make do!
Butterflying Short Ribs
To transform our boneless "country style" short ribs into the thin  piece of meat that we need for Galbi, we need to butterfly each rib. Think about it like you are making a "C" cut in the rib.
To do this, we start by making a cut 1/3 of the way in on the long side of the rib. We cut until we are roughly 1/4 of an inch from the bottom of the rib. Then, we turn the rib to cut along that bottom section for about 1/4 of an inch. Finally, we turn the meat again and cut lengthwise through the larger section, just until the rib will unfold, like a tri-folded letter, and lay flat.
Take a look at the video below to see how we do it.
Scoring the Rib
The final step to preparing the meat, for LA cut or butterflied ribs, is to score the meat. Gently make small incisions, diagonally across both sides of the meat. You're not cutting through the meat here, just gently scoring each side.
Making these small cuts will allow the marinade to really penetrate through the meat.
Using Asian Pear
There is one ingredient in the marinade that you might find strange: a pear!
Pears are used in many Korean meat dishes (like Bulgogi). Grated pear adds a natural sweetness to the marinade and acts as a meat tenderizer.
Asian pear is sweeter than standard American pears and firm, like a cross between a pear and an apple. Like the meat cuts, you can find them at Asian grocery stores, but if you aren't fortunate to live near one, a Bosc pear will work well in place of the Asian pear.
Sweet and Salty, Tender Galbi
As you could imagine from using pear (and brown sugar) in the marinade, these ribs have a nice sweet and salty balance that really gives them a burst of flavor.
Galbi are traditionally eaten as a lettuce wrap, with rice and kimchi. And, while we thought we would prefer the galbi straight up, served with a side of rice, we actually found that the lettuce wrap added a fresh crunch that was a nice textural addition to the galbi and rice. The salt and acidity of the kimchi brought out the sweet and salty flavors of the meat marinade, really kicking up the flavor.
As a hand-held wrap or as fork-and-knife dinner, if you're looking to kick up your summer grilling routine, you need to give Korean Galbi a try!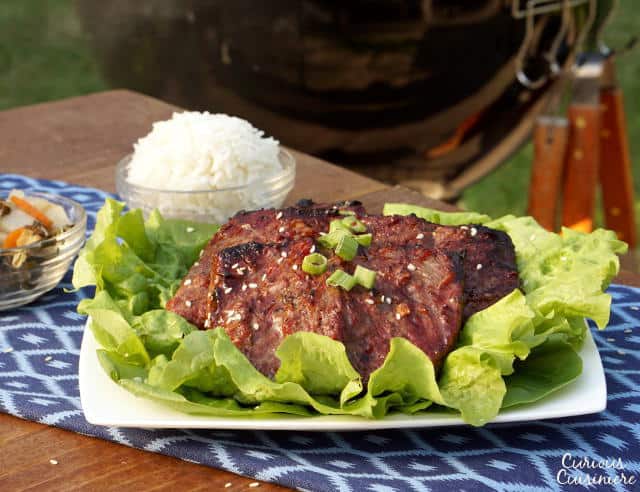 ---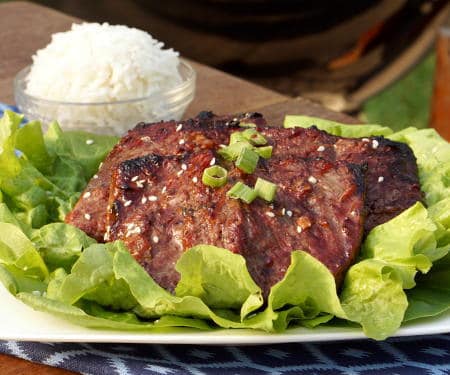 Galbi (Korean BBQ Short Ribs)
For best flavor marinade meat for 24 hours before cooking.
---
Ingredients
2

lb

LA cut short ribs or regular short ribs

(bone-in or boneless)
For the Marinade
½

onion,

chopped

2

garlic cloves

1

tsp

fresh ginger,

minced, or a dash of dry, ground ginger

½

Asian pear or Bosc pear,

peeled and chopped

2

scallions,

sliced

¼

cup

soy sauce

2

Tbsp

toasted sesame oil

2

Tbsp

brown sugar

¼

tsp

ground black pepper
Instructions
To Prepare the Galbi
If you are using boneless or bone-in short ribs, butterfly the ribs to create one large, flat cut of meat, roughly ¼ inch thick. Start 1/3 of the way into the long side of the rib and cut until you are about ¼ of an inch from the bottom. Turn your knife and cut sideways along the bottom side of the rib for ¼ of an inch. Turn the meat again to cut through the second side of the rib, cutting just until the piece of meat will lay flat.

If you are using LA cut or your butterflied short ribs, lightly score both sides of the meat diagonally, so the marinade penetrates better. Place the meat into a flat container with a lid. Set aside.

Place the onion, garlic cloves, and ginger into the bowl of your food processor and pulse until finely chopped. Add the peeled and chopped pear. Pulse until a puree forms.

Place the mixture into a medium bowl and add the scallions, soy sauce, sesame oil, brown sugar, and black pepper.

Pour the marinade over the meat. Cover and refrigerate overnight.
To Cook The Galbi
Heat grill to medium-high heat, roughly 400⁰F. (You should be able to hold your hand 3-4 inches from the cooking grate for 4-5 seconds.)

When the grill is hot, place the meat on the grates. Grill the meat for 3-4 min a side, until it is cooked through.
To Serve
Serve the galbi with white rice, and kimchi.

If you would like to serve the galbi as lettuce wraps, serve with large, sturdy leaves of lettuce as well.
---
---

If you liked this recipe, here are some similar dishes you may enjoy!