Big, juicy grill-seared chunks of beef served over thick slices of artisan bread. Espetada, or Portuguese Beef Skewers, is a recipe that calls for a party!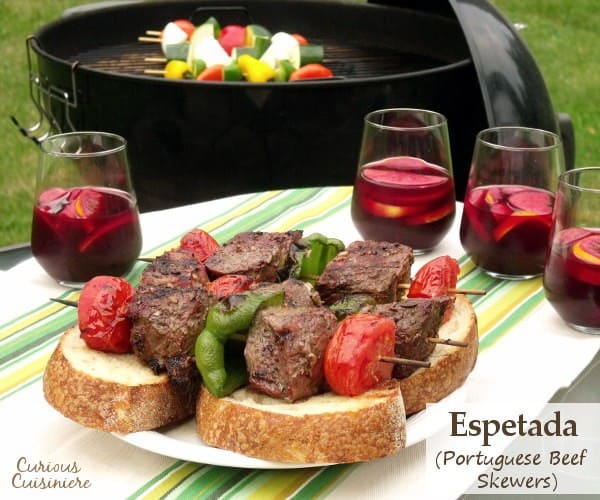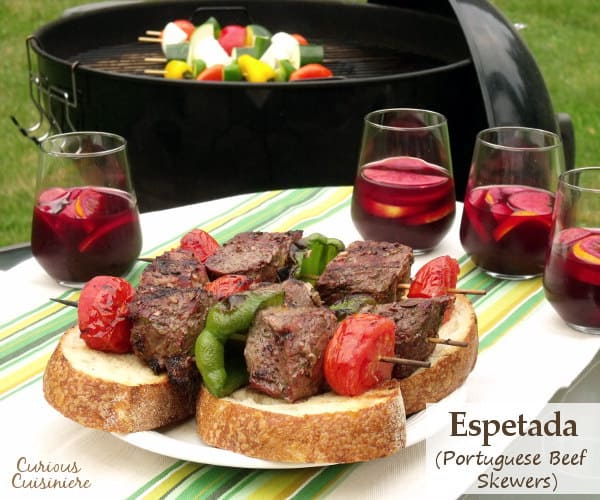 Big, juicy beef skewers
Espetada (ace-PAE-ta-da) is a dish originating from the island of Madeira.
It traditionally consists of large chunks of beef that are rubbed with garlic and salt and skewered onto a bay laurel branches before being grilled over hot coals.
The bay branches infuse the meat with flavor as the skewers grill.
Since there aren't a whole lot of bay laurel trees in Wisconsin, we decided to infuse the meat with the bay flavor through the marinade.
How to serve espetada
It is common for the dish to be served with the skewer hung vertically from a hook, so the the juices can drip down onto a plate of thick-sliced crusty bread.
Likely, you don't have a hook and skewer set up for your table, so serving these skewers atop thick, grilled slices of artisan bread is the next best thing.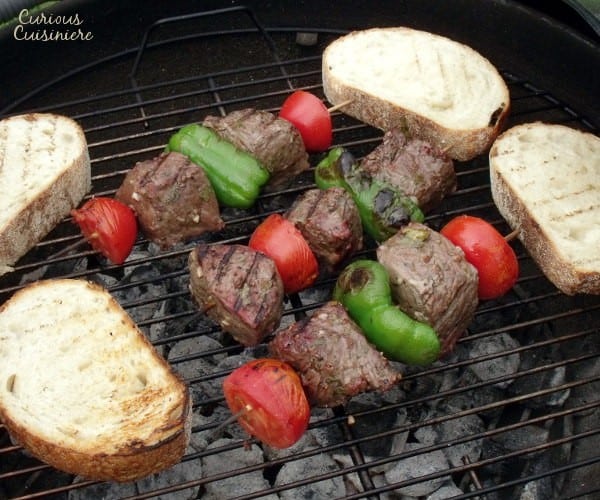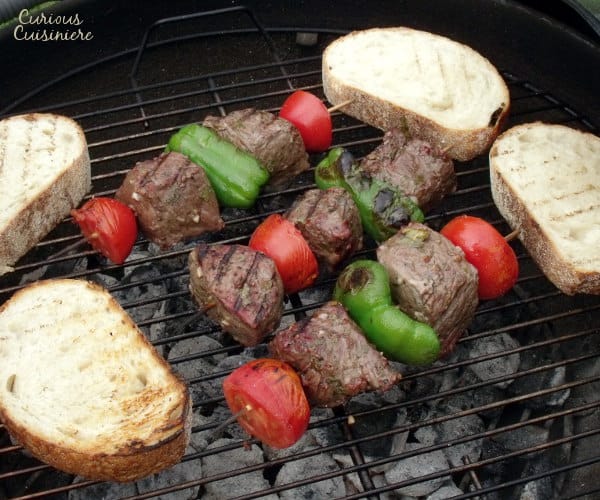 How to cook these beef kebabs
Cooking skewers can be tricky to get the perfect doneness of the meat. And even if you're a master at other skewers, these are a bit different because the cubes of meat are so thick.
Our advice: treat them like a steak.
We use a medium high heat to get a good sear on the cubes. Then we cook them until they just start to feel firm.
Resting the skewers, covered, helps finish off the cooking slowly and stabalize the juices.
The goal is to achieve a nice medium to medium rare color and juiciness in your meat.
A simple dish with big flavor
Even though this dish consists of a surprisingly small number of ingredients, the flavor is incredible!
Paired with some crusty bread, each bite of this party meal is summer heaven!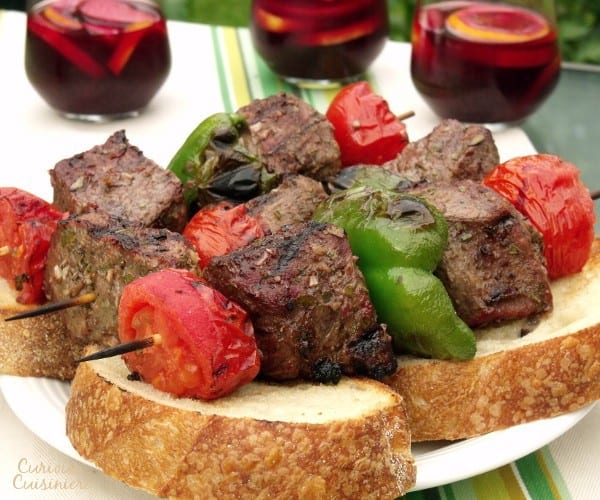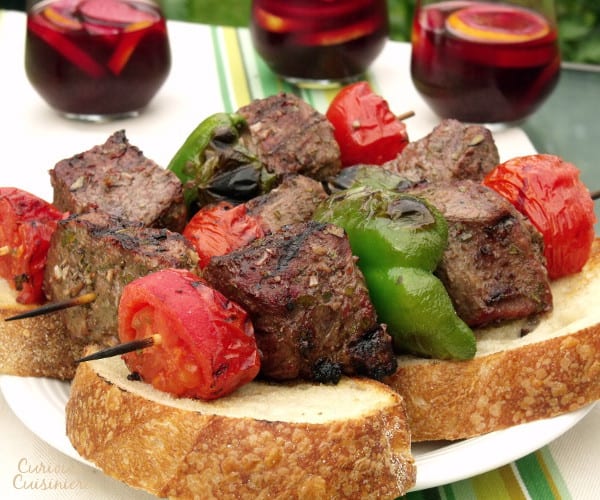 More Portuguese and Portuguese inspired recipes
Take a trip to Portugal with some of these recipes inspired by Portuguese flavors!
Yield: 6 people
Espetada (Portuguese Beef Skewers)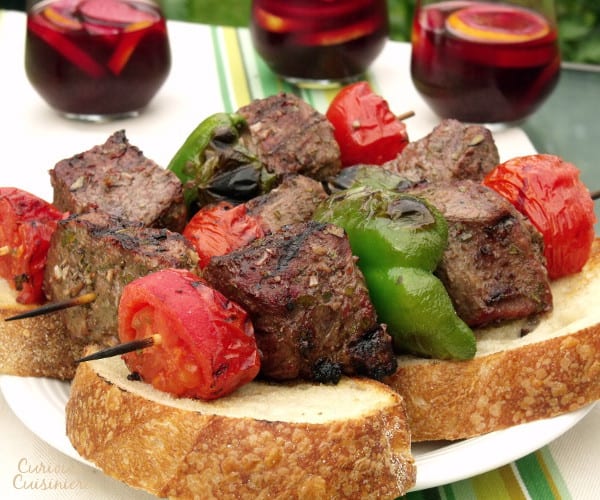 These big, juicy beef skewers are ready for a summer cookout party!
Letting the beef marinate for at least four hours is key to the incredible flavor of this dish. If possible, let the beef marinate overnight.
Total Time
4 hours
30 minutes
Ingredients
1 1/2 lbs beef sirloin, cubed into 2" chunks
6 garlic cloves, minced
12 bay leaves, crumbled
1/2 tsp ground black pepper
1/4 c Madeira wine
2 Tbsp olive oil
3 Roma tomatoes, halved
2 green pepper, halved and seeded
2 tsp salt
Instructions
In a small bowl, mix together minced garlic, crushed bay, and black pepper. Rub the beef chunks with the mixture and place them in a flat baking dish or ziploc bag.
In another small bowl, mix together the Madeira wine and olive oil. Pour the wine mixture over the beef cube, making sure they are well coated. Place the beef in the refrigerator to marinate for at least 4 hours, or overnight.
When you are ready to cook your beef, preheat your grill to medium high heat. (You should be able to hold your hand over the cooking grate for approximately 5 seconds.)
Place the beef chunks on soaked, sturdy, wooden skewers (or metal skewers if you have them), interspersed with the tomato and green pepper halves. Sprinkle the beef and vegetables with salt.
Grill the meat for 3-5 minutes. Flip the skewers and grill for an additional 3-5 minutes, until the beef is just starting to become firm. Remove the skewers from the grill to a platter. Cover the skewers with aluminum foil and let them stand for 10 minutes before serving.
Serve the skewers on a bed of crusty bread, drizzled with any juices that pooled in the platter as they rested.
Nutrition Information:
Yield:
6
Serving Size:
1/6 of recipe
Amount Per Serving:
Calories:

343
If you liked this recipe, here are some similar dishes you may enjoy!