Big, juicy grill-seared chunks of beef served over thick slices of artisan bread. Espetada, or Portuguese Beef Skewers, calls for a party, and a party is what we have for you today!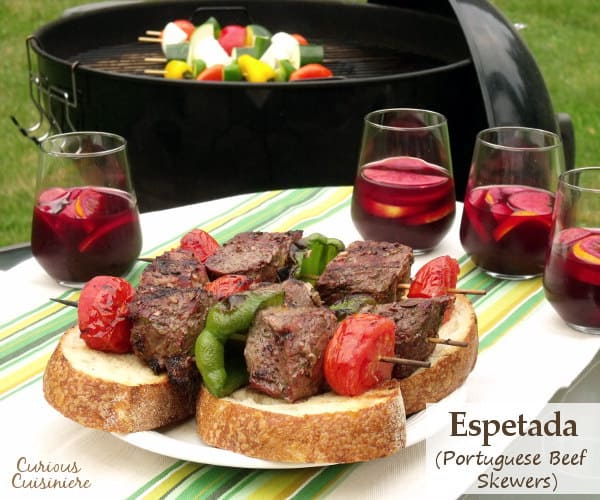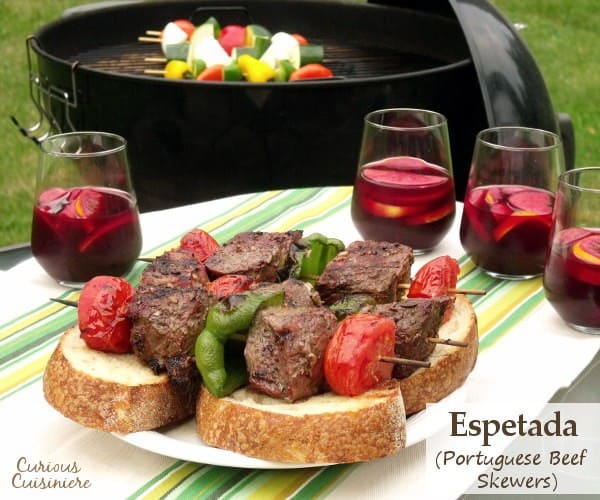 Today we're here on a different day of the week than normal, for a very good reason. You see, today is Isabel, THE Family Foodie's BIRTHDAY!
Isabel is the passionate mastermind that brings so many food bloggers together around the family table each week for Sunday Supper and, as if that wasn't enough, her love for her family of bloggers and her desire for the community to feel an even deeper sense of that family bond sparked her to start the Food and Wine Conference which you have been hearing us talk so much about this summer.
We owe so much to Isabel's passion and commitment to empowering her community to be all that they can be, but most of all to be true to themselves, the way she has been true to herself and to her dreams and passions. It was such an honor to finally get to meet Isabel and her family at the Food and Wine Conference this year. We thought we knew how kind and generous she was from our interactions online, but nothing could have prepared us for what it was actually like to meet her in person. She is one of those people who is so full of love and passion that they just can't keep it all in. It bubbles up and overflows into everything around them. You couldn't help but feeling loved and empowered when you were around her. She has such a gift for what she does and such an authentic spirit. I know I am not alone when I say that Tim and I are truly blessed to know her.
So, what do you do for someone who means so much? You throw them a birthday party! Of course! And, when it's a party of food bloggers, you know there is going to be some good food involved!
In honor of Isabel's Portuguese roots we decided to go Portuguese today and bring some juicy, Portuguese beef skewers to the party. We know that she and her family are big fans of beef. She has so many beefy recipes that are on our list to try, like Beef and Avocado Flatbread and her Garlicky Sirloin Steak for a Crowd. So, we thought these beef skewers would be something she and her family would enjoy at a summer party!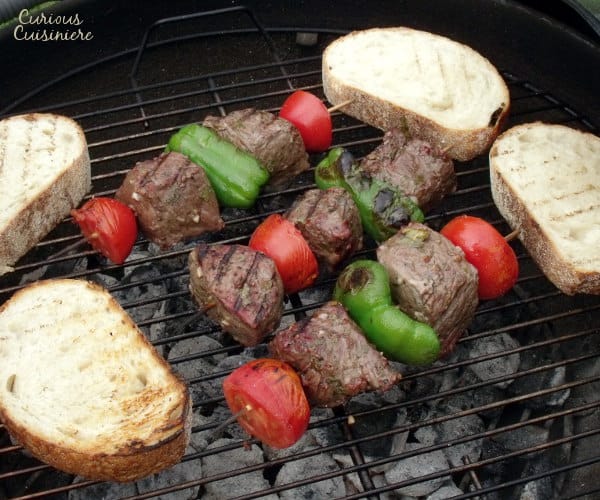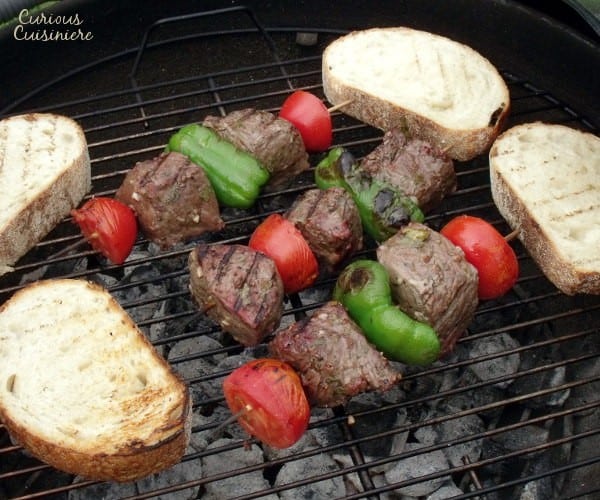 Espetada (ace-PAE-ta-da) is a dish originating from the island of Madeira. It traditionally consists of large chunks of beef that are rubbed with garlic and salt and skewered onto a bay laurel branches before being grilled over hot coals. It is common for the dish to be served with the skewer hung vertically from a hook, so the the juices can drip down onto a plate of thick-sliced crusty bread.
Since there aren't a whole lot of bay laurel trees in Wisconsin, we decided to infuse the meat with the bay flavor through the marinade.
Even though this dish consists of a surprisingly small number of ingredients, the flavor is incredible! We seared the meat so it was still juicy and pink on the inside. Paired with some crusty bread, each bite was summer heaven!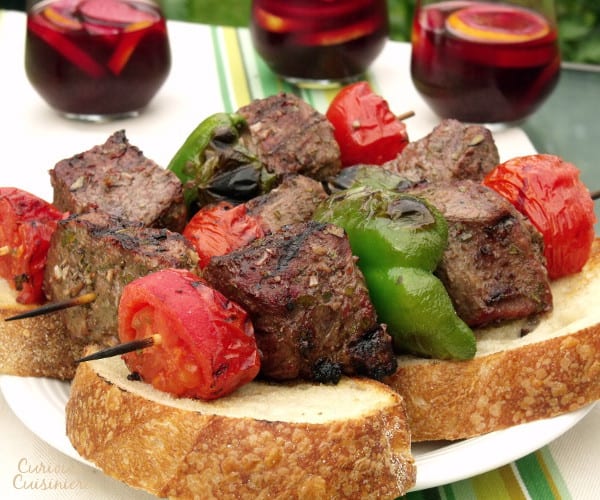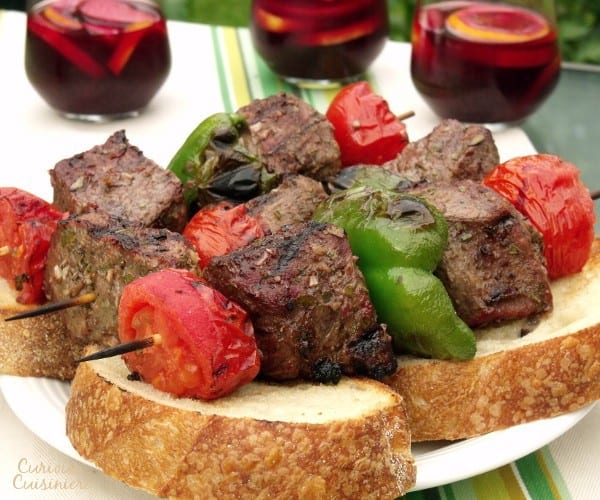 Espetada (Portuguese Beef Skewers)
Letting the beef marinate for at least four hours is key to the incredible flavor of this dish. If possible, let the beef marinate overnight.
Ingredients
1 1/2

lbs

beef sirloin,

cubed into 2" chunks

6

garlic cloves,

minced

12

bay leaves,

crumbled

1/2

tsp

ground black pepper

1/4

c

Madeira wine

2

Tbsp

olive oil

3

Roma tomatoes,

halved

2

green pepper,

halved and seeded

2

tsp

salt
Instructions
In a small bowl, mix together minced garlic, crushed bay, and black pepper. Rub the beef chunks with the mixture and place them in a flat baking dish or ziploc bag.

In another small bowl, mix together the Madeira wine and olive oil. Pour the wine mixture over the beef cube, making sure they are well coated. Place the beef in the refrigerator to marinate for at least 4 hours, or overnight.

When you are ready to cook your beef, preheat your grill to medium high heat. (You should be able to hold your hand over the cooking grate for approximately 5 seconds.)

Place the beef chunks on soaked, sturdy, wooden skewers (or metal skewers if you have them), interspersed with the tomato and green pepper halves. Sprinkle the beef and vegetables with salt.

Grill the meat for 3-5 minutes. Flip the skewers and grill for an additional 3-5 minutes, until the beef is just starting to become firm. Remove the skewers from the grill to a platter. Cover the skewers with aluminum foil and let them stand for 10 minutes before serving.

Serve the skewers on a bed of crusty bread, drizzled with any juices that pooled in the platter as they rested.
---
Thanks to Terri from Love & Confections, for organizing this crazy big surprise party. That's a lot of coordinating! Join us in celebrating Isabel's Birthday with all the delicious food and drinks her #SundaySupper family prepared!
Birthday Drinks:
Birthday Appetizers:
Birthday Main Courses:
Birthday Desserts: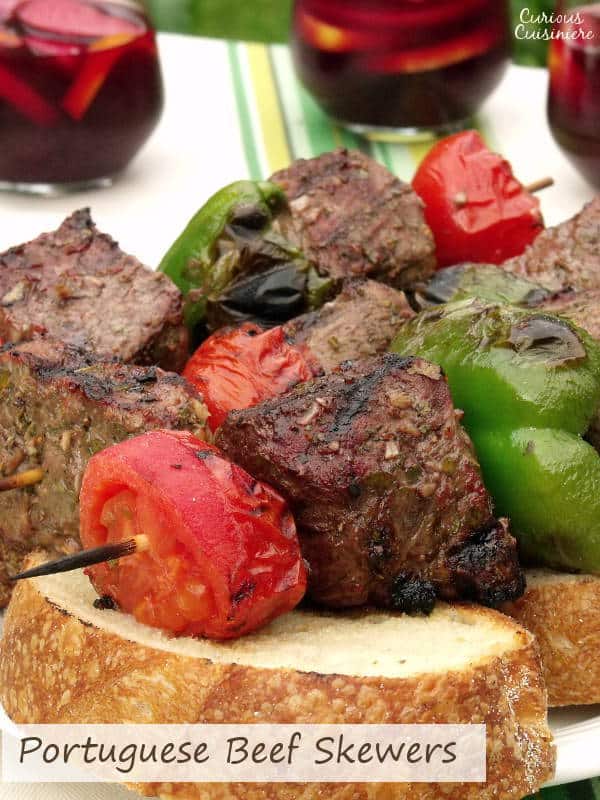 If you liked this recipe, here are some similar dishes you may enjoy!