Get ready to fall in love with grill-roasted red peppers. One bite of Ajvar, and you will want to put this Serbian red pepper relish on everything from bread to meat and even veggies!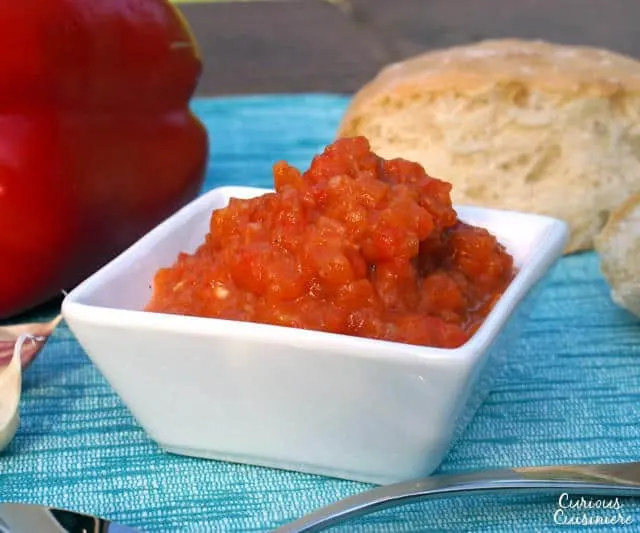 Ajvar (pronounced AYE-var) is a bright and robust red pepper relish that originates from the Balkans region of southeastern Europe.
Ajvar could be considered a sauce similar to ketchup in its tangy, slightly sweet flavor and its most common use, as a topping for cevapi sausages.
Like ketchup, its uses go far beyond a simple sausage topper. It can be used as a condiment for grilled fish and meats, as a sandwich spread, or simply spread on bread or a cracker for a nice snack.
Ajvar: A taste of summer all winter long
In Serbia and other Balkan countries like Bosnia, Bulgaria, Croatia, and Macedonia, ajvar is the traditional way to preserve sweet, red peppers from the summer's harvest.
Bushels of red peppers are roasted and pureed (along with eggplant in some regions) to create enough ajvar to last through the winter. It is then jarred and processed, much the same way we would turn our garden's tomatoes into salsa for canning.
Traditionally, making ajvar is a family event. Since you're taking care of the season's harvest in one go, it's nice to have all hands on deck!
We just made a small batch, but as we stood around the grill roasting our peppers and eggplant, we could just imagine gathering with family and friends at the peak of pepper season for an ajvar making party.
Since ajvar is so steeped in family life, it's no surprise that every family has their own way of making this red pepper spread.
Some make it sweet and cook it down to intensify the flavor. Some go heavy on the vinegar for a tangy sauce that is pureed smooth. Still others make it spicy and chunky.
Which way would you prefer?
Don't be afraid to have a little fun with your ajvar and find out! Adjust the seasonings to suit your taste and don't be afraid to add a little hot sauce or a chili pepper if you like things hot!

Making our Ajvar Recipe
The key to making a good ajvar is to roast the red pepper and eggplant on a grill. You can roast them in the oven in a pinch, but you will loose all that delicious, smoky goodness that the grill imparts.
Once the vegetables are soft and charred, then it is time to peel and seed them. Finally, the roasted flesh goes into the food processor with some raw garlic, olive oil, vinegar, salt, and pepper.
A good pulsing in the food processor gets the relish to the perfect consistency.
Ours was thick enough to our liking after just the time in the food processor. But, if yours is a bit too watery or you want an even deeper flavor, don't be afraid to transfer it to a skillet or sauce pan and cook it down a bit, uncovered, over low heat, until it reaches a consistency you like.
Simple ingredients, Big flavor
It is a simple recipe, but the sweetness of the roasted red pepper and the deep smokiness from the grill mingle with the sharp raw garlic and the bright vinegar for a sauce that will blow your mind.
We served the ajvar as is most traditionally eaten, with some Serbian bread, called lepinja, and cevapi grilled sausages. While this meal is most commonly eaten as street food, we found it to be the perfect, relaxing summer meal.
Surprisingly, we had some ajvar leftover after the sausages, so we were able to continue enjoying the ajvar, spread on soft bread as an appetizer, and for breakfast, along with some fried eggs.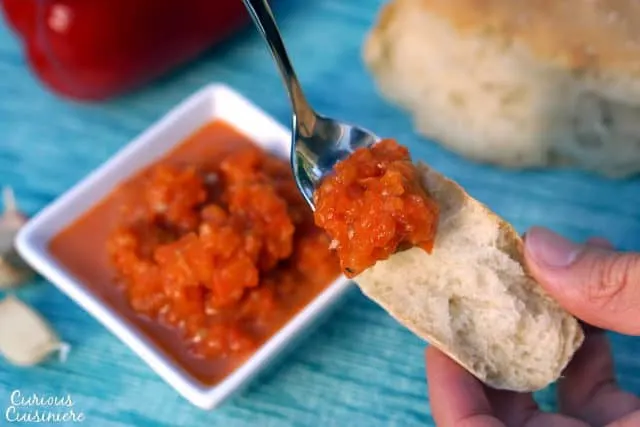 Ajvar (Serbian Roasted Red Pepper Relish)
Ingredients
2

red bell peppers

1

small eggplant

1

garlic clove,

smashed

1

Tbsp

olive oil

1 ½

tsp

white wine vinegar

¼

tsp

salt

⅛

tsp

ground black pepper
Instructions
Preheat the grill to medium high heat, roughly 450⁰F. (You should be able to hold your hand a few inches above the cooking grate for 4-6 seconds.)

Pierce the skin of the eggplant all over with a fork. Place the eggplant over a cooler section of the grill (350-400⁰F) and let it roast, turning occasionally, until the skin darkens and the eggplant is soft, 30 minutes.

While the eggplant is roasting, place the red peppers over the hottest part of the grill. Rotate the peppers as the skin blackens, until the peppers are soft and you have achieved a nice char on all sides.

Place the charred red peppers in a paper bag or in a glass bowl covered with a tea towel to let them steam for 10 minutes.

After steaming, the skin on the peppers should have loosened. Remove the stem and core of the peppers and peel off the skin. Place the remaining flesh into the bowl of your food processor.

Once the eggplant is soft, remove it from the grill. Let it cool until it is easy to handle. Cut the eggplant in half. Scoop out the flesh and place it in the food processor with the red peppers.

Add the raw garlic clove to the food processor and pulse until the mixture is well chopped.

Add the olive oil, vinegar, salt, and pepper, and pulse until combined.*

Taste your ajvar and adjust the salt and pepper as desired.

Use your ajvar immediately or keep in a sealed container in the refrigerator for up to 1 week.
Notes
*Alternately, for an ajvar that is a bit thicker, heat the oil in a saute pan and lightly saute the pureed mixture. Add the vinegar, salt and pepper to the mixture in the skillet. Saute until desired consistency is reached.
If you liked this recipe, here are some similar dishes you may enjoy!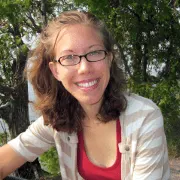 Sarah is one of Curious Cuisiniere's founding duo. Her love for cultural cuisines was instilled early by her French Canadian Grandmother. Her experience in the kitchen and in recipe development comes from years working in professional kitchens. She has traveled extensively and enjoys bringing the flavors of her travels back to create easy-to-make recipes.