This take on Tuscan Bread Salad, or Panzanella, adds sweet peppers and red onions to the traditional dish of toasted bread and tomatoes.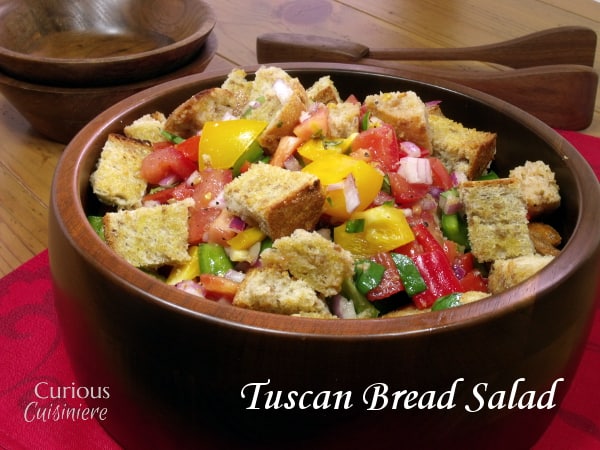 It's International Picnic Day. So, we're going on a picnic and we're bringing…
Tuscan Bread Salad!
Have you ever played the Picnic Game?
You know. The one where someone starts: "I'm going on a picnic, and I'm bringing Apple Pie."
Then the next person says: "I'm going on a picnic, and I'm bringing Apple Pie, and Burgers."
And so on, and so on. Each person following the letters of the alphabet and having to remember everything that was said before them.
I have a terrible memory, so I always hated being near the end.
But, today it's a bit easier to remember all the tasty dishes that come before T in today's Picnic Game.
The mid-week fun is sponsored by Sunday Supper, so you will see some familiar faces in the game lineup below.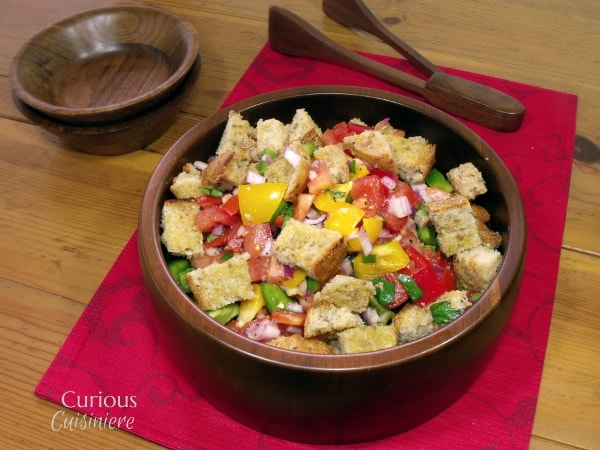 Tuscan Panzanella
This Tuscan Bread Salad, known as Panzanella, is a great way to use up stale bread in the summer (when making stuffing is the last thing on your mind).
It is super easy to make, and bursts with flavors and textures of toasted bread, bright tomatoes, sweet peppers and crisp red onions.
The bread becomes beautiful toasted croutons that soak up the light balsamic dressing.
We like to add our bread just before serving our panzanella, so that the croutons add a nice burst of texture to the salad.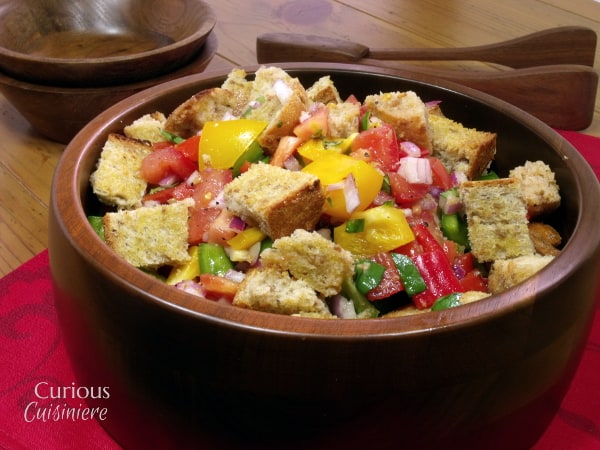 Tuscan Bread Salad
This take on Tuscan Bread Salad, or Panzanella, adds sweet peppers and red onions to the traditional dish of toasted bread and tomatoes.
---
Ingredients
For the Dressing
¼

c

White Balsamic Vinegar

or regular Balsamic Vinegar

2

Tbsp

olive oil

½

c

fresh basil,

coarsely chopped

1

tsp

salt

2

garlic cloves,

crushed, or 1/2 tsp garlic powder

½

tsp

ground black pepper
For the Salad
1

lb

stale French or Italian bread,

cut into 1/2-1" cubes

¼

c

olive oil

4

tomatoes,

diced

1

green bell pepper,

diced

1

red bell pepper,

diced

1

yellow bell pepper,

diced

1

red onion

minced
Instructions
Preheat oven to 400F.

In a small bowl, whisk together all the dressing ingredients and set aside.

Toss the bread cubes with 1/4 c oil and place them on a baking sheet. Toast in the oven for 5-7 minutes, stirring occasionally until the bread is crispy.

Once the bread is toasted, remove it from the oven and let it cool slightly.

Toss the toasted bread and chopped vegetables together in a large bowl. Pour the dressing over the mixture and toss until everything is evenly coated.

Serve immediately.*
---
Recipe Notes
*To prepare this salad ahead of time, keep the chopped vegetables, toasted bread, and dressing separate until just before the salad will be served.
---
Today we are celebrating International Picnic Day by bringing you a basket packed with goodies from A to Z, in the style of the picnic game! Drop by the Sunday Supper Movement to see the whole picnic spread out on our virtual blanket.
I'm going on a picnic and I'm bringing…
Asian Chicken Salad from Try Anything Once Culinary
Beautiful Beet Salad from Small Wallet, Big Appetite
Chicken Muffuletta from Marlene Baird
Double Chocolate Chip Cookie Cups from The Dinner-Mom
Elote from Peaceful Cooking
Fennel Slaw from FoodieTots
Greek Farro Salad from That Skinny Chick Can Bake
Honey Porter Glazed Chicken and Vegetable Skewers from Hezzi-D's Books and Cooks
Italian Pasta Salad from Casa de Crews
Japanese Plum Sushi from NinjaBaking.com
Kudos Kitchen Kolaches from Kudos Kitchen by Renee
Lemon Yogurt Bundt Cake from In The Kitchen With KP
Molasses Lovers Baked Beans from Cindy's Recipes and Writings
Northern Bean Salad with Egg and Prosciutto from Family Foodie
Orzo Salad from The Not So Cheesy Kitchen
PICOBLAT from Simply Healthy Family
Quinoa-Stuffed Grape Leaves from Culinary Adventures with Camilla
Roasted Fingerlings with Capers and Dill from Peanut Butter and Peppers
Spicy Southern Fried Chicken from Food Lust People Love
and…
If you liked this recipe, here are some similar dishes you may enjoy!