Lepinja, or Somun, is a soft and fluffy bread from the Balkans in Southeastern Europe that makes the perfect accompaniment to any meal.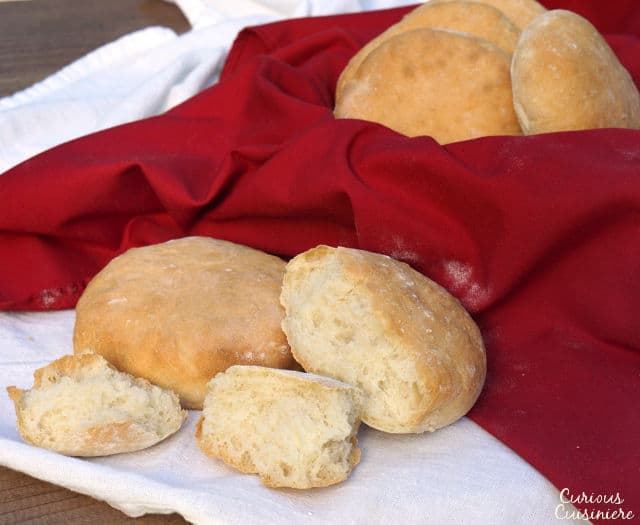 Lepinja, also known as Somun, is a popular street food in the Balkans region, particularly Serbia, Bosnia, and Croatia. It is sometimes known as lepinje za cevapi, because it is most commonly served with cevapi grilled sausages.
It is a soft and light bread with a very mild flavor, so no matter what you serve it with, it takes on the flavors of the dish, adding a wonderful, soft and comforting texture.
Triple Rise Flatbread
What makes lepinja very unique is the triple rise. This creates a very tender and soft bread that looks like pita, but has a texture that more closely resembles a soft focaccia. Using milk instead of water also contributes to the creamy flavor and texture of this bread.
Lepinja: A Daily Bread
This is a daily bread in the Balkans, and is definitely one of those breads that is best the day it is made. Hot out of the oven, or even later that day, its soft and creamy texture are captivating.
Lepinja will stay good for 2 or 3 days in an airtight container on the counter. But after that, it will starts to dry out. That is why our recipe only makes a few individual serving breads.
We're glad it is such a simple and hands-off bread to make, so it is an easy one to make often!
The trick to Making Lepinja
While it is sometimes called a flatbread, lepinja is fluffy and can be a bit more lofty than you would typically thing of for a flatbread.
Lepinja starts off baking at a very high temperature, like pita bread. If your oven temperature is hot enough and you are lucky, your lepinja might even puff up enough to create hollow center pockets, like pitas.
Unfortunately, ours didn't create a pocket. But the bread still tasted wonderful and great for splitting with a knife and stuffing with our fillings.
It is also fantastic served with Ajvar, a roasted red pepper and eggplant spread from the Balkans. Once you try this combo, you might never go back to your standard bread and butter!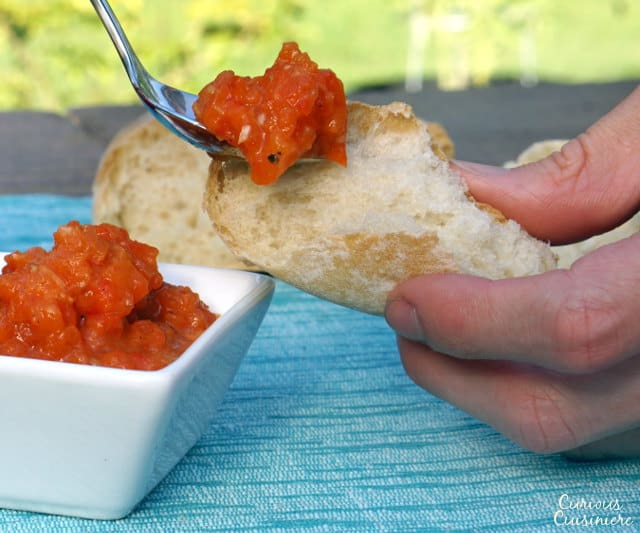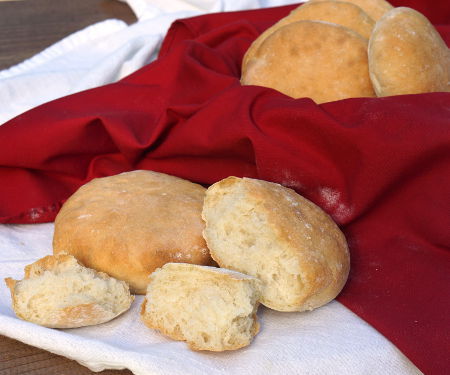 Lepinja (Balkan Flatbread)
Cuisine:
Eastern European
---
Ingredients
2

Tbsp

milk,

warmed to 80-90⁰F

2 ¼

tsp

active dry yeast

(1 package)

1

c

water

1

tsp

sugar

1

tsp

salt
Instructions
Place the warm milk in a large bowl. Sprinkle the yeast over the milk and let it stand until softened and foamy, 5 min.

Add the water and sugar to the milk and yeast. Mix to combine.

Add the flour and salt, mixing until a soft dough comes together. Turn the dough out on a lightly floured surface and knead for 5-7 minutes by hand (or 2-3 minutes in a stand mixer fitted with a dough hook), until the dough is smooth but still slightly sticky.

Shape the dough into a ball and place it into a clean bowl. Cover the bowl with a damp tea towel and let the dough rise in a warm and draft-free place until doubled, roughly 1 hour.

Once the dough has risen, punch it down. Re-cover it with the damp tea towel and let rise a second time, until doubled, roughly 1 hour.

Punch down the dough a second time and divide it into 6 portions. Shape each portion into a ball. Place the balls onto a lightly floured surface, cover them with the damp tea towel, and let them rest for 5-10 minutes.

After resting, flatten the balls into discs that are ½ inch thick. Place the flattened rounds on to a floured baking sheet. Cover them with the damp tea towel and let them rise for 20 minutes.

While the bread is rising this final time, preheat your oven to 450⁰F.

Once risen, uncover the dough, place the baking sheet into oven, and bake for 5-7 minutes, until the breads are just starting to turn golden.

Lower the heat to 300⁰F and bake for another 7-10 minutes, until evenly golden.

Remove the lepinja from oven and wrap them in a (dry) tea towel for 10 minutes to soften the crust.

Slice the lepinja open to serve, if desired. Serve warm.

The bread will keep on the counter for 2-3 days.
---

If you liked this recipe, here are some similar dishes you may enjoy!