Sweet and smoky, this roasted red pepper pasta is a healthy dish with only a few ingredients that makes for a perfect summer meal.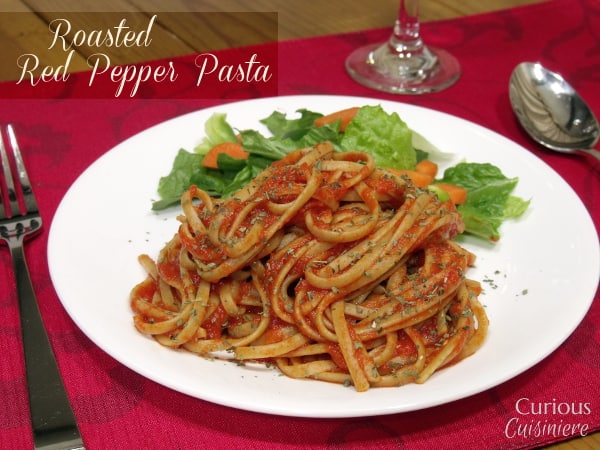 What's the difference between roasting, baking, and toasting?
As it turns out, not much.
The terminology comes down to what you are cooking and the desired result.
All of these methods typically use an oven temperature between 325F and 375F.
Roasting gives a crusty, deep brown exterior and juicy interior and is used for chicken, pork, and vegetables (with some adjustments). The same technique is called baking when referring to ham or fish, probably because the goal is a more subtle crust on the exterior. Toasting comes into play with drier items like bread and nuts, where the result is that golden crispness, but without the juicy interior.
It's time to try roasting vegetables
While typically thought of for meats, roasting works an indescribable magic on vegetables. It turns the outside golden with slightly crisp charring, while concentrating and caramelizing the sugars inside.
When roasting veggies, you will want to dial up the heat to somewhere between 400F and 450F. The high heat will caramelize the sugars more effectively and give the edges that characteristic char.
If you have never roasted peppers, now is the time to try!
Sweet, red bell peppers are great on their own, but, after roasting, their flavor becomes incredibly bright with a slightly smoky undertone.
Roasted Red Pepper Pasta
That flavor makes them perfect for pureeing into a pasta sauce. And, there is SO much flavor from the peppers themselves, that only a few, simple ingredients are needed to make this dish.
While roasting peppers can be a bit time intensive, you can always roast a big batch of peppers, cool and peel them, and refrigerate or freeze them for later use.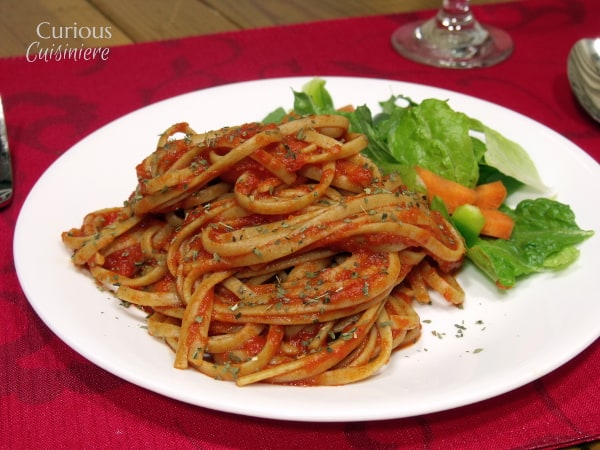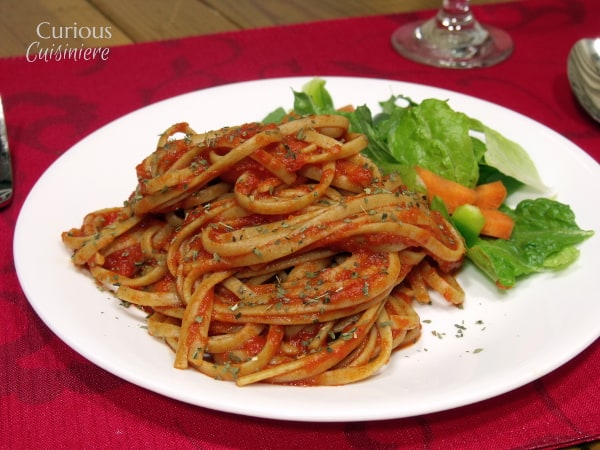 Roasted Red Pepper Pasta
Sweet and smoky, this roasted red pepper pasta is a healthy dish with only a few ingredients that makes for a perfect summer meal.
---
Ingredients
4

red bell peppers

2

garlic clove,

whole

1

onion

1/2

tsp

salt

1/2

tsp

basil

8

oz

whole wheat linguine

Basil

(to top)
Instructions
Roast Your Veggies
Place red peppers, peeled garlic clove, and halved onion on a foil-lined baking sheet. Roast for 40 min, turning every 10 minutes or so as the tops darken.

Once the peppers are blackened and slightly collapsed, remove the vegetables from the oven. Place the peppers in a paper bag. Close the paper bag and let the peppers steam for 5-10 minutes. (This will make them easier to peel.)*
Make The Pasta And Sauce
While the peppers are cooling, heat a pot of water to boiling and cook pasta to al dente according to the package instructions.

Once the peppers are cool, remove them from the bag, peel and de-seed them. Place the peeled peppers, onions, and garlic in the bowl of a food processor and blend until smooth with salt and basil.

Toss pasta with red pepper sauce, and top with extra basil if desired.

Serve with a side salad.
---
Recipe Notes
*Peppers can be made 2-3 days ahead of time and refrigerated until ready to use.
If you liked this recipe, here are some similar dishes you may enjoy!