Lemon and garlic bring a burst of flavor to these grilled chicken skewers. Middle Eastern Shish Tawook will make a great addition to your next cookout!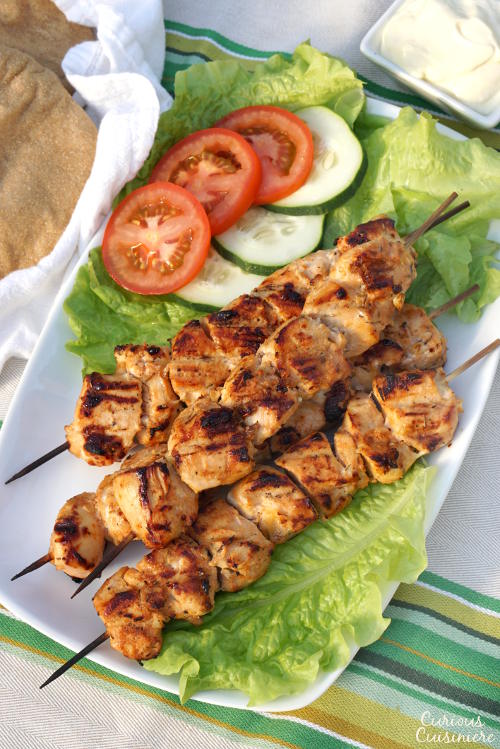 Shish Tawook (or Shish Taouk) is a traditional Middle Eastern marinated chicken dish. These grilled chicken skewers are incredibly popular in Lebanon, but they are also commonly found in Turkey, Egypt, Syria, Iraq, and Israel as well.
Shish Tawook: Turkish Origins
To look at where this widely popular dish comes from, let's first take a look at the name.
Shish comes from the Turkish word meaning skewers.
Tawook is an adaptation on tavuk, which comes from the old Turkish takagu, meaning chicken.
The Ottoman (Turkish) Empire ruled Lebanon in some capacity from 1516 to, roughly, 1918, which is why we see a lot of Turkish influence in Lebanon cuisine. Like the name of this dish.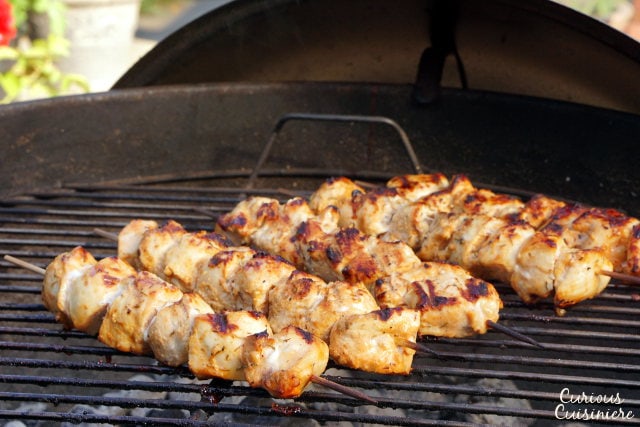 Lemon and Garlic
Like any widely-loved recipe with deep cultural roots, there are as many recipes for shish tawook as there are cooks who make it.
However there are three ingredients that are key to getting an incredibly flavorful shish tawook.
Lemon
Yogurt
Garlic
Many recipes will call for a touch of tomato paste and paprika blended in with the above three. And, personally, we loved the way that the addition of tomato paste and paprika gave a robust depth to the lighter, brighter flavors of lemon and garlic in the marinade.
The yogurt and lemon act not only for flavor, but also to tenderize the meat as it marinates.
While 4 hours is sufficient to give the chicken a nice flavor, letting it marinate overnight will ensure tender and incredibly juicy shish tawook.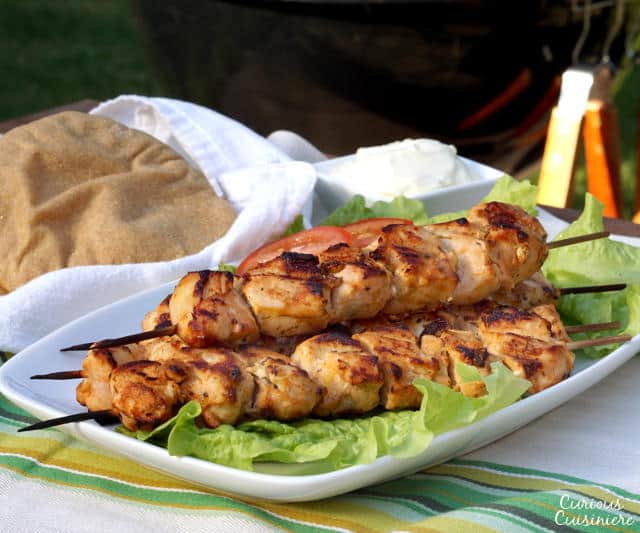 What is the difference between shish tawook and shawarma?
Some restaurants will (mistakenly) use the terms shish tawook and shawarma interchangeably for Middle Eastern style marinated chicken served on a pita sandwich.
The most basic difference between shish tawook and shawarma is the spices that are used in cooking. Chicken shawarma most often adds warmer spices (cinnamon, allspice, etc) and omits the lemon brightness, for a deeper flavored meat.
How to serve shish tawook?
Shish tawook is served different ways depending on the region you are eating it.
In Lebanon and Syria, shish tawook is most commonly found served as a pita 'sandwich' with a creamy garlic paste called toum (like an aioli or garlic mayo) and tomatoes.
(Go all out and make your own pita bread with our recipe!)
In Turkey, shish tawook is commonly served with rice and grilled vegetables.
No matter how you serve it, shish tawook is a recipe that need to be on your summer grilling agenda.
These skewers are a fun way to jazz up your grilling game! And, the make-ahead nature of this dish makes it perfect for summer entertaining!
Yield: 4 servings
Shish Tawook (Lebanese Chicken Skewers)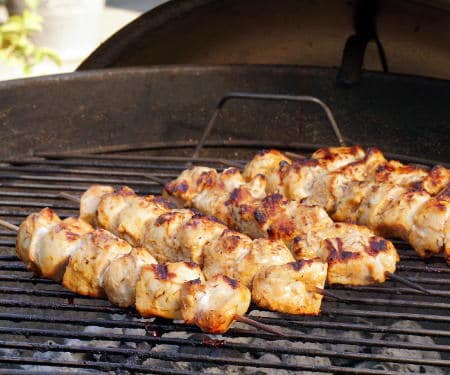 Lemon and garlic bring a burst of flavor to these grilled chicken skewers. Middle Eastern Shish Tawook will make a great addition to your next cookout!
NOTE: For best flavor, marinade the meat at least 4 hours, up to overnight, before grilling.
Ingredients
The Meat
2 lb chicken breast, cut into 1-1 ½ inch pieces
For The Marinade
1 lemon, juiced (roughly ¼ c)
6 garlic cloves, minced
¼ c plain yogurt, or Greek yogurt
2 Tb olive oil
1 tsp ground thyme
1 tsp paprika
1 tsp salt
2 tsp tomato paste
¼ tsp ground black pepper
For the Skewers
6-7 wooden skewers, soaked in water for 10 minutes
Instructions
In a small bowl, mix all the marinade ingredients together.
Place the cubed chicken into a flat, sealable container and pour the marinade over the chicken. Mix the chicken with the marinade to be sure all the pieces are well-coated.
Cover the container and let marinate in the refrigerator for at least 4 hours, up to overnight.
Preheat your grill to a medium heat, roughly 350F. (You should be able to hold your hand about 3 inches from the cooking grate for 6-7 seconds.)
Thread the chicken pieces onto the soaked skewers, pressing the pieces up against each other.
Grill the chicken skewers for 8-10 minutes a side, until the chicken is firm and golden.
Serve the shish tawook with pita bread (get our pita bread recipe here) and sliced tomatoes or with rice and grilled vegetables.
Nutrition Information:
Yield:
4
Serving Size:
1/2 lb of chicken (1/4 of recipe)
Amount Per Serving:
Calories:

482
If you liked this recipe, here are some similar dishes you may enjoy!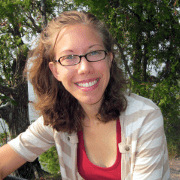 Sarah is one of Curious Cuisiniere's founding duo. Her love for cultural cuisines was instilled early by her French Canadian Grandmother. Her experience in the kitchen and in recipe development comes from years working in professional kitchens. She has traveled extensively and enjoys bringing the flavors of her travels back to create easy-to-make recipes.