Cheese lovers rejoice! The Juicy Lucy Burger is stuffed with cheese that erupts in a gooey lava flow as you take your first bite.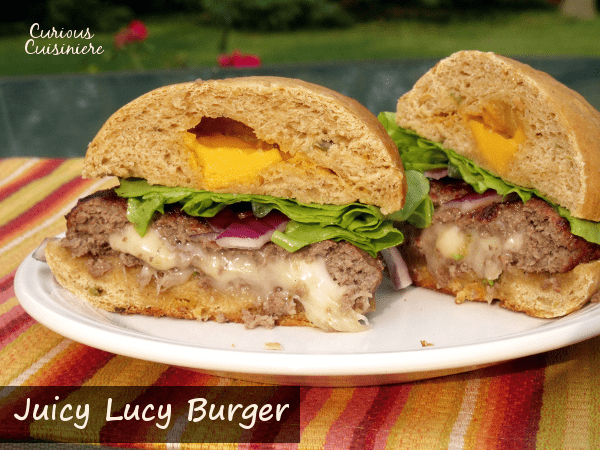 Two bars on the same street in Minneapolis claim to be the originator of this Juicy Lucy: Matt's Bar and the 5-8 Club. Where the burger came from, no one really knows. And while locals may debate over who makes the best burger and whether the correct spelling is Jucy (Matt's) or Juicy (5-8), the one thing we know is when you add extra cheese to a burger, very little can go wrong.
The perfect meat for a Juicy Lucy Burger
Look for meat with 15-20% fat content for best moisture and flavor content for your burgers. We will be flattening each side of the patty pretty thin so they will cook quickly and transfer the heat to the cheese. It can be a bit tricky to get super thin patties to hold together. If you have trouble, flatten your patties on a piece of plastic wrap or waxed paper, so they can easily be flipped over and transferred to another surface.
Juicy Lucy is all about the cheese
American cheese is the standard for Juicy Lucy burgers, but any good melting cheese will do the trick like Colby, Muenster, Monterrey jack, Gouda, or brie. We decided to go for some Pepper Jack to give our burgers a bit of a spicy kick.
Putting the Juicy Lucy Burger Together
Each Juicy Lucy Burger will start off as two extra thin patties that get stacked together with cheese sealed in between.  Be sure to seal the patties well, or else you will end up with a cheese eruption while the burgers are on the grill, resulting in loss of that precious cheese. We want any cheese eruptions to happen on our plate, or, better yet, in our mouth. The coals's don't need any of our cheese.
We cooked our burger at a medium heat on the grill (around 350°F). It was hot enough to cook each side in 3-4 minutes and the juice and fat dripping from the burgers caused some nice minor flare-ups that gave a beautiful sear to the outside of the patties.
It will be hard to resist these patties as they come off the grill, but do let them rest a minute or two before chowing down. This will give the juices a chance to redistribute and let the cheese cool down just enough so you don't burn your tongue on molten cheese. After all, a burned tongue makes enjoying the rest of the burger a bit difficult.
Love that bun!
Lastly, be sure to use a bun that will hold up to this juicy burger. Flimsy buns are never our style, but for this burger we decided to pump up the epic-ness even more by going with a bun that was stuffed with cheese as well.
If you're going to go for the cheesy win, why not go all the way?
If you want to make your own cheese-stuffed buns, you can follow our recipe for Quick Wheat Hamburger Buns with one variation. Cut some cheddar cheese into 1/2 inch cubes and knead 1/2 – 3/4 of a cup of cheese cubes into the dough before you divide it into rolls. (Alternately, you can knead 2-3 cheese cubes into each bun as you shape them for proofing.)
Enjoy!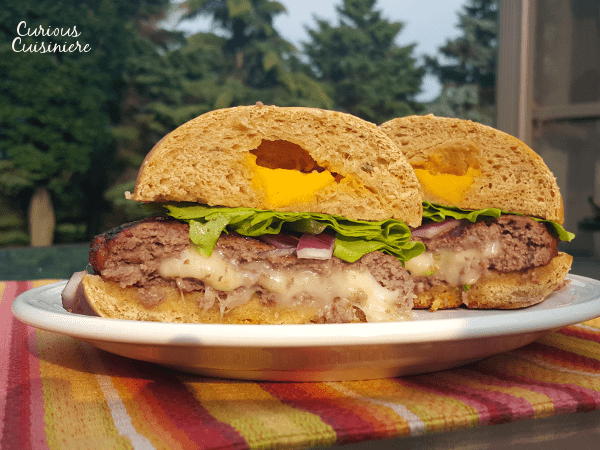 Juicy Lucy Burger
The Juicy Lucy Burger is stuffed with cheese that erupts in a gooey lava flow as you take your first bite.
Ingredients
2

lb

ground beef

(85% lean)

1

Tbsp +1 tsp

Worcestershire sauce

2

garlic clove,

minced, or 1 tsp garlic powder

1

tsp

salt

½

tsp

ground black pepper

4 ½ - 5

oz

melting cheese

(American, Pepper Jack, Colby, Muenster, Monterrey jack, Gouda, or brie)

Burger toppings: lettuce,

red onion, ketchup, mustard, tomato, avocado, etc
Instructions
Preheat your grill to medium heat, roughly 350F. (You should be able to hold your hand just above the cooking grate for 5-7 seconds.)

While the grill preheats, make your patties. Place the beef, Worcestershire sauce, minced garlic, salt, and pepper in a medium bowl. Mix until just combined, being careful not to over-work the meat. (Over-worked meat means tough burgers.)

Divide the ground beef into 12, roughly equal, pieces. Roll each piece into a ball. Flatten two of the balls as thin as possible (roughly 1/4 inch) on two pieces of plastic wrap or butcher paper. Arrange roughly ¾ oz of cheese over the center of one of the patties, leaving at least a ½ inch rim of bare meat around the cheese. Flip the other patty over top of the cheese and gently pull the paper off of the top. Firmly press the edges of the patties to seal in the cheese, making sure there are no holes. Continue with the remaining meat until you have 6 stuffed burger patties.

Flip the burgers onto the hot grill grates. Cover the grill (with your bottom vents completely open and your top vents half open). After 2-3 minutes flip the burgers and cook for an additional 2-3 minutes on the second side.

Place the burgers onto the split buns and add your desired toppings. Be sure to let the burgers rest for 3-5 minutes before biting into them.
---
DISCLOSURE: This post contains Amazon affiliate links. These links are provided to help you find some of the more specialty products we mention in the recipe. If you make any purchase clicking through our links, we receive a small commission from Amazon, at no extra cost to you. Thank you for supporting Curious Cuisiniere!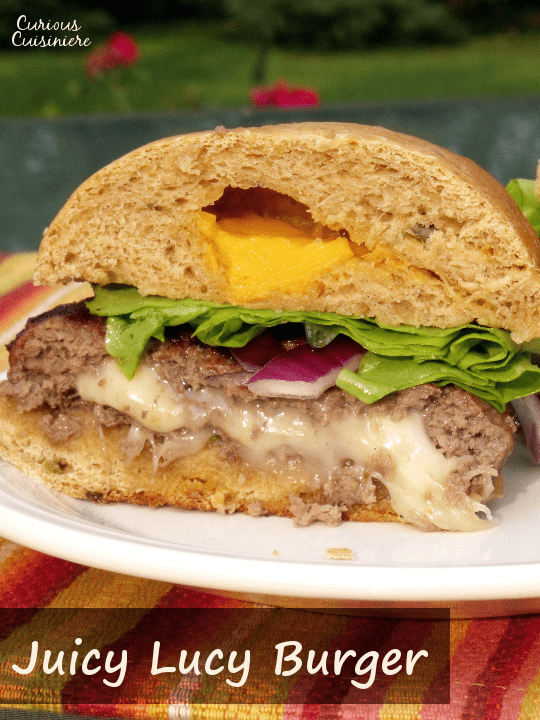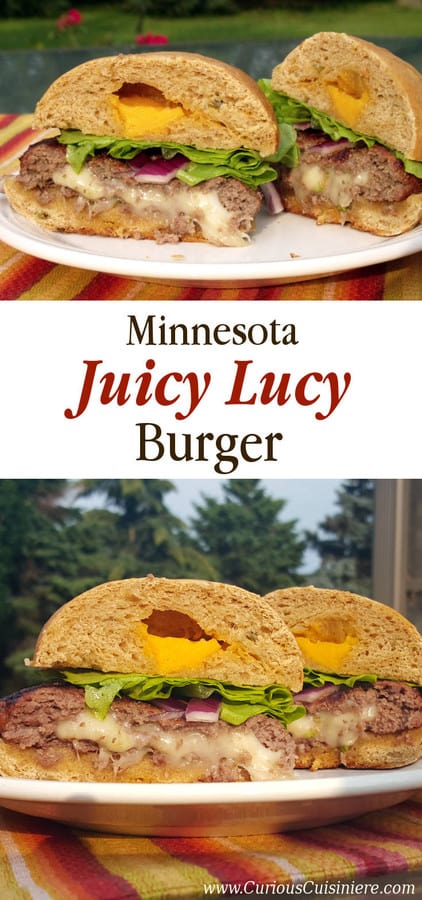 If you liked this recipe, here are some similar dishes you may enjoy!