These homemade, wheat hamburger buns go from a pile of ingredients to fluffy, golden buns in less than an hour.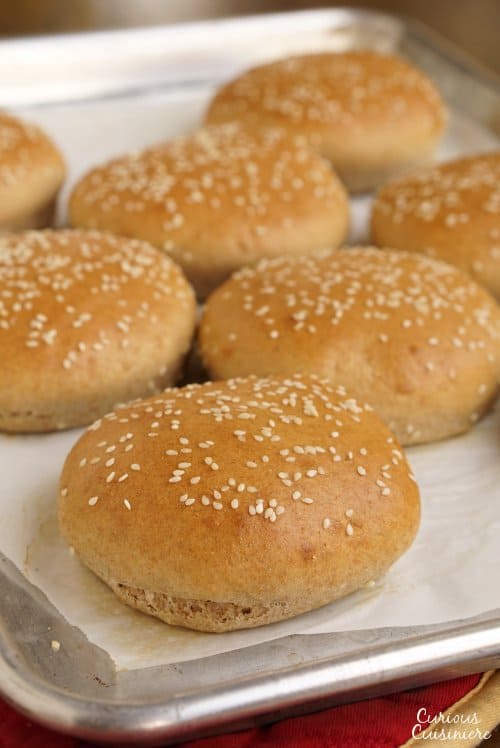 That's how long it takes to get the grill preheated and cook up some burgers. Now, there's no excuse!
The History of the Hamburger
What's the big deal about hamburgers?
They're a quintessential feature of every backdoor barbecue. Sometimes, nothing, not a big juicy steak, no, not even a plump, bursting-at-the-seams and seared to perfection brat, can take the place of a big, chin-drippin' burger.
The word hamburger comes from Germany's second largest city, Hamburg. It was the German immigrants and sailors from large port cities like Hamburg that brought the concept of minced beef to the New World. As the number of Germans in areas like New York grew, eateries began serving minced beef patties as Hamburg-style steak to attract those German immigrants.
While there are many claims as to the origin of what we now think of as an hamburger (patty between two buns), what we do know is that it dates back at least to the last decade of the 1800's when the name appeared in a Chicago newspaper article. (Back when you could get a hamburger for 5 cents!) Wherever it originated, it caught on nationally at the St. Louis World's Fair in 1904.
Because of their association with Germany, hamburgers really fell out of public pleasure after WWI. They didn't become popular again until White Castle (of all places!) in Wichita, Kansas started selling them in their classic mini slider version.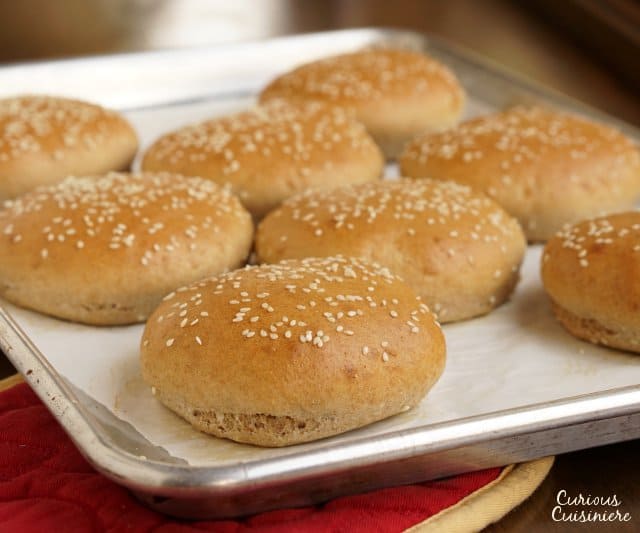 Whole Wheat Hamburger Buns Quick!
Whether you are grilling up beef burgers, turkey burgers, bean burgers, portobello burgers, or any other patty-like substance that is made to be placed between two pieces of bread, you have to have the buns!
Store bought buns, while soft and fluffy, can be a bit flimsy, and it's hard to know exactly what is in your bread. That's why we love this Quick Wheat Hamburger Bun recipe.
The recipe uses a lot of yeast to really kick-start the rising action, meaning that these buns only need a single, super-short rising time before heading into the oven, where most of the magic happens.
They're quick enough to make up while your grill is pre-heating, and sturdy enough that you can make a big batch and freeze them for quick use later on.
What is Vital Wheat Gluten?
We do call for 2 Tbsp of vital wheat gluten in this recipe. Wheat gluten is a natural protein found in the wheat berry that gives bread its soft and chewy texture. (Think about the nice air pockets in a sourdough loaf or the chewy texture of French bread. That's thanks to gluten!) When using whole wheat flour, it is helpful to add some gluten to the dough to give it a bit of an extra boost, because the bran in the wheat flour keeps the gluten from achieving its full, fluffy potential.
If you don't have vital wheat gluten, your buns will still be delicious. They will just be a bit more dense than a store bought, whole wheat version. If you choose use all all-purpose flour for the buns, there is no need to add the extra gluten (but you will need to add a little extra flour to get the dough to come together).
Quick Wheat Hamburger Buns
These homemade, wheat hamburger buns go from a pile of ingredients to fluffy, golden buns in less than an hour.
Yield 8 (4 inch) buns (roughly 3.5 oz each)
Ingredients
1

c

water,

warmed to 100F

2

Tbsp

milk,

warmed to 100F

2

Tbsp

sugar

1

Tbsp

active dry yeast

2

Tbsp

oil

or melted butter (cooled)

1

egg,

at room temperature, lightly beaten

3

Tbsp

vital wheat gluten

(optional) *

1 ½

tsp

salt

3

c

whole wheat flour,

divided

1

egg white beaten with 1 Tbsp water

(for egg wash)

2

Tbsp

sesame seeds

(for topping, optional)
Instructions
In a large bowl mix warm water, milk, and sugar until sugar is dissolved. Sprinkle yeast over liquid mixture and let stand 5 minutes, until it begins to foam.

Mix the oil and egg in to the yeast mixture.


Add the all-purpose flour and vital wheat gluten. Mix well.

Add the salt and 2 c of the whole wheat flour and mix until the dough comes together.


Turn the dough out onto a lightly floured surface and knead for 5-7 minutes, adding the remaining cup of flour as needed to form a soft and supple dough. (You may not use the entire last cup of flour. The dough should be slightly tacky to the touch, but should not stick to your fingers.)

Divide dough into 8 pieces. Roll each piece into a ball and flatten each ball to 3-3.5 inches in diameter.

Place the buns 1-1.5 inches apart on a greased baking sheet and brush with egg wash. If desired, sprinkle with sesame seeds. Let the buns rise for 20-30 minutes, while you preheat your oven to 425F.

Place the buns in the oven and bake for 10-12 minutes, until golden brown.

Immediately remove the buns onto a wire rack to cool.
Notes
*Adding vital wheat gluten helps get that light and fluffy texture in the buns. You can omit it without a problem though. The buns will just be a bit denser.
BONUS!-- These buns freeze incredibly well after baking. Just let them thaw on your counter for 1.5 - 2 hours before you need them!
This recipe was updated May 2015. We made the buns even fluffier and tastier! Enjoy!
Nutrition
Serving:
1
g
|
Calories:
297
kcal
|
Carbohydrates:
52.4
g
|
Protein:
10.3
g
|
Fat:
4.8
g
|
Saturated Fat:
0.8
g
|
Cholesterol:
21
mg
|
Sodium:
310
mg
|
Fiber:
2.4
g
|
Sugar:
3.4
g
---
This is one of the recipes from the early days of Curious Cuisiniere. We've updated our pictures since we first made it, but we've left the original images here as a fun throwback and shout out to how far we've come. Enjoy!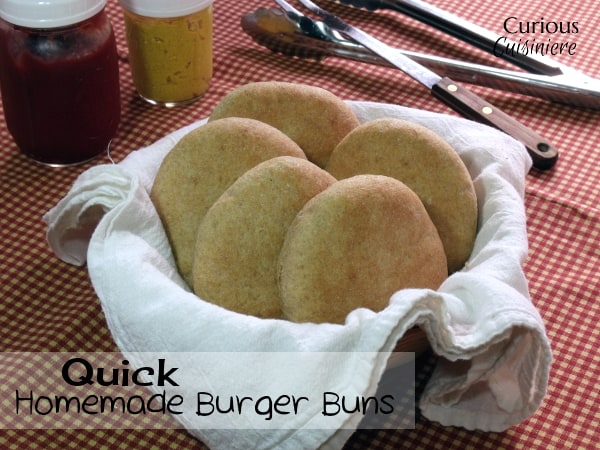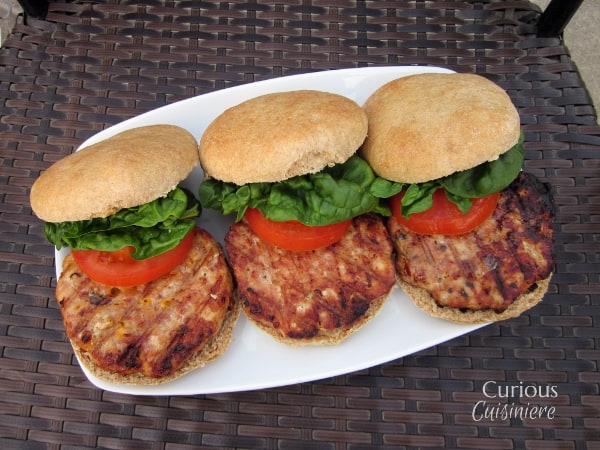 ---
DISCLOSURE: This post contains Amazon affiliate links. These links are provided to help you find some of the more specialty products we mention in the recipe. If you make any purchase clicking through our links, we receive a small commission from Amazon, at no extra cost to you. Thank you for supporting Curious Cuisiniere!
If you liked this recipe, here are some similar dishes you may enjoy!