If you like this dish, sign up for our newsletter to get tasty, cultural inspiration straight to your inbox. Where will you travel this week?
The barbecue sauce you choose will take these BBQ Chickpea Burgers in fun and new directions, giving you a veggie burger so flavorful that you won't miss the meat!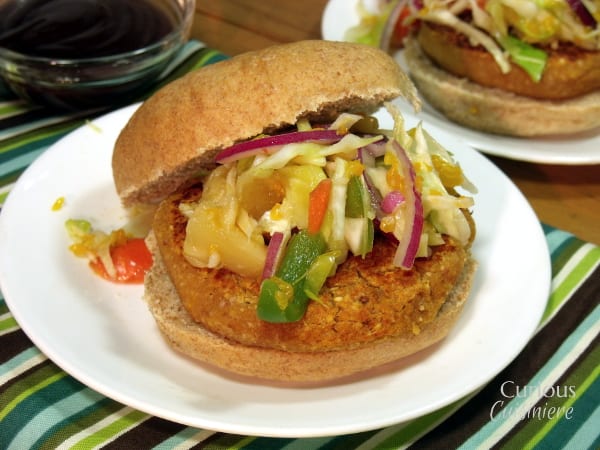 More Non-Traditional Veggie Burgers
Since yesterday was National Burger Day, we're bringing you a burger today.
This isn't your typical meat burger, (sorry) but it's another very tasty vegetarian burger.
Did you try the Black Bean Burger?
That one still ranks at the top on Tim's chart for veggie burgers, but this Chickpea Burger came in a close second.
Making A Spicy BBQ Chickpea Burger
The BBQ sauce that is used in this recipe helps to hold the chickpea burger together, but it also gives you a lot of potential for variation on these veggie burgers.
Is your BBQ more tomato-y?
More vinegar tangy?
Spicy?
Sweet?
Whichever direction your sauce goes, there will the chickpea burgers go.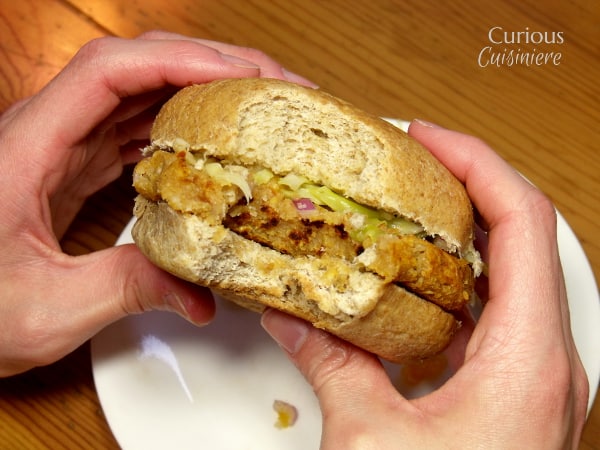 Our Sweet And Spicy BBQ Chickpea Burger Recipe
We used Sweet Baby Ray's BBQ sauce in our chickpea burger and added a dash of red pepper flakes to give a bit of spicy kick to the sweet honey BBQ flavor.
We topped the burgers off with Hawaiian Cole Slaw to add a sweet crunch and evoke the flavors of a summer BBQ.
And I can honestly say, with all that flavor, we didn't miss the meat.
Spicy BBQ Chickpea Burgers
The barbecue sauce you choose will take these BBQ Chickpea Burgers in fun and new directions!
Yield: 5 (3.5 inch) patties
Ingredients
2

c

cooked chickpeas

(drained if using canned)

2

garlic cloves,

minced

4

Tbsp

BBQ sauce

(of your choice)

¼

tsp

red pepper flakes

(if desired)

1/4-1/2

c

water or reserved chickpea boiling liquid

2

Tbsp

breadcrumbs

Hawaiian Cole Slaw

(for topping)
Instructions
Place chickpeas, garlic, BBQ sauce, and red pepper flakes in the bowl of your food processor. Pulse until chickpeas break down and a thick paste begins to form.

If the chickpeas are too dry to create a paste, add water or reserved chickpea boiling liquid a little at a time until the mixture is thick and sticks together.

Place mixture in a medium bowl. Mix in breadcrumbs until the mixture will hold together in patty form when shaped.

Spray a non-stick skillet with baking spray and heat over medium-high heat.

Shape chickpea mixture into patties, 3-4 inches in diameter. Place patties on the hot skillet.

Cook over medium-high heat 5-7 minutes per side, until the sides begin to brown and the patty becomes firm.
If you liked this recipe, here are some similar dishes you may enjoy!