An easy yet hearty African dish of eggs in a fragrant tomato sauce, Chakchouka, also known as Shakshuka, is the perfect, comforting dinner recipe. 
Chakchouka or Shakshuka?
Even if the name chakchouka doesn't ring a bell, this dish might look familiar. In the States, we tend to call it eggs in purgatory. In Middle Eastern cuisine, it's known as shakshuka. But, in Tunisia, Africa, where the dish is thought to have originated, it is spelled chakchouka.
Chakchouka (pronounced SHAK-chouk-ah) is a colorful egg and vegetable dish that is quite popular in many northern African and Middle Eastern countries. The dish originated from Tunisia, a small-ish country on the northern African coast, bordered by Algeria and Libya. Tunisian Jews brought the dish from northern Africa to the Middle East, where it grew in popularity, particularly in Israel.
The name chakchouka means "a mixture" in some Arabic dialects, and comes from a Berber (early North African) word meaning "vegetable ragout."
Our chakchouka recipe
Most dishes that are popular over a wide range of countries and with a large number of peoples tend to have quite a bit of variation from region to region. Chakchouka, however, seems to be an exception. The basis of tomatoes, onions, peppers, and eggs seasoned with paprika, cumin, and garlic, seem to stay the same in most versions. Some cooks with add other spices to make chakchouka their own, but, for the most part, the favors stay incredibly similar.
The one difference we found is in the consistency of the sauce. Some like their tomato sauce very saucy, adding fewer vegetables and more liquid to create eggs that are poached in a soup-like tomato sauce. Other versions are chunky, adding more vegetables and less liquid to create a thicker sauce, heavy on the veggies.
Our chakchouka recipe sways more towards the thicker side. It is heavy on the veggies, creating a robust sauce that needs to be piled on to your bread, rather than dipped.
Some like it hot
Most chakchouka recipes kick up the spice, adding more chili peppers to really turn up the heat. Our version is just spicy enough to add a little warmth, so feel free to add more chili powder to suit your tastes.
How to serve chakchouka?
It is traditional to serve chakchouka with a hearty bread or pita to soak up the delicious, fragrant sauce. (Without the bread, you might find yourself licking your plate clean. It really is that good!)
Since the dish contains eggs, many think of chakchouka as a breakfast or brunch dish. I, personally, love the warm, comforting flavors of chakchouka to start off my day. Tim, on the other hand, prefers eating chakchouka as a light dinner, which is how you will often find it eaten in Israel.
Morning or evening, chakchouka is definitely one of our go-to quick and easy, super flavorful meals. Hopefully it will become a favorite for you and your family as well!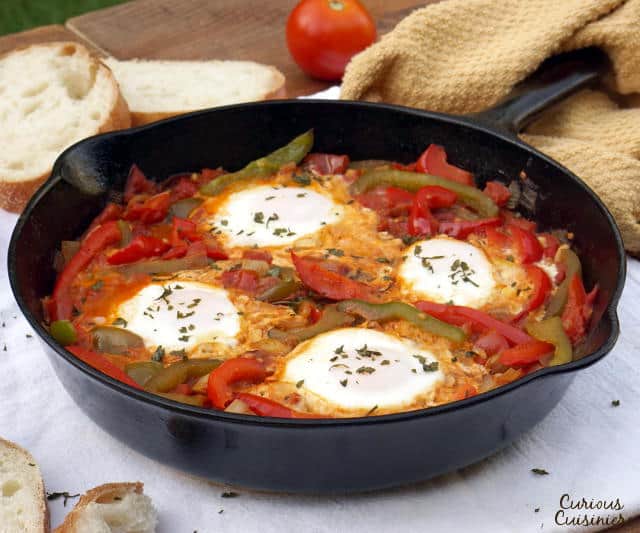 If you love the idea of chakchouka, then you need to check out this Moroccan Meatball Tagine. It follows a very similar concept of eggs and tomato sauce, but adds meatballs!
Chakchouka (Tunisian Eggs in Tomato Sauce)
This wonderfully savory African dish can be served for breakfast, lunch, or dinner!
Ingredients
2

Tbsp

olive oil

1

onion,

diced

1

red bell pepper,

sliced

1

green bell pepper,

sliced

3

garlic cloves,

minced

4

tomatoes,

, diced (or or 2-14 oz cans, lightly drained)

1

tsp

cumin

1

tsp

paprika

¾

tsp

salt

½

tsp

chili powder

4

eggs
Instructions
In a large cast iron skillet or sauté pan with a lid, heat oil over medium high heat. Add the onion and sauté for 2-3 minutes, until softened. Add the peppers and garlic, and sauté for an additional 3-5 minutes.

Add the tomatoes, cumin, paprika, salt, and chili powder. Mix well and bring the mixture to a simmer. Reduce the heat to medium low and continue to simmer, uncovered, 10-15 minutes until the mixture has thickened to your desired consistency. (Taste the sauce at this point and adjust for salt and spice, as desired.)

Using the back of a spoon, make four craters in the mixture, large enough to hold an egg. Crack one egg into each of the craters.

Cover the skillet and simmer for 5-7 minutes, until the eggs have set.

Serve immediately with crusty bread or

pita

.
If you liked this recipe, here are some similar dishes you may enjoy!