A French dish with Italian inspiration, Quiche Florentine is an elegant, yet easy, spring-inspired dish.
Why Quiche Florentine?
In French cooking, dishes that include spinach are called à la Florentine.
But, why, is the question.
The term comes from the French queen Catherine de Médici, who was born in Florence and married the heir to the French throne. When Catherine became Queen of France, she brought her own cooks from Florence, along with spinach seeds. (Can you believe the French didn't have spinach until the mid 1500s?)
As her cooks began making dishes with spinach, the practice gained popularity and spinach became known as a vegetable from Florence.
Making Easy French Quiche
Quiche is an incredibly versatile formula recipe: Start with a 9 inch pie crust. Whisk the egg and milk mixture together in a ratio of 1 part egg to 2 parts milk. (1 egg is roughly 2 oz, so you need 1 egg for every 1/2 cup of milk.) Add 2 or so cups of filling ingredients (cooked meats and vegetables) and 1-2 cups of cheese (depending on how rich you want your quiche).
And there you have it! Any combination of fridge leftovers can be used.
Choosing a Milk for Quiche
One thing to remember is that milk-fat helps to produce a firm finished quiche, so fat is essential. 1% milk will work, but it will create a slightly watery end product.
We recommend using (at least) 2% or whole milk. Half and half yields an even smoother and more firm quiche.
How To Tell When Your Quiche Is Done
It can be tricky to tell when you quiche is ready to come out of the oven. We use a series of checks to make sure ours are ready.
The quiche will be very puffy and a knife inserted into the center will come out clean. (It might look moist, but there won't be any bits of egg sticking to it.)
Don't doubt the wobble.
Your quiche Florentine should have just a little bit of a wobble to it when it comes out of the oven. It will continue to cook (and fall) as you let it rest for 10 minutes. This resting time is essential to settle the quiche and ensure your slices come out perfectly!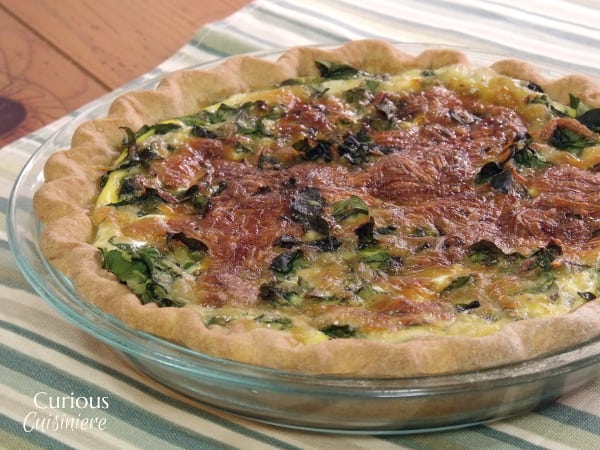 Quiche Florentine (Spinach Quiche)
A French dish with Italian inspiration, Quiche Florentine is an elegant, yet easy, spring-inspired dish.
Yield: 1 (9 inch) pie pan
Ingredients
For the Quiche
1 ½

c

whole milk

3

eggs

½

tsp

salt

½

tsp

rosemary

½

tsp

thyme

¼

tsp

nutmeg

¼

tsp

ground black pepper

2

c

fresh spinach,

chopped

1

c

Swiss cheese
Instructions
For the 9" Pie Crust
Preheat your oven to 425F.

Place the flour and salt in the bowl of your food processor. Add the cold chunks of butter. Pulse to combine the mixture, until you have evenly distributed grains of butter within the flour.

Slowly add 1/4 c of cold water, pulsing as you add, until the dough starts to come together. (If it doesn't come together after 1/4 c, slowly add 1 Tbsp more.)

Remove the dough from the food processor and press firmly into a ball. Roll the dough out to a roughly 11 inch circle and place it in a 9 inch pie pan.

Place a piece of parchment paper inside the crust and fill it with pie weights or dried beans.

Bake the pie crust for 10-15 minutes, until lightly golden.
For the Quiche
While the crust is baking, whisk together milk, eggs, and seasonings.

Once the crust has baked, carefully remove the pie weights or beans.

Sprinkle the chopped spinach into the baked crust and top it with the cheese. Gently pour the egg mixture over the fillings.

Reduce your oven temperature to 400F.

Return the quiche to the oven and bake for 40-50 minutes, until puffy and slightly wobbly.* (A knife inserted into the center of the quiche should come out moist, but clean of any eggy bits.)

Place the cooked quiche on a wire rack for 10 minutes to let it finish cooking and set up.

Serve warm or refrigerate overnight and serve chilled.
Notes
*If your crust seems to be browning too quickly, carefully wrap a strip of aluminum foil around the pie pan to cover the crust.
Nutrition
Serving:
1
g
|
Calories:
305
kcal
|
Carbohydrates:
23.3
g
|
Protein:
12
g
|
Fat:
18.5
g
|
Saturated Fat:
10.9
g
|
Cholesterol:
103
mg
|
Sodium:
305
mg
|
Fiber:
1.8
g
|
Sugar:
4
g
---
More spring-inspired recipes from around the web:
Appetizers
Sides
Entreés
Desserts
If you liked this recipe, here are some similar dishes you may enjoy!