Potatoes, green peppers, and ham make this croissant breakfast ring quite hearty and tasty!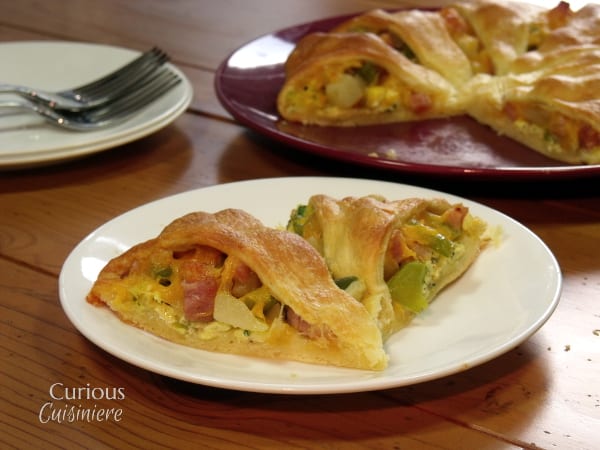 Sometimes you just want the comfort of breakfast food in the evening.
Am I right?
Really, I don't know that there isn't a day when pancakes don't sound like a viable dinner option. Most of the time we try to make respectable meals, but it's always fun to give in to the desire to mix things up every once in a while.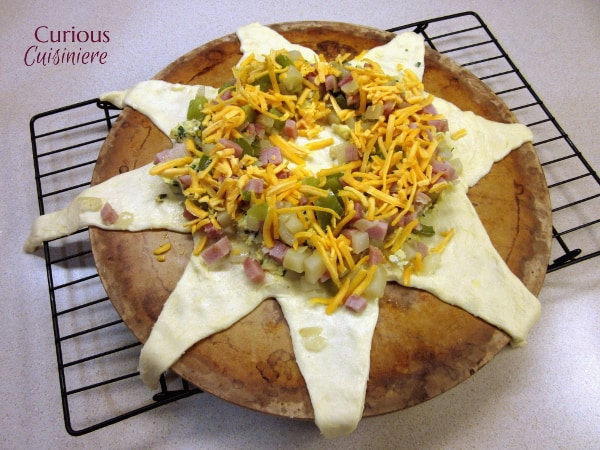 What does breakfast for dinner mean in your house?
Does it mean pancakes or French toast? Maybe eggs and bacon. Or, maybe, something even more out of the ordinary.
Since we have a difficult time making important decisions (like waffles or eggs), we've combined the breakfast bread or egg dilemma in this Denver Breakfast Ring.
Recalling an egg scrambler he had eaten years past, Tim came up with the filling of potatoes, green peppers, ham, and eggs that are wrapped in a fluffy croissant blanket.
This could be breakfast or dinner any day!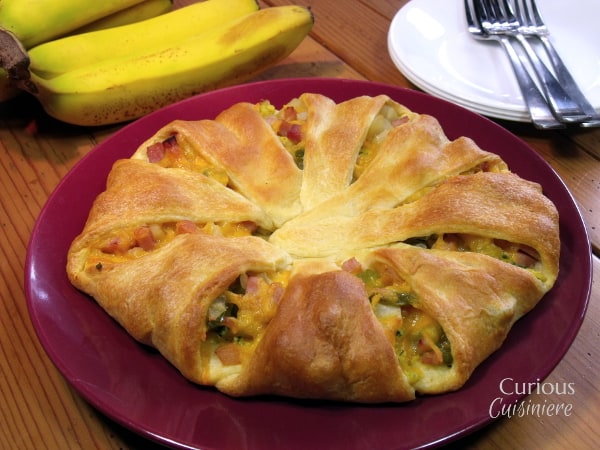 Denver Breakfast Ring
Author:
Sarah | Curious Cuisiniere
Ingredients
½ tsp oil
⅓ c onion, diced
⅓ c green pepper, diced
1 small potato, peeled and diced (approx ½ c)
½ c cooked ham, cut into small cubes
4 eggs, beaten
3 Tbsp fresh chives, chopped
1 tsp parsley
1 tsp garlic
½ tsp salt
Dash black pepper
1 can refrigerated croissant dough
½ c cheddar cheese, shredded
Instructions
Preheat oven to 375F.
In a medium, non-stick frying pan, heat oil over medium high heat. Add onion and pepper and sauté 3 minutes, until soft and translucent.
Reduce heat to medium and add potatoes and ham. Cook 7-10 minutes, until potatoes are soft. Remove ham mixture from the pan to a bowl and set aside.
In another bowl beat eggs with seasonings. Pour beaten eggs into hot frying pan. Stir often with a rubber spatula to scramble eggs while cooking. Remove from heat when firm.
Unroll croissants from their can and place triangles on a circular pizza pan with the points facing out and the bases overlapping, to form an 8-pointed star. You will have a lot of dough overlap towards the middle and a hole in the center. Use the dough overlap to press the dough together to fill in the hole.
Spread the cooked eggs in a circle on the dough. Top eggs with ham mixture and sprinkle with cheese.
Gently fold the points in and press the dough together at the center of the ring.
Bake for 25-30 minutes. Until the croissants are browned and firm.
If you liked this recipe, here are some similar dishes you may enjoy!