A stack of delicious, savory cornmeal waffles is only brought to even more breakfast perfect when topped with some bacon, salsa, and a fried egg.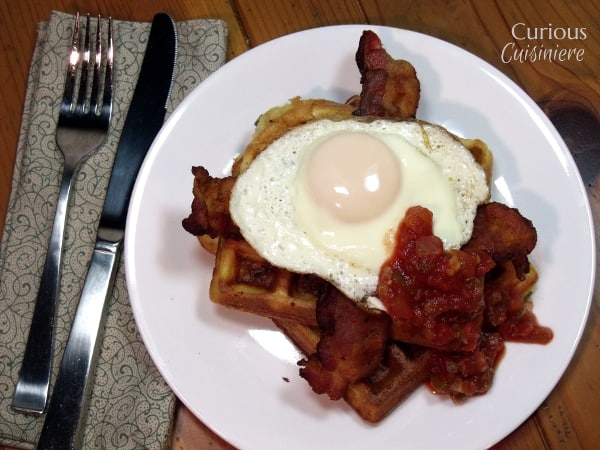 For as much as we love waffles, (We even had a make-your-own waffle bar as our after-wedding brunch.) we really don't have that many waffle recipes here. Actually, I think we only have our Gingerbread Waffles up here so far.
That really needs to change.
But, in all of our waffle love, we haven't ever tried savory waffles.
The revelation came from Lynsey Lou's, the blog we were given for this month's Secret Recipe Club. And, as soon soon as we realized what we were missing, we knew it had to change.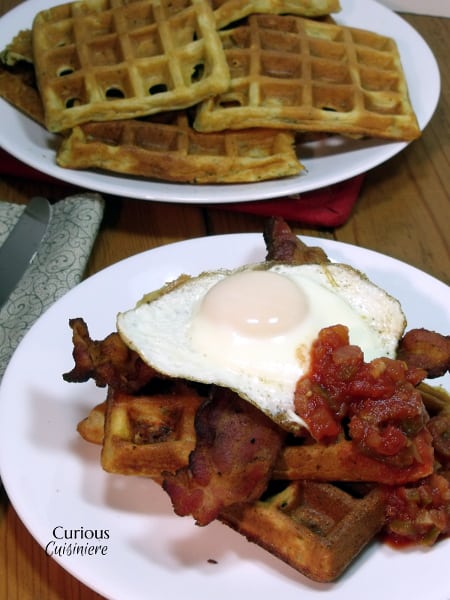 Lynsey has a beautiful collection of recipes, and she brings such a joyful voice to all of her writing. Her blog was quite fun to read through, and we found so many tasty dishes that we have bookmarked for later, like her Caribbean Jerk Salmon Bowls and her Mongolian Beef. But, we found our minds blown, and our stomachs craving her Cornmeal-Herb Waffles with Salsa and Poached Eggs.
Now, I'm slightly delinquent with poached eggs, so we went with an egg method we're comfortable with: fried.
Make that fried, with a deliciously runny yolk that cascades down the corn waffle tower
This was some serious, savory, breakfast goodness.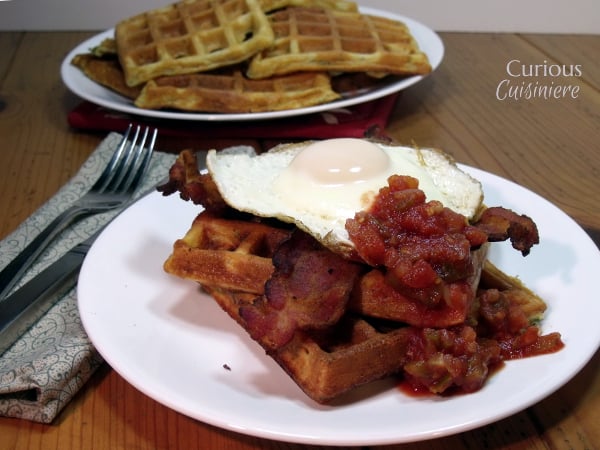 Cornmeal Waffles with Fried Eggs
Author:
Adapted from <a href="http://www.lynseylous.com/" target="_blank" rel="nofollow" data-mce-href="http://www.lynseylous.com/">Lynsey Lou's</a>
Ingredients
1 ¼ c milk
1 Tbsp lemon juice
1 ¼ c flour
¼ c cornmeal
1 ½ tsp baking powder
¾ tsp baking soda
1 tsp sugar
1Tbsp chives, chopped
1 Tbsp cilantro
¼ tsp oregano
¼ tsp salt
¼ tsp pepper
Pinch cayenne
4 Tbsp butter, melted and let cool slightly
2 eggs
For Serving
Crispy fried bacon
Eggs, any way you like them
Salsa
Instructions
Preheat your waffle iron. Preheat oven to its lowest setting to keep your finished waffles warm.
In a small bowl, mix together milk and lemon juice. Set aside.
In a large bowl, combine flour, cornmeal, baking powder, soda, sugar, and spices in a bowl. Mix to combine.
Add melted butter and eggs to your milk mixture and whisk to break the eggs. Add mixture to flour and stir until just combined.
Spray waffle iron with a non-stick spray. Fill your iron and cook the waffles according to the maker's directions.
Continue until all the batter has been transformed, keeping the finished waffles warm in the oven.
Nutrition Information
Serving size:
2 waffles with 1 egg and 2 slices bacon
Calories:
460
Fat:
22.9g
Saturated fat:
10.8g
Carbohydrates:
44.4g
Sugar:
6.7g
Sodium:
1010mg
Fiber:
2.3g
Protein:
19.8g
Cholesterol:
288mg
If you liked this recipe, here are some similar dishes you may enjoy!