A perfect balance of sweet, salty, and sour, this recipe for flavorful stir fried Pad Thai noodles makes for a quick and unique meal.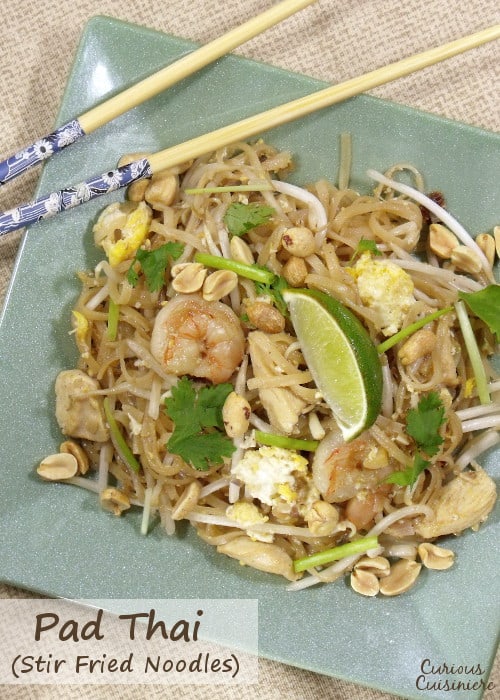 (DISCLOSURE: This post contains Amazon affiliate links. These links are provided to help you find some of the more specialty products we mention in the recipe. If you make any purchase after clicking through one of our links, we receive a small commission from Amazon, at no extra cost to you. Thank you for supporting Curious Cuisiniere!)
Pad Thai: Classic Thai Cuisine, or Not?
The interesting thing about Pad Thai is that, for as often as we see it in Thai restaurants and think of it as the essential Thai food, it really isn't a typical Thai dish.
It is thought that the dish originated from Chinese settlers, since noodles and stir fries play a large role in Chinese cuisine.
Even the traditional name of the dish, kway teow pad Thai, speaks to the dish's Chinese origins.
Kway teow is Chinese for 'rice noodles'.
Kway teow pad Thai literally means 'Thai-style stir-fried rice noodles'.
Why would you classify a dish as Thai-style in its own country of origin?
The History of Pad Thai
Pad Thai is a fairly new dish, which exploded in popularity in the 1930's and 40's due to the Thai government's push to improve the national diet and westernize the nation by instilling a national image.
Apparently, a noodle dish was just the thing to do both.
Rice noodles were inexpensive and filling, and by adding vegetables, bean sprouts and a protein, Pad Thai became a cheap and nutritious meal.
As far as creating a westernized image, the success of that goal can be seen by the number of Pad Thai restaurants you will find all over the globe. In fact, many believe that a Thai restaurant's Pad Thai is the ultimate test of their quality.
Making Our Pad Thai Recipe At Home
With its complex flavors and perfect mix of textures, a bowl of pad Thai might seem like an intimidating dish to recreate at home. But, it is really quite a quick and easy dish to make.
If you've ever made Fried Rice, then you will have no problem throwing together a fantastic Pad Thai.
In fact, it could be said that the technique for making pad Thai is like a cross between making chow mein and fried rice.
While similar in technique, the flavors of Pad Thai are very different from Chinese noodle dishes, since Thai cuisine leans more to the sweet and spicy flavors of fish sauce and red chilies, often in combination with peanuts.
What really makes Pad Thai unique is the way it brings together some ingredients that are unfamiliar in many western kitchens:
rice noodles
bean sprouts
tamarind paste
fish sauce
Lets break these ingredients down a bit.
What Are Rice Noodles?
Rice noodles (banh pho) are simply noodles made of rice flour rather than wheat flour. They are translucent and have a tender, chewy texture.
Unlike traditional pasta, they only need to be soaked in warm water to re-hydrate.
What Is Fish Sauce?
Fish sauce (nam pla) has a saltiness that is similar to soy sauce, with an added depth of flavor that is uniquely its own.
It is made from fermented fish (typically anchovies) and salt. (Now, before you go running at the mention of anchovies, let me remind you that the Worcestershire sauce that you probably have taking up a corner of your pantry also includes anchovy on the list of ingredients. Just sayin'.)
Due to the fish, the sauce does have a slightly off-putting smell. But, once added to a dish or dipping sauce, it brings an incredible punch of flavor.
We have been able to find fish sauce fairly easily in the Asian section of our local grocery stores, right next to the rice noodles.
What Is Tamarind Paste?
Tamarind paste is a paste made from the fruit of the Tamarind tree.
This paste has a fruity-sour flavor with a hint of sweetness. There really is nothing like it.
Unfortunately, tamarind paste can be a bit tricky to find in some areas.
If you just so happen to live in one of those tamarind-void places. Don't fret!
We have found that you can create a similar flavor by using a ratio of 1 part fresh lime juice, 1 part water, and roughly 1/4 part brown sugar. (So for 1/4 c of tamarind paste you would use 2 Tbsp fresh lime juice, 2 Tbsp water, and 1 tsp brown sugar, mixed well.)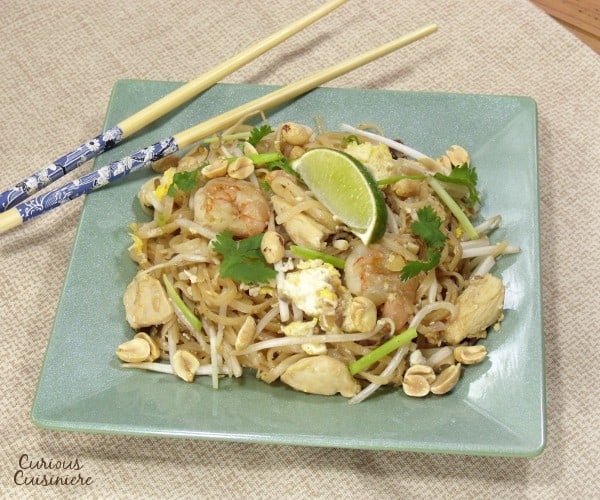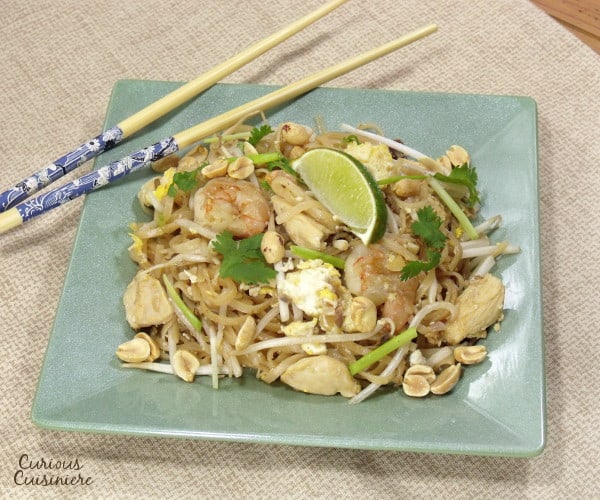 Even though you will find some unique ingredients in this dish, there is no reason to be scared.
In fact, the delicious balance of flavors and textures in a good Pad Thai should have you running to the kitchen to create your own!
Pad Thai
A perfect balance of sweet, salty, and sour, this recipe for flavorful stir fried Pad Thai noodles makes for a quick and unique meal.
Ingredients
¼

lb

thick rice noodles

(banh pho)
For the Sauce
3

Tbsp

tamarind paste*

1 ½

Tbsp

fish sauce

(can substitute soy sauce in a pinch)

1

Tbsp

sugar

1

tsp

crushed red chili peppers
Putting It Together
2

Tbsp

peanut oil

2

shallots,

chopped

3

garlic cloves,

minced

¼

lb

pork, chicken or tofu,

uncooked, cut into bite sized pieces

¼

lb

shrimp,

whole, shelled and veined

2

eggs,

beaten lightly

2

c

bean sprouts
To Garnish
¼

c

peanuts,

roasted, unsalted

1

lime,

cut into wedges

Cilantro or green onions,

chopped
Instructions
Preparing the Ingredients
Place the dry noodles in a large bowl filled with warm water. Let the noodles soak for 30-40 minutes, until they are flexible, but still quite solid. (It is better to under soak them at this point rather than over soak them.) Once the noodles have soaked, drain and set them aside.

While your noodles are soaking prepare the rest of your ingredients. Cooking Pad Thai goes very quickly, and it is helpful to have all of your ingredients prepped and ready to be thrown into the wok.

Create your sauce by mixing together the tamarind paste, fish sauce, white sugar, and chili peppers. (See note below if you can't find tamarind paste.) Every version of tamarind paste and fish sauce will taste slightly different, so taste your sauce and adjust it to your liking. The sauce should be a nice balance of sweet, salty, tangy, and spicy.
Making Pad Thai
Heat your oil in a large wok over high heat. Add the shallots and garlic and sauté for 1-2 minutes, until lightly golden. Add the pork and shrimp and sauté until both are cooked through, 2-3 minutes.

Next, add the drained noodles and your prepared sauce. Toss the noodles with the sauce and sauté for 1-2 minutes. Taste the noodles for texture and add a tablespoon of water to your wok if they are still too firm and tough. (The noodles should be soft, chewy, and dry.)

Push everything in your wok to one side and pour in your beaten eggs. Let them cook on the bottom of the wok until nearly cooked through. Then, fold them in with the noodles.

Add the bean sprouts and toss them with the noodles. Remove the pan from the heat.

Serve the Pad Thai with roasted peanuts, lime wedges, and chopped cilantro or green onions as desired.
Notes
*Tamarind paste can be difficult to find in come grocery stores. Look in Asian grocery stores or World Market.
If you can't find tamarind paste, you can substitute 1 ½ Tbsp fresh lime juice, 1 ½ Tbsp water, and 1 tsp brown sugar, mixed well, for the 3 Tbsp tamarind paste called for in this recipe.
---
More Asian recipes from from some of our favorite bloggers:
Small Bites
Soupy Goodness
Big Plates
On the Lighter Side
Cheers!
If you liked this recipe, here are some similar dishes you may enjoy!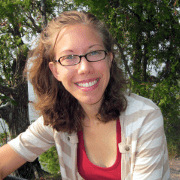 Sarah is one of Curious Cuisiniere's founding duo. Her love for cultural cuisines was instilled early by her French Canadian Grandmother. Her experience in the kitchen and in recipe development comes from years working in professional kitchens. She has traveled extensively and enjoys bringing the flavors of her travels back to create easy-to-make recipes.