Leftover chicken is given new life with a nutty, Thai peanut sauce and a bright cabbage slaw.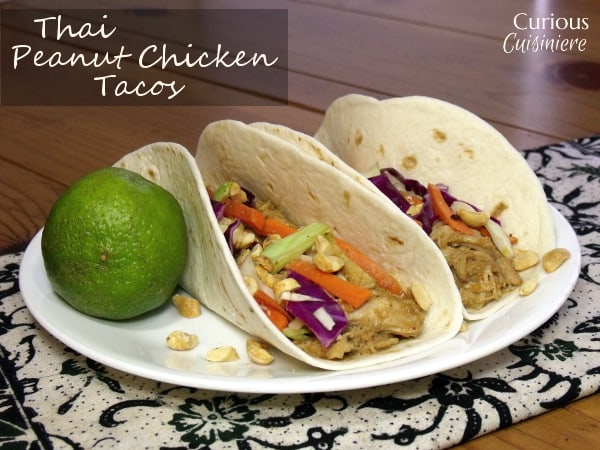 What is Peanut Sauce?
Peanut Sauce (also known as satay sauce) is widely used in Indonesian, Malaysian, Thai, Chinese, and African cuisines. And, while it is more heavily Indonesian and Malaysian in origin, in the States we associate it more with Thai food.
So, while we are calling today's dish Thai Peanut Chicken, a more accurate title might actually be Indonesian or Malaysian Peanut Chicken. But, with the addition of the tacos, we figured we have enough of a fusion going on that we can get away with going with a more familiar name.
Our Homemade Thai Peanut Sauce Recipe
To make our peanut sauce, we're starting with actual peanuts.
Many peanut sauces will have you use peanut butter, for an American twist on the traditional sauce. But, starting with peanuts (we like dry roasted with as little salt as possible), you bring an extra peanut-y flavor and texture to your sauce. And, since you're blending the sauce ingredients together anyway, starting with actual nuts as opposed to peanut butter doesn't take that much extra effort for a much better sauce.
Instead of getting creaminess in the sauce from the extra oils added to peanut butter, we give it a light and slightly sweet creaminess by using coconut milk. Regular coconut milk will give you a thick and rich sauce, if that's the route you like to go. But, we use light coconut milk, which creates a fresh lightness to the dish and balances out the robust flavor and fat from the nuts.
We make our sauce in two steps, first the grinding of the nuts to a near-paste with some of the sauce ingredients. Then, once the nuts are fine and the other ingredients are well mixed in, we transfer the mixture to a saucepan. While warming the peanut paste, we mix in the coconut milk to thin it out to a nice, saucy consistency. If you just wanted a nice peanut sauce, you could use a bit less coconut milk and stop here, but we're going for the peanut chicken today, so we've added a bit more coconut milk for a thinner sauce that will really coat our leftover chicken.
Adding the cooked, shredded chicken to the warming sauce is an easy way to heat up your chicken at the same time.
Easy Thai Peanut Chicken Tacos
The list of ingredients may make this dish look complicated to make, but it really comes together very easily, with just a bit of chopping for the slaw and a little food processor work for the sauce.
If you'd like to have dinner on the table in even less time, make the slaw and sauce ahead of time and store them in the refrigerator. The flavors will just improve as they set.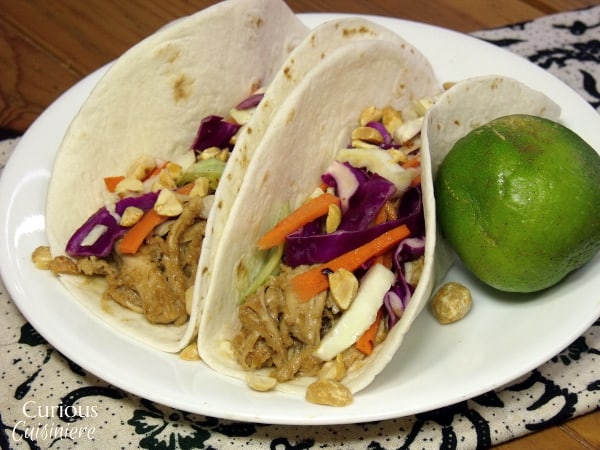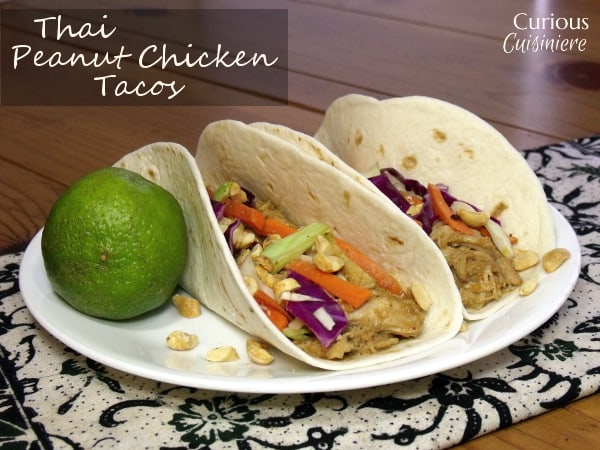 Thai Peanut Chicken Tacos
Leftover chicken is given new life with a nutty, Thai peanut sauce and a bright cabbage slaw.
Yield: 6 (6 inch) tacos
---
Ingredients
For the Slaw
1

c

red cabbage,

shredded

1

c

green cabbage,

shredded

1

carrot,

julienned

½

small

sweet onion,

sliced

1

Tbsp

rice vinegar

1

tsp

fresh ginger,

chopped

1

garlic clove,

minced

½

tsp

crushed red chili peppers
For the Peanut Sauce
1

c

peanuts

(roasted, unsalted) or 1/2 c creamy peanut butter*

2

cloves

garlic,

minced

1

Tbsp

fresh ginger,

minced

3

Tbsp

soy sauce

2

Tbsp

water

1

lime,

juiced (roughly 2 Tbsp juice)

1

tsp

sesame oil

(optional, but it adds a nice nutty dept to the sauce)

1

Tbsp

brown sugar

(or honey)

1/8

– ¼ tsp

cayenne pepper

¼

c

coconut milk

(light or regular)
Putting It All Together
2

c

cooked chicken,

diced or shredded

6

6 inch

flour tortillas

¼

c

chopped peanuts
Instructions
For the Slaw
Place all slaw ingredients in a medium bowl and mix well. Let stand while you make your sauce.**
For the Peanut Sauce
Place the peanuts in the bowl of your food processor. Pulse until the nuts are finely ground. Add garlic and ginger. Pulse to combine. Add the soy sauce, water, lime juice, sesame oil, brown sugar (or honey), and cayenne pepper (depending on your heat tolerance). Blend until a smooth paste forms.*

Transfer the peanut mixture to a medium saucepan. Add the coconut milk to the peanut mixture and mix until smooth, heating over medium heat.
Putting It All Together
Once the sauce is smooth, mix in the cooked chicken. Continue to cook until the chicken is heated through.

To serve, pile the chicken and slaw on a 6" flour tortilla. Top with extra peanuts if desired.
---
Recipe Notes
* If using already made peanut butter, the sauce can simply be mixed together with a fork or whisk, directly in your saucepan, the food processor is not necessary. 
**The slaw and sauce can be made ahead of time. Refrigerate the slaw until you are ready to use it. Make the sauce as instructed through the food processor steps. When you are ready to serve, heat the peanut mixture with the coconut milk to create a smooth sauce. Mix in chicken and heat, adding more coconut milk as needed. (The peanuts may make the sauce thicken slightly.)
If you liked this recipe, here are some similar dishes you may enjoy!