Indio Viejo is a thick and hearty Nicaraguan beef stew made with corn tortillas and tender shredded meat. The perfect comfort food for a chilly winter day!
What is Indio Viejo?
Indio viejo, which means 'old Indian' in Spanish, is a traditional dish from Nicaragua. It is a stew or thick soup that is made with corn and meat previously shredded.
Like many other Latin American countries, corn is a staple in Nicaragua. It is widely used in different dishes, such as nacatamal (steamed corncakes, similar to Mexican tamales) and indio viejo.
It's also an ingredient for drinks such as pinolillo (a cornmeal and cacao-based beverage) and chicha (made with fermented corn), as well as in candies and desserts.
The history of Indio Viejo beef stew
Indio viejo is one of the oldest native dishes in Nicaraguan cuisine. The ingredients are native to the region, like corn and beef.
It is said that the name of this dish comes from the lie of an indigenous leader to two Spaniards who passed through a tribe located in Ometepe.
The Europeans saw the indigenous eating and when asked what they were having, one replied that he was enjoying an old Indian. They called it that because it was made of one of the oldest members of the tribe who had just died.
The Spaniards, in the end, decided not to try the dish. But, the truth behind this legend, is that the leader of the tribe told that lie because he did not want to share the food.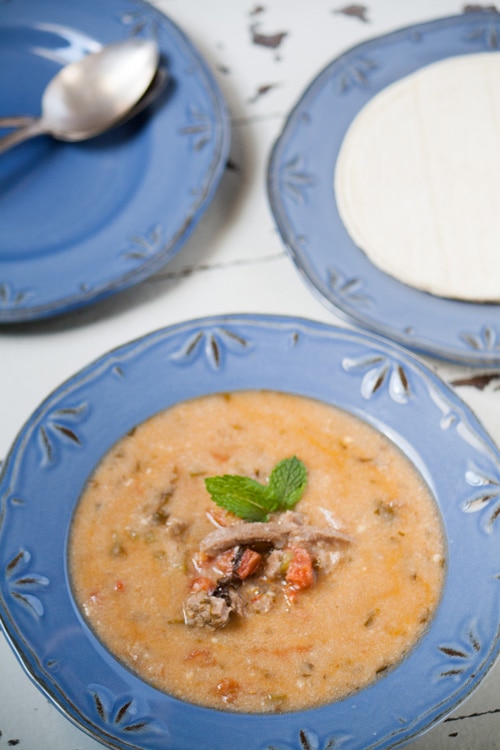 Traditional Indio Viejo
Indio viejo is served throughout Nicaragua. Some states give it a different name, but the ingredients are the same.
This stew is usually prepared on special occasions, like patron saint parties and other social events such as weddings or outdoor banquets.
Traditionally, old tortillas are used to thicken the stew.
This process starts the night before and is very simple. The tortillas are cut into smaller pieces and then left to soak in water.
The next day, the tortillas are blended with the same water or with some broth. I prefer the flavor when blending my tortillas with the broth from cooking the beef.
The meat for this stew is called posta de res, or beef eye of round roast. Another kind of meat that is used for this dish is cecina de res, or beef jerky.
To prepare the meat, you need to cook it long enough to be able to shred it. To do this, there are so many options, and you can use what you have on hand: a crockpot, a pressure cooker, the oven or on the stove, like I did.
Remember to reserve the beef's cooking broth to use it later for blending the tortillas.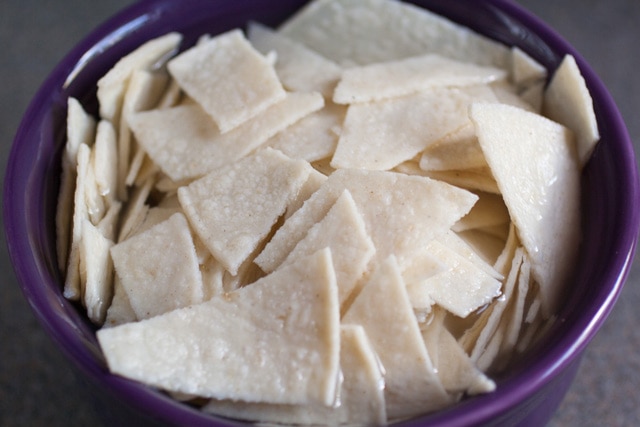 Unique ingredients in Nicaraguan India Viejo
Sour or bitter oranges are very common in Latin America, with thick and dimpled skin, and is a traditional ingredient for this beef stew.
However, because these are not very common in the U.S., I used fresh lemon juice.
Annatto or achiote is an orange-red spice or spice paste that comes from the seeds of the achiote tree. (It is also used in Locro de Paps, an Ecuadorian potato soup.) You can find annatto online and in some specialty spice shops or at a Mexican grocer.
However if you don't have it or can't find it, for this recipe you can replace the annatto with paprika.
What to serve with India Viejo beef stew
It is traditional to serve this stew with fried plantains, some crusty bread or rice.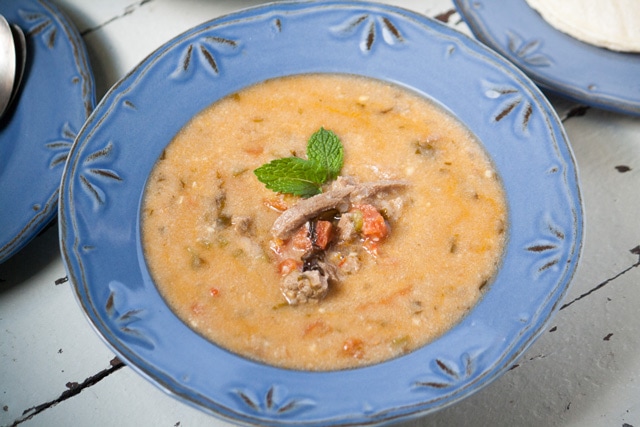 This Nicaraguan beef stew is such a comforting dish for colder weather. Tender beef, veggies, and the broth has an excellent combination of sour and minty flavors.
More beef stew recipes from around the world
If you're looking for a comforting dish for a cool evening, beef stew is the answer. Here are some more beef stew recipes from around the world to warm you up!
And, as a bonus, we've created a fun twist on French beef burgundy with a flaky pastry top in our Beef Burgundy Pot Pie.
Yield: 6 servings
Indio Viejo (Nicaraguan Beef Stew)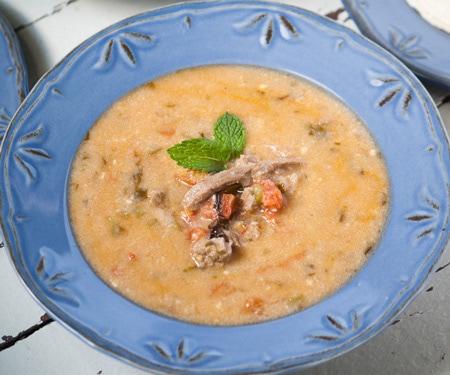 Indio Viejo is a thick and hearty Nicaraguan beef stew made with corn tortillas and tender shredded meat. The perfect comfort food for a chilly winter day!
Cook Time
2 hours
50 minutes
Total Time
3 hours
5 minutes
Ingredients
For the tortillas
15 corn tortillas, cut into smaller pieces
4 cups water
For the beef
1 ½ - 2 lbs beef eye of round roast
5 cups water
1 onion, quartered
For the stew
¼ cup lard or vegetable oil
1 onion, diced
1 garlic head, peeled and minced
1 green pepper, diced
3 tomatoes, diced
½ cilantro bunch, chopped
1 mint bunch, chopped
1 lemon, juiced
1 ½ teaspoons salt, or to taste
Instructions
For the tortillas
The night before you would like to make your stew, cut the tortillas into small pieces. Put them in a medium bowl and add water to cover. Cover the bowl with a cloth and set aside.
The next day, drain the tortillas and blend with 4 cups of broth (from the beef, below) until smooth.
For the shredded beef
In a heavy bottom soup pot, add the beef roast, water and onion. Cover and let it cook on medium low heat for 2.5 hours, or until the meat is tender.
Remove the meat from the pot and shred it using 2 forks. Use the broth to blend the tortillas.
For the stew
To a big soup pot, over medium high heat, add lard or oil, onions, garlic and green pepper. Sauté for 5 minutes and add tomatoes, cilantro, mint, lemon juice, ground achiote or paprika, and salt to taste. Let it cook for 3 minutes before adding the shredded beef and the tortilla mixture.
Lower the heat and simmer for 10 minutes, stirring often.
Serve hot with fried plantains or crusty bread.
Recommended Products
As an Amazon Associate and member of other affiliate programs, I earn from qualifying purchases.
Nutrition Information:
Yield:
6
Serving Size:
1 serving
Amount Per Serving:
Calories:

742
If you liked this recipe, here are some similar dishes you may enjoy!