Beef, braised in deep red wine, makes the classic French Boeuf Bourguignon a recipe for the perfect winter comfort food.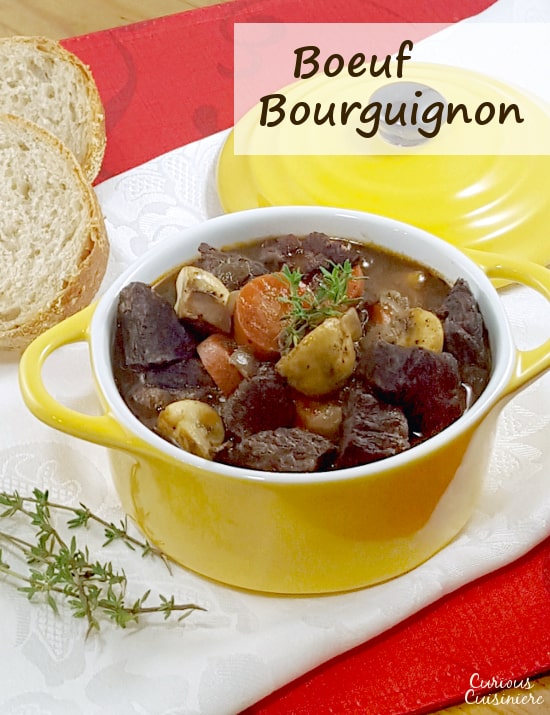 Boeuf Bourguignon (pronounced BUHF bor-GUIN-yon), or Beef Burgundy, is a classic French stew from the Burgundy region in east-central France. This region is famous for their wine, so it makes sense that the food that comes from this region reflect the wine culture. Dishes like Coq au Vin and Oeufs en Meurette come from this region. And, the common theme we see through them all is serious comfort food created by stewing or braising ingredients in red wine. 
Boeuf Bourgignon is no exception.
Boeuf Bourgignon: A Peasant Dish In The Spotlight
While nowadays, Boeuf Bourgignon is one of the few stews considered worthy of serving at a fancy restaurant, the dish didn't start off as haute cuisine. Its origins are actually quite humble:  from the kitchens of peasants. Simmering tough, cheap cuts of beef in cheap, local wine was one of the easiest ways to transform those economical cuts into a meal worth serving your family. 
Think about that the next time you're at a French restaurant and order a bowl of comforting Boeuf Bourgignon: this dish used to be cheap, peasant food. I guess when you live in the heart of France's wine country, even peasant life isn't too bad!
Choosing Meat for Boeuf Bourgignon
You'll want to choose a beef roast that stands up well to braising, like a chuck roast, English roast, bottom round, or rump roast. A tough, cheap cut without too much fat is perfect for this dish because the wine and long cooking time will break the tough muscle down into tender bites of wine-infused beef. 
Choosing Wine for Boeuf Bourgignon
We are firm believers in cooking with wine that you would drink. Now, it doesn't have to be a wine that you'd pick to sip on a lazy Thursday evening. But, you don't want to put a wine whose taste makes you cringe  into your stew. Tough cuts of beef may be magically transformed into tender bites by the wine, but the wine will not be magically transformed into something tasty by the beef. If you don't like the wine, you probably won't like your stew.
Somewhere in the middle is always the best place to stay. An inexpensive wine is perfectly fine, as long as you don't mind the flavors. We do, however, recommend using a dry wine for your Boeuf Bourguignon. Using a lighter sweet, or very fruit-forward red wine will add an interesting sweetness to your stew, which isn't quite the effect we're going for.
So, what does that mean for your grocery list? A Burgundy is a good choice, if you'd like to stay authentic, but they can get a bit pricey. The red grapes grown in the region are predominately Pinot Noir, so a drier Pinto Noir would work beautifully in the stew. Otherwise, a Bordeaux or a Chianti would also be a great choice. (We'll just ignore the fact that Chianti is Italian. The stew won't tell.)
Enjoying Your French Beef Stew
If you've never tasted Boeuf Bourgignon, you are in for a treat. Tender, slow cooked beef is just the start. Put it together with a thick red wine sauce that has been infused with onions, carrots, mushrooms, and an undertone of smoky, salty bacon goodness. You really can't go wrong here.
Just don't forget the crusty bread for soaking up that tasty sauce!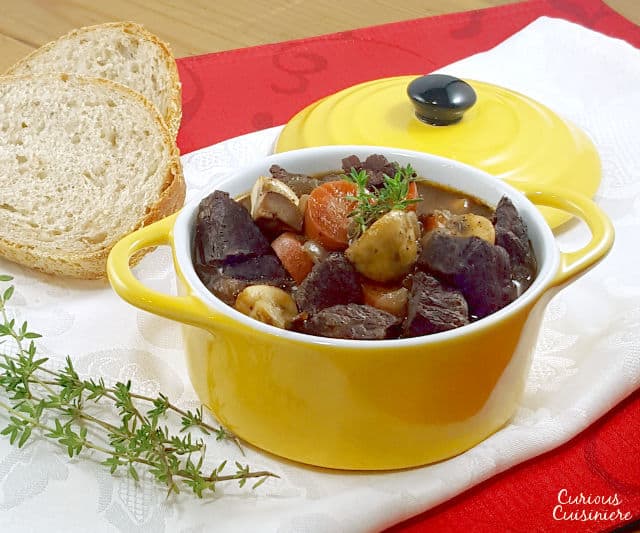 Boeuf Bourguignon
Beef, braised in red wine, the perfect winter comfort food.
Ingredients
1 ½

lbs

beef

cut into ½ inch chunks

6

slices (1/4 lb)

bacon,

diced

8

oz

button mushrooms,

quartered

1

onion,

diced

3

large

carrots,

cut into rounds

2

garlic cloves,

minced

2

c

Burgundy wine

½

tsp

salt

¼

tsp

pepper

2

bay leaves

1

tsp

thyme

or 1 Tbsp fresh

2

c

beef stock

(we prefer low sodium)

2

Tbsp

tomato paste
Instructions
Heat your Dutch oven over medium high. Season the beef cubes with salt and pepper. Sear the seasoned beef, a few at a time so you don't crowd the pan, 1-2 minutes on all sides, until golden. Remove the beef and continue until all the beef has been seared. Set aside.

Place the diced bacon into the now empty Dutch oven and saute over medium high for 3-4 minutes, until crisp. Remove the bacon, leaving the fat in the Dutch oven.

Add the quartered mushrooms to the hot bacon fat. Saute the mushrooms for 2-3 minutes until lightly golden. Remove the mushrooms to a separate bowl.

Add the onions and carrots to what is left of the bacon fat in the Dutch oven. Saute for 3-4 minutes, until the onion is golden brown. Add the minced garlic and continue to saute 1-2 minutes.

Add the flour to the onion mixture. Reduce the heat to medium and mix in the flour, until is is well moistened and lightly toasted.

Add the wine to the Dutch oven, scraping the bottom with a wooden spatula to scrape up any stuck bits. Simmer the wine for 4-5 minutes to reduce slightly.

Add the beef and bacon back to the Dutch oven, along with the beef stock, tomato paste, bay leaves, thyme, salt, and pepper. Bring the mixture to a simmer. Reduce the heat to low and simmer, uncovered for 1 hour.

After 1 hour taste your broth and adjust the salt and pepper as necessary. Continue simmering the stew for an additional 30 minutes, covering it if it seems to be getting too dry.

Add the mushrooms to the stew and simmer for an additional 10 minutes, until they are re-heated.

Serve the stew with mashed or boiled potatoes or pasta.
If you liked this recipe, here are some similar dishes you may enjoy!