There's nothing more simple than a cup of a good coffee. That is, until you've had Vietnamese-style coffee. For the popular drink recipe, Vietnamese Iced Coffee, strong coffee is slow brewed and served with sweetened condensed milk and ice.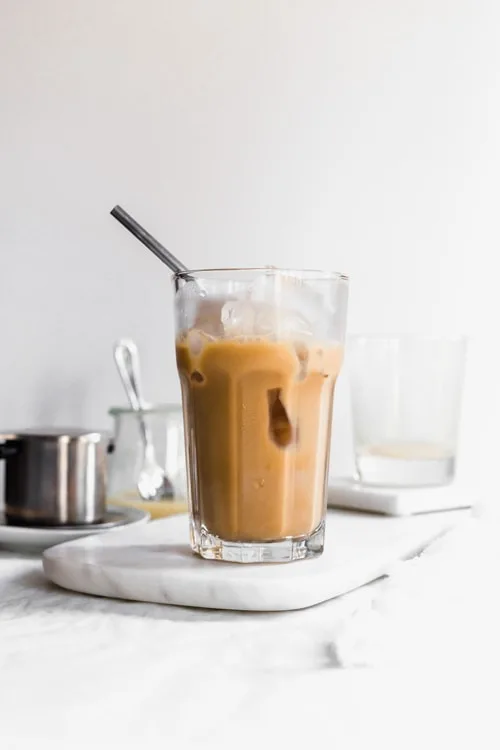 If you've been to a Vietnamese phở restaurant, you'll probably have seen someone order Cà Phê Sữa Da (Vietnamese coffee). It is served with the coffee slowly dripping through a stainless steel filter (phin), condensed milk on the bottom, along with a tall glass of ice.
HISTORY OF COFFEE IN VIETNAM
Coffee was first introduced to Vietnam in 1857 by a French Catholic priest. Land was cultivated into coffee plantations. However, it wasn't until after 1986 that Vietnam became one of the largest producers of coffee.
Most of the coffee Vietnam produces comes from the Robusta variety of coffee bean, rather than the more commonly known Arabica.
Robusta is considered not as high quality as Arabica coffee beans because it is much more bitter and used as a filler for instant coffee. However, Robusta is a hardier variety that is less susceptible to disease and yields larger crops.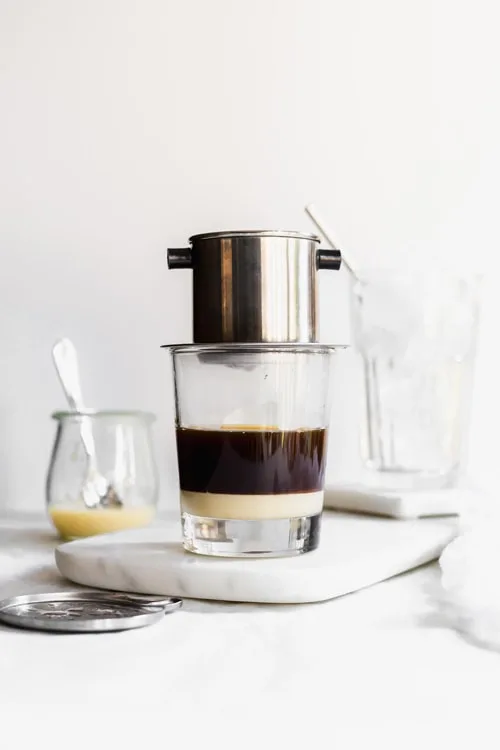 HOW TO PREPARE VIETNAMESE COFFEE
What makes Vietnamese coffee unique is in the method in which it is prepared.
Medium-coarse ground, dark roast coffee is added to a small stainless steel drip filter (also known as a Vietnamese coffee phin). Hot water is poured over the top, and the coffee slowly drips through the filter into the cup.
The resulting coffee is strong and is poured over ice before serving.
Because the coffee is strong, a little bit goes a long way.
HOW THE VIETNAMESE COFFEE PHIN WORKS
What makes the Vietnamese coffee phin filter different than a pour-over (eg. Chemex) is that the phin consists of 2 parts: a bottom metal cylindrical "cup" with perforations as well as a top disc with perforations that screws into the bottom "cup."
The coarse-ground coffee is placed into the bottom "cup" and is pressed when the top disc is screwed in with a utensil such as a spoon.
The trick is finding the right balance between tightening the disc too tightly (no coffee can drip through), versus having the disc too loose (weak coffee, light brown water).
To judge if I have tightened my phin correctly, I will pour a little hot water into it (after tightening). If the water doesn't drip through, then it needs to be loosened. If it drips through too fast, then it needs to be tightened.
Once I am sure that the water is dripping at the proper, slow and steady rate, then I pour all of the remaining water into the phin, cover it, and let it drip away.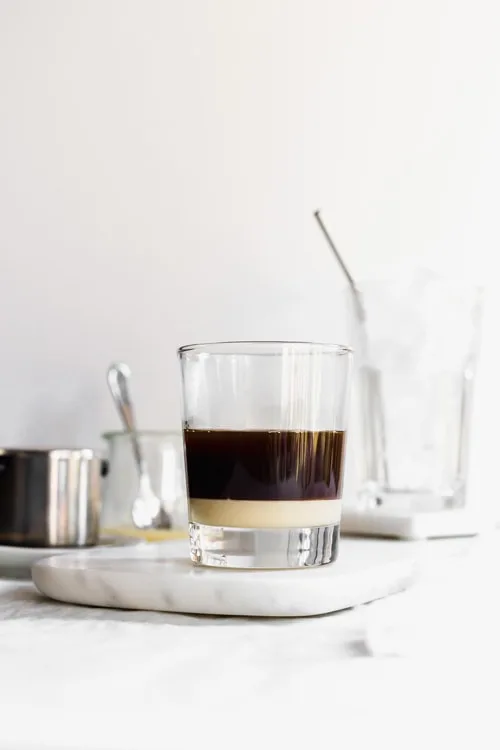 VARIATIONS OF VIETNAMESE COFFEE
Cà Phê đá — Just dark roast Vietnamese coffee and ice.
Cà Phê Sữa đá — a popular way of preparing Vietnamese coffee, with the addition of sweetened condensed milk. This is usually the coffee people refer to when speaking about Vietnamese coffee.
Bạc Xỉu –– Essentially the same drink, except the proportion of condensed milk is much more than the coffee. Good for people who enjoy their coffee on the sweeter side.
Cà Phê Trứng — Vietnamese whipped egg coffee which originated in Hanoi. Egg yolks are whipped with coffee, milk, and sugar and produces a rich, foamy drink that is reminiscent of eggnog.
All of these drinks can be served hot or cold.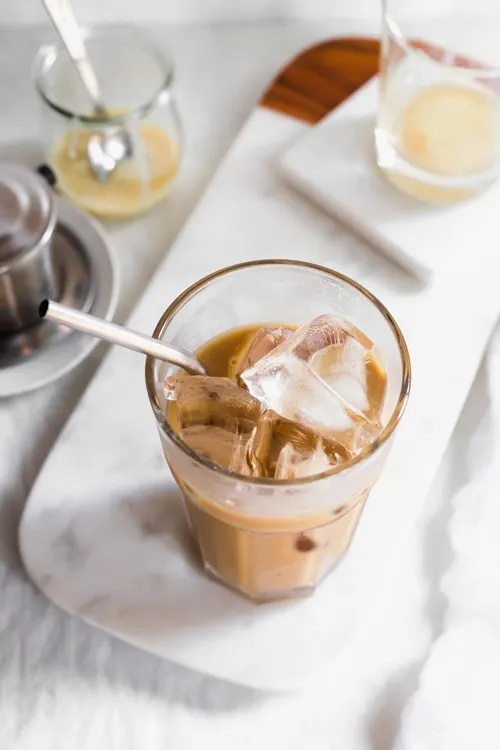 HOW TO MAKE THIS VIETNAMESE ICED COFFEE RECIPE
The process to make Vietnamese iced coffee is quite simple, once you get the hang of working with the coffee phin.
I drip my hot coffee into a heat resistant glass that I have put my sweetened condensed milk into. The hot coffee softens the sweetened condensed milk, making it easy to stir together by the time the coffee has finished dripping.
Then, the mixture gets poured into a tall glass with ice!
Vietnamese coffee is a drink that is enjoyed at a leisurely pace due to the nature of the slow drip. It's one of my favourite pick-me-ups that I can make at home.
Try this simple Cà Phê Sữa đá — Vietnamese iced coffee with condensed milk — it's a great way to cool down on a hot, humid summer's day.
(And for another Vietnamese drink that is perfect for a not day, check out Trà Dào – Vietnamese Peach Tea.)
Yield: 1 serving
Cà Phê Sữa đá (Vietnamese Iced Coffee)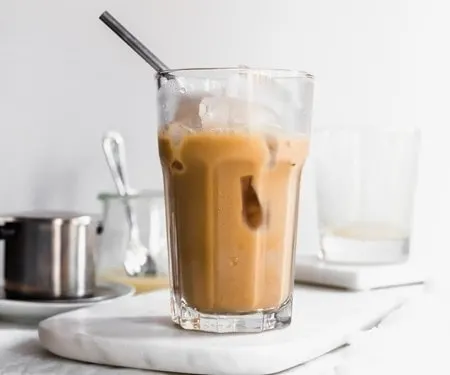 For the popular drink recipe,Vietnamese Iced Coffee, strong coffee is slow brewed and served with sweetened condensed milk and ice.
Ingredients
2 Tbsp sweetened condensed milk (adjust to your taste)
1 heaped Tbsp coarse ground dark roast coffee (I use Cafe du Monde)
1/2 c hot boiled water
1 c ice
Instructions
In a heat-resistant glass, pour in the condensed milk (you can add more or less to your liking).
To the coffee phin filter "cup," add 1 heaped tablespoon of coarse ground coffee. Gently tap to ensure the coffee grounds are evenly spread out. Place the top disc on and carefully screw it over the filter "cup" with your fingers. Use a metal spoon and continue to tighten until you feel some resistance.
Place the coffee phin over top of the glass with the condensed milk.
Carefully pour a little hot water into the coffee phin and observe how quickly the water drips through. If it's dripping quickly, carefully use a spoon to tighten the filter. (Note: the coffee filter is metal so it will be hot). If no coffee is dripping through, then carefully use the spoon to loosen the filter a bit.
When the coffee is dripping at a slow rate, add the rest of the hot water and place the cover over top. (It should take about 4-5 minutes for the coffee to finish dripping through)
In the meantime, add ice cubes to a tall glass.
Once the coffee has finished dripping, remove the phin. Stir the condensed milk and coffee together, and pour over the ice cubes.
Add a straw and enjoy immediately.

Recommended Products
As an Amazon Associate and member of other affiliate programs, We earn from qualifying purchases.
Nutrition Information:
Yield:
1
Serving Size:
1
Amount Per Serving:
Calories:

168
If you liked this recipe, here are some similar dishes you may enjoy!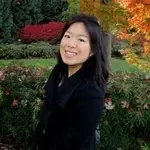 Michelle enjoys learning and discovering different foods from around the world and recreating them in her own kitchen. She is an avid matcha lover and believes that the best food is made from scratch. Michelle develops and photographs recipes at her blog SiftAndSimmer.com.