Bánh xèo, or Vietnamese crepes, are rice flour pancakes that bring a light batter and ample fillings together for one tasty, crispy breakfast or snack!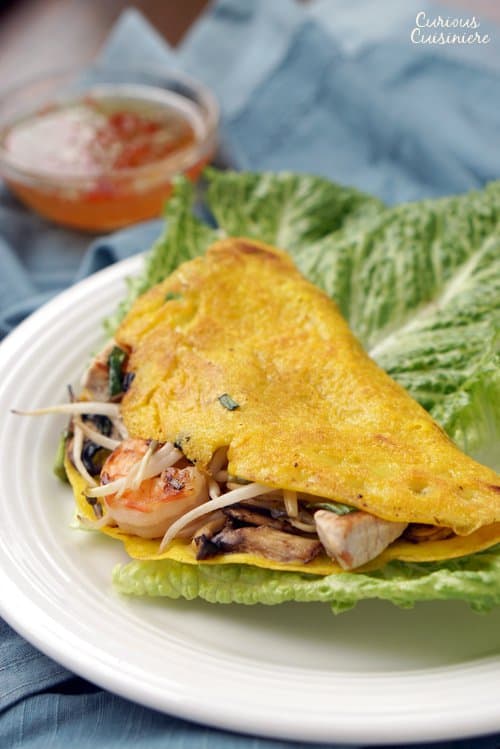 (DISCLOSURE: This post contains Amazon affiliate links.)
Bánh Xèo: A Vietnamese Pancake
Bánh xèo (pronounced BAN-sew) are a popular street food in Vietnam.
Each region in Vietnam brings a slight variation to the same theme of stuffed thin pancake.
In the southern region Bánh xèo are larger and made with more veggies and mung beans. While in the central regions, they tend to be made smaller and without mung beans.
The name literally translates to "sizzling cake," after the sound the rice batter makes when it is poured into the hot pan. But, in the States, these pancakes are also known as Happy Pancakes.
One bite of the crispy pancake folded around ample fillings, and you'll know why.
They are indeed a very happy (and tasty) pancake!
An Omelette or A Pancake?
At first glance, you might think that these are omelettes. I know we did.
But, there's actually no egg in the batter for these pancakes. Rather, it's turmeric that gives the batter its characteristic yellow hue.
The key to these Vietnamese happy pancakes is that the thin rice batter is poured into a piping hot skillet, similar to the way you make a French crepe.
Unlike crepes, bánh xèo are loaded with filling ingredients (like an omelette) and then cooked until one side of the pancake is nice and crispy.
So, you end up with a crepe-like pancake with a crispy side that is filled with tasty ingredients like shrimp, pork, and bean sprouts.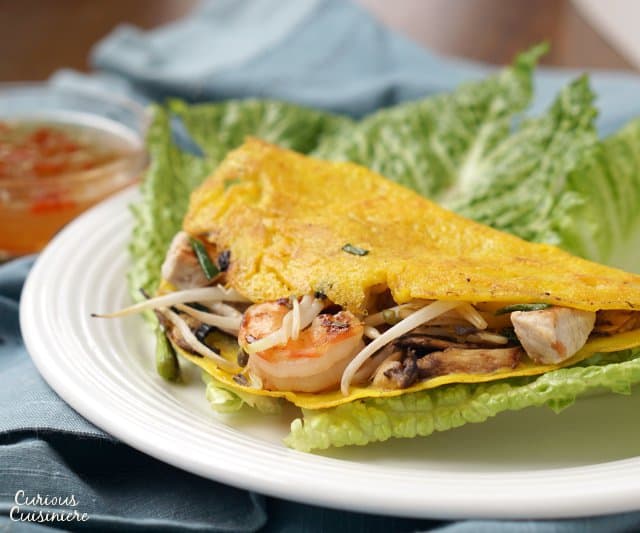 Rice Flour Pancakes
The one unique ingredient in these pancakes is rice flour. Rice flour gives these pancakes a slightly chewy texture that balances out the crispness of the cooked side.
You can typically find rice flour in any well-stocked grocery store with their specialty flours. Bob's Red Mill is one of the most available brands. Or, if you have an Asian grocery near you, they would carry it too.
Nuoc Cham: Vietnamese Dipping Sauce
When serving Vietnamese happy pancakes it is essential to have a dipping sauce. The sauce really ties all the flavors and textures together, adding something incredibly special to these pancakes.
In Vietnamese cuisine the most common dipping sauce is called Nuoc Cham. And, it is used quite often!
Nuoc cham is a classic fish sauce-based dipping sauce that creates a beautiful balance between sour, sweet, and salty. And, it's really easy to make at home. (You can find our recipe at the end of this post.)
How To Eat Bánh Xèo
Since bánh xèo is a street food, it makes sense that this stuffed pancakes is typically eaten with your hands.
It is always served with lettuce, either large leaves which make it easy to eat the pancake as a lettuce wrap, or it is simply eaten with a side salad of mixed greens and herbs (typically mint and cilantro.)
Enjoy!
Bánh Xèo (Vietnamese Happy Pancakes)
Bánh xèo, or Vietnamese Happy Pancakes, are crepe-like pancakes that bring a light rice batter and ample fillings together for one tasty, crispy breakfast or snack!
Yield: 6 filled pancakes
Ingredients
For The Vietnamese Rice Flour Pancakes
1

c

rice flour

1

c

water

1

c

coconut milk

½

tsp

salt

1

tsp

turmeric

1

scallion,

sliced thin

Oil

(for cooking)
For The Vietnamese Dipping Sauce (Nuoc Cham)
6

Tbsp

warm water

2

Tbsp

sugar

2

Tbsp

lime juice

2

Tbsp

fish sauce

1

garlic clove,

minced

1

red chili

(preferably Birds Eye or Thai), minced
For The Fillings
2

c

fresh bean sprouts

½

lb

pork

(or mushrooms), sliced

½

lb

small shrimp,

peeled

6

scallions,

sliced

Lettuce leaves and herbs

(mint and cilantro), for serving
Instructions
For The Vietnamese Rice Flour Pancakes
Mix all pancake batter ingredients together in a large bowl until smooth. Let the mixture stand for 30 minutes while you prepare the other ingredients.
For The Vietnamese Dipping Sauce (Nuoc Cham)
Mix all the dipping sauce ingredients. Set aside.
To Prepare The Fillings
Preheat a 9 inch, non-stick skillet with a lid over medium heat. Add the bean sprouts and cook until most of the moisture has evaporated. Remove the sprouts from the pan and set aside.

Increase the heat to medium high. Add 1 tsp of oil to the skillet. Add the pork and shrimp and cook for 2-3 minutes, until cooked through. Add the scallions and sauté for 1-2 minutes. Remove the mixture from the pan and set aside.
To Make The Pancakes
Add ½ tsp of oil to the skillet (if it looks dry) and pour about ½ c of the batter into the hot pan, tilting the pan quickly to create an even layer of batter that coats the pan.

Distribute some of the cooked filling and bean sprouts over half of the batter and cover the skillet for 2-3 minutes, until the edges begin to brown. .

Remove the lid and reduce the heat to medium, cooking until the bottom of the pancake is crispy, 3-5 minutes.

Once the bottom of the pancake is golden and crispy, fold the pancake in half over the filling. Transfer to a plate and serve.

Continue with the remaining batter and filling, adding a little oil as needed before pouring the batter.
---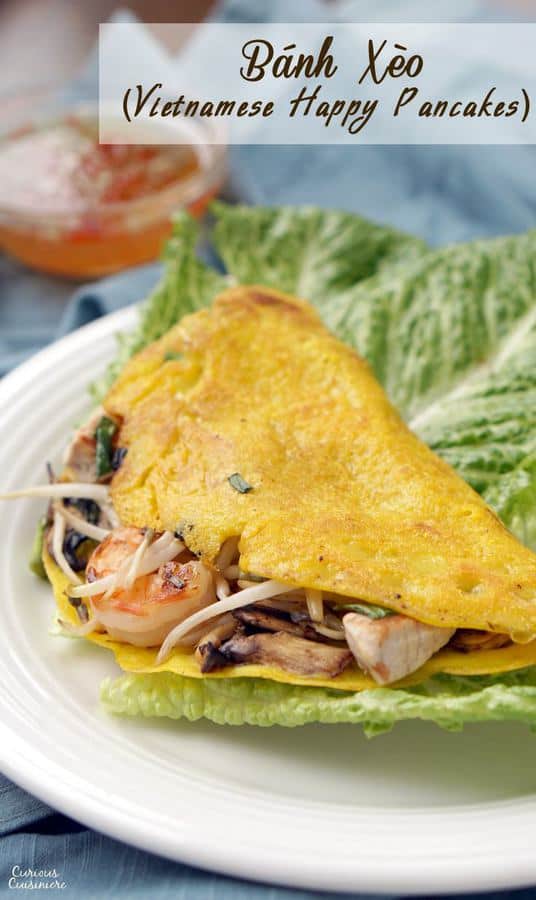 If you liked this recipe, here are some similar dishes you may enjoy!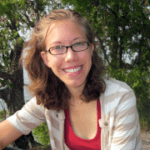 Sarah is co-owner of Curious Cuisiniere and the chief researcher and recipe developer for the site. Her love for cultural cuisines was instilled early by her French Canadian Grandmother. Her experience in the kitchen and in recipe development comes from years working in professional kitchens. She has traveled extensively and enjoys bringing the flavors of her travels back to create easy-to-make recipes.