Grab yourself a taste of the Caribbean with this homemade Jamaican Jerk Seasoning mix. Made from ingredients you already have in your pantry, this jerk spice mix is easy to whip up whenever you are craving a little something extra on your chicken, pork, seafood, or vegetables!
Jamaican Jerk Seasoning
If you love Jamaican Jerk Chicken and Jerk Pork, you are going to love today's recipe.
You see, while you typically use a wet jerk marinade to infuse Jerk Chicken with that spicy, herby, and slightly sweet flavor even before it hits the grill, you can achieve a similar flavor for other foods that you might not want to wet marinate with a simple Jamaican jerk seasoning mix, made from spices you probably already have in your pantry.
Plus, a dry jerk seasoning mix can be stored more easily in your pantry, so that you can break it out at a moment's notice, whenever that spicy Caribbean craving strikes.
Making Homemade Jamaican Jerk Seasoning
To create a Jamaican Jerk spice mix, first we have to look at the Big 5 Jerk Ingredients: allspice, Scotch Bonnet peppers, thyme, onion, and ginger.
For traditional Jamaican Jerk, four of these five ingredients are fresh, wet ingredients, making them perfect for churning into a wet marinade.
For the dry version, we've made a few simple substitutions to make the Jamaican Jerk flavor easier to keep in your pantry. Plus, we're throwing in a secret, not-so-traditional, ingredient that really helps capture the flavor of open-fire cooked Jerk meat or seafood.
Adjusting The Heat In Our Jerk Seasoning Mix
The biggest difference from traditional jerk recipes in our jerk seasoning mix comes in the way we capture the heat.
Instead of Scotch Bonnet peppers, we are using cayenne powder.
Cayenne is quite a bit milder than Scotch Bonnet (at it's hottest cayenne measures about half of the heat of the mildest Scotch Bonnet), meaning that this rub doesn't pack quite the glowing heat that a traditional Jamaican Jerk would have.
For some of you, it will be a great way to enjoy Jamaican Jerk on a more mild level or introduce those non-heat lovers to the beautiful, intense flavors of jerk.
However, if you crave that mouth-glowing heat of traditional Jamaican Jerk, simply increase the cayenne pepper amounts in this seasoning mix until you hit a heat level that suits your fancy.

Getting That Wood-Fire Flavor
The other non-traditional ingredient that we're using of for our Jamaican jerk seasoning really brings that wood-smoked flavor into the mix.
Even though you might be grilling or smoking the foods that you season with this mix (particularly if you use it as a rub), we wanted to make sure that the smoky flavor of true Jamaican Jerk was infused automatically, so you could bottle that smoke flavor and infuse it into whatever dish was calling your name at the present moment.
Enter our secret ingredient for a great Jamaican Jerk seasoning: paprika.
We love the smoky undertone that just a bit of paprika adds.
And, while not traditional, we think that you will agree that it really does make all the difference, letting this spice mix stand alone as a wonderful representation of Jamaican Jerk flavors.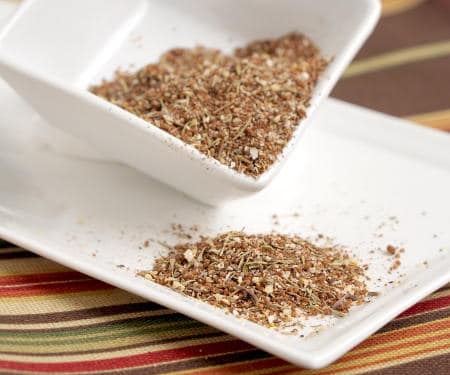 Homemade Jamaican Jerk Seasoning
Jamaican Jerk Seasoning Mix brings the classic Jamaican jerk flavor and heat in a dry spice mix made from ingredients you already have in your pantry!
Yield: 1/4 c of seasoning
Servings
:
4
(1 Tbsp) servings
---
Ingredients
4

tsp

ground allspice

1

Tbsp

thyme

1

Tbsp

brown sugar

2

tsp

onion powder

1 1/2

tsp

garlic powder

1

tsp

cayenne

1

tsp

salt

1

tsp

ginger

1/4

tsp

paprika

1/4

tsp

nutmeg

1/4

tsp

cinnamon
Instructions
Mix all ingredients well and use to season meat, fish, vegetables, even rice or beans. Get creative!

Spice mix will keep, sealed, in the pantry for 2-3 months.
---
Recipe Notes
Use 1/4 c of Jamaican jerk seasoning for 2 lbs of meat or up to 4 lbs of fish.
This recipe from April 2014 was updated in May 2017. We made the seasoning mix even better! Enjoy!
If you liked this recipe, here are some similar dishes you may enjoy!