Scottish Bannock bread is cooked in a skillet from a simple dough, making it the perfect recipe for cooking up fresh bread around your summer campfire!
Bannock: Scottish Heritage
Bannock is a simple, flat loaf of bread that bakes up with a texture similar to a scone or biscuit, with a fluffy center that is slightly crumbly. It is wonderful for breakfast spread with some jam or served for a main meal alongside your stew or main dish.
The word "bannock" has Celtic roots, coming from a Latin word that means, quite simply, "baked dough".
Bannock bread originated in Scotland, where it was first made as a quite heavy and dense loaf with a barley or oatmeal dough and no leavening. As leavening agents were introduced, they began to be added to these skillet breads, making them fluffier.
Bannock In North America
While bannock originated in Scotland, the concept was adopted into Native American cultures, particularly in the cuisine of the Inuits of Canada and Alaska.
Variations of North American bannock were made with corn (maize), making a loaf similar to a skillet cornbread. But, as wheat became more widely grown, they began making bannock with whole wheat flour, which is most commonly used today.
North American pioneers like Lewis and Clark and Daniel Boone learned how to make bannock from the Native Americans, and the bread became a staple for them and many others during the westward exploration of North America.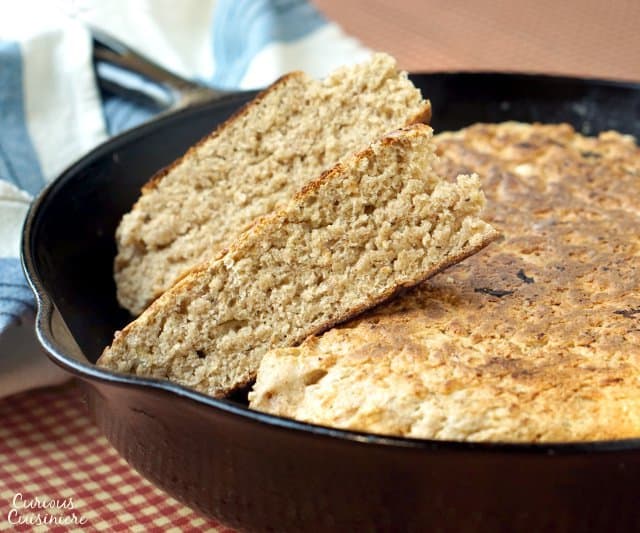 Making Campfire Bread
When making bread over a campfire the most important (and hardest to control) element is the heat.
A cast iron skillet conducts heat very well (and stays hot for a long time), so when using a cast iron skillet to bake bread, you need to be sure that you skillet is over a warm section of coals, but not a super hot section of the fire.
Your goal is to keep the heat to the skillet at a steady medium level, so that the bread cooks, but doesn't burn too quickly.
A good test of this for your bannock is if your bread starts to smell (or look) like the bottom crust is burning after less than 10 minutes in the skillet, then things are too hot. Cooking for less than 10 minutes on a side will result in bannock that is not quite done in the middle.
If you do start to burn one side of your bannock, don't worry, all is not lost. Just move your skillet to a cooler section of coals (or off the heat completely if things are way too hot). Flip your bread, and let the second side cook slowly (for 15-20 minute).
This will let the heat on the second side reach the middle of the bread, cooking it through.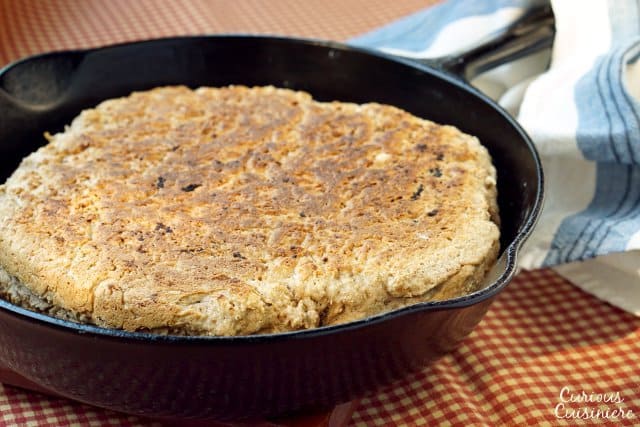 Making Bannock Without A Skillet
Bannock has been a staple bread of peoples who lived in camps where the cooking was done over an open fire. But, sometimes a skillet (or flat stone) wasn't available.
Not to be troubled with the details, they began making their bannock dough thicker and simply wrapping it around a stick to be cooked over the open flames.
The next time we go camping, we'll be bringing a bag of bannock mix with us and trying the stick method of cooking it over a fire!
Bannock (Scottish Skillet Bread)
Scottish Bannock bread is cooked in a skillet from a simple dough, making it the perfect recipe for cooking up fresh bread around your summer campfire!
Yield: 1 (9-inch round) loaf
Ingredients
1 ½

c

white whole wheat flour*

(or more all-purpose*)

½

c

powdered milk

2

Tbsp

baking powder

1

tsp

salt

2

Tbsp

shortening,

lard, or butter

1 - 1 ½

c

water

Cooking oil

(for greasing the pan)
Instructions
In a medium bowl, mix the flours, powdered milk, baking powder, and salt.

Add the shortening and cut the fat into the dry ingredients until the mixture resembles coarse breadcrumbs. (If you will be taking this mix traveling with you, you can make this dry mix ahead of time and store it in a sealed plastic bag or container until you are ready to make your bread.)
To Prepare The Bread
Grease a 9-inch cast iron skillet and warm it over the fire coals (or stove on medium heat). (Your goal is to get the pan hot enough that the batter will sizzle when it hits the pan, but not so hot that the oil is smoking.)

Add some water to your dry bread mixture and mix just until a very thick batter forms.

Place the better into the warm skillet and press it to roughly 1 inch thick.

Cook the bread for 10-15 min. Once the bottom is a dark golden and the top of the batter is starting to dry out, flip the loaf.

Bake the loaf on the second side for 10-15 minutes. (If your bannock takes any less than 10 minutes to bake on a side before the crust starts to burn, then your heat is too hot and the outside is cooking faster than the inside. Move your pan to a cooler section of coals.)

Remove the pan from the coals and let the bread cool for 5-10 minutes before serving.
Notes
*If using all all-purpose flour, you may need to add a little less water to your dough to get a good consistency.
Don't want to carry a pan camping with you? Make a thicker dough by using less water. Wrap the dough around a stick and cook it over your campfire.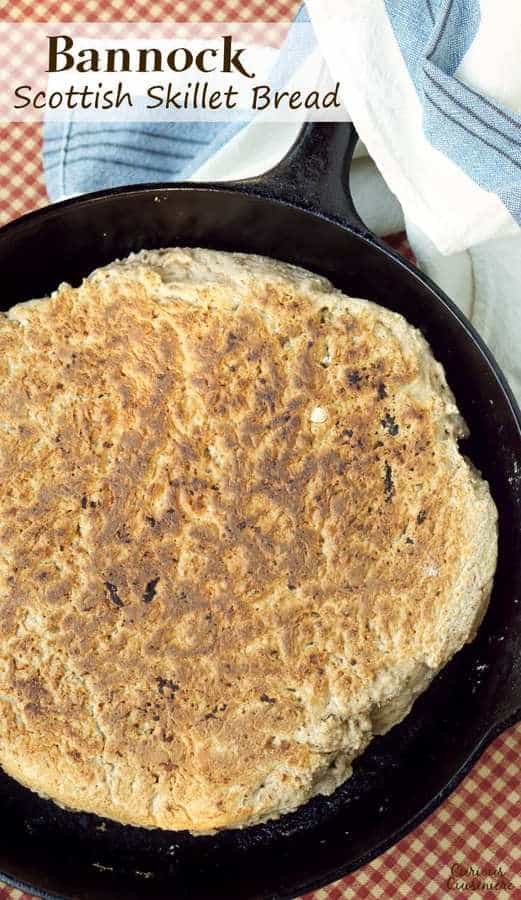 If you liked this recipe, here are some similar dishes you may enjoy!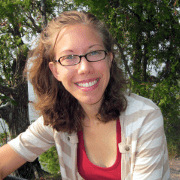 Sarah is one of Curious Cuisiniere's founding duo. Her love for cultural cuisines was instilled early by her French Canadian Grandmother. Her experience in the kitchen and in recipe development comes from years working in professional kitchens. She has traveled extensively and enjoys bringing the flavors of her travels back to create easy-to-make recipes.