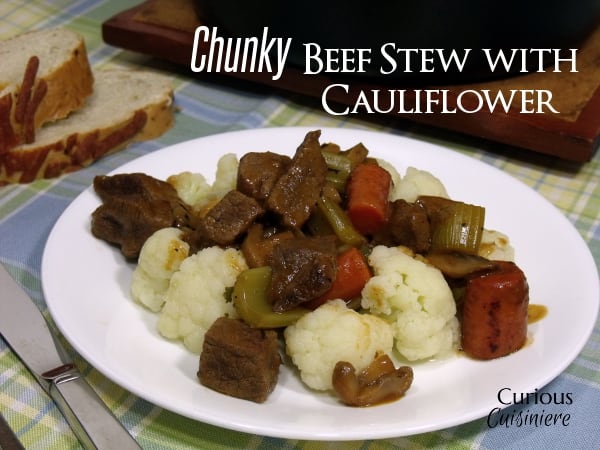 I participated in a campaign on behalf of Mom Central Consulting for the Certified Angus Beef® brand. I received product samples to facilitate my review and a promotional item as a thank you for participating.
When it comes to meat, we're learning. Particularly with red meats.
It wasn't until this past Christmas that a conversation with my mom enlightened us to the world of different quality grades of beef. And, our minds were blown.
So, when we were contacted with the opportunity to learn more about quality beef and Certified Angus Beef® brand, we were excited to see the difference first hand.
What's the deal with grades of beef?
Sure, you may see some really good deals on cuts of meat. But, you have to be careful, because all meat isn't created equal.
Have you seen the USDA Prime, Choice, and Select rating when you've been scoping the meat counter? Prime is the highest quality. Choice is still high quality, and most common (over 50% of the cattle total). While Select is the lowest acceptable grade for retail.
There is one main factor in what contributes to 'quality' meat: fat. The better the fat marbling, the higher quality. Select, for example, is typically lean, making it dryer and less flavorful.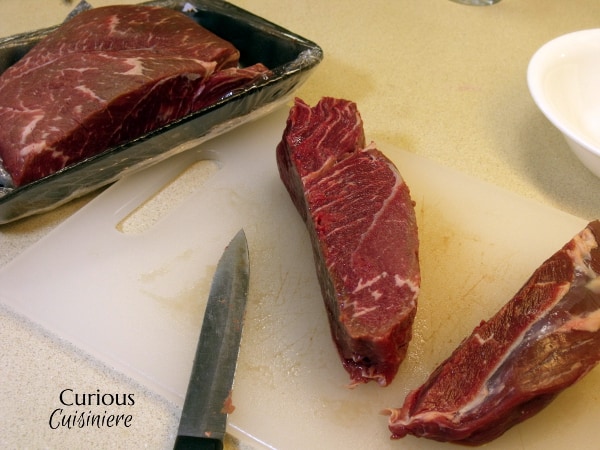 What's marbling? Take a look at those little flecks of white in the meat above. They melt during cooking, basting the beef from the inside out. So, the more even the marbling (like the great marbling in the Certified Angus Beef® above), the more flavorful and juicy the resulting dish will be.
Where does Certified Angus Beef® fit in?
When you see that Certified Angus Beef® logo, you can be sure your meat has met 10 standards for marbling, size, and uniformity.
Unfortunately, the term 'Angus' has become over-used by the meat industry, since Certified Angus Beef® brand has established quality behind their name. Make sure you see "Certified Angus Beef®" to know you aren't being tricked by not-so-clever marketing ploys.
In the end, you really can tell a difference by taste. We found Certified Angus Beef® to be fall-apart tender. The marbling was just enough to flavor the meat and stew, without leaving excess fat that needed to be skimmed from the dish.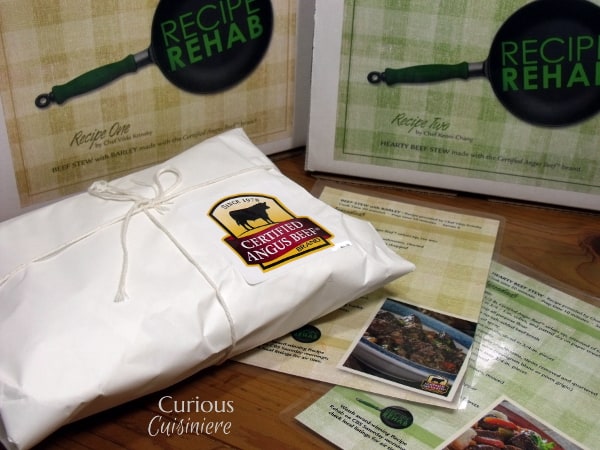 We were sent beef and recipes to try in the style of the award-winning CBS show Recipe Rehab. If you're unfamiliar with the show, it's a pretty neat concept:
"Families submit their favorite high-calorie, family-style recipes, and two chefs face off in a head-to-head competition to give the recipes a low-calorie twist. After making each rehabbed recipe in their own kitchen, the family chooses their new favorite. This recipe makeover challenge promotes using healthy, wholesome ingredients and demonstrates how a few modern changes can transform a family favorite into an even healthier meal." (Recipe Rehab Website)
We all have those family favorites that we know aren't the healthiest, but they are the epitome of comfort food. Tim and I are constantly remaking old, family favorites in our house, and it is amazing how a few simple changes can do wonders for the health of a dish without sacrificing the comforting taste.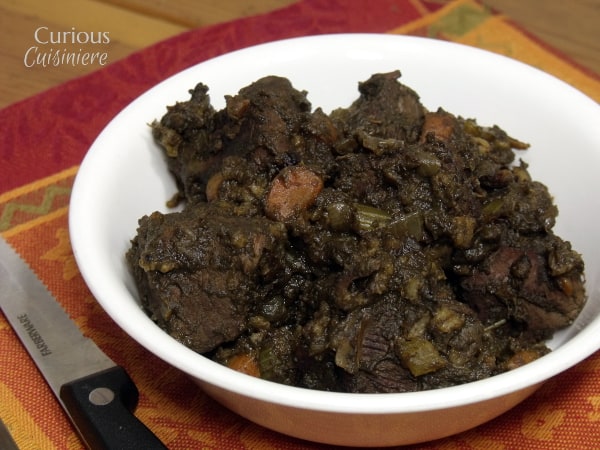 The two recipes we were give were Beef Stew with Barley and Hearty Beef Stew.
The Beef Stew with Barley produced big, fall-apart-tender chunks of beef in what we would classify as a mushroom and spinach ragù. Braising the meat in the sauce, gave some wonderful flavors to this stew.
The Hearty Beef Stew resulted in more of a classic-style stew, with big chunks of veggies. White wine adds a bright sweetness to the dish and simmering creates the perfect gravy.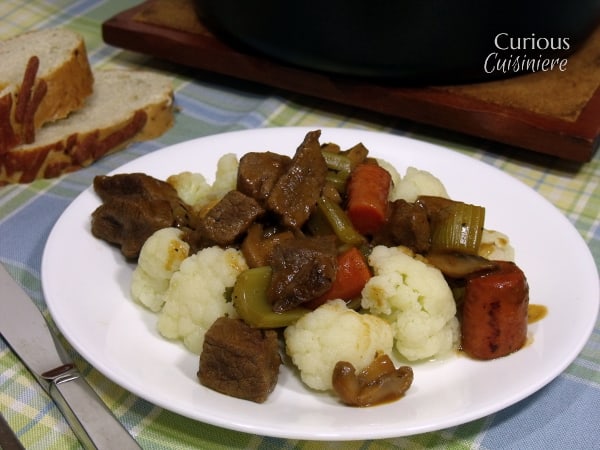 Which was our favorite? 
It was a hard decision, since both dishes made fabulous meals. In the end, the Hearty Beef Stew won out for us because of the fantastic combination of flavors and textures brought to the dish by combining chunks of veggies with the tender beef.
We did adjust the recipe slightly, for our family's tastes, so be sure to take a look at the original recipe as well.
Which would your family like best?

Chunky Beef Stew with Cauliflower
Author:
Slightly adapted from Recipe Rehab Chef Keoni Chang
Ingredients
1 ¼ lbs Certified Angus Beef® sirloin tip, cut into ¾" cubes
1 large onion, chopped
4 large carrots, chopped into 1" pieces
1 (4oz) can sliced mushrooms, drained
3 celery stalks, chopped
3 garlic cloves, minced
2 Tbsp tomato paste
1 bay leaf
1 tsp thyme, dry
½ tsp black pepper
½ c semi-dry white wine (cabernet or pino grigio)
2 ½ c no-salt-added beef stock
3 Tbsp flour
1 lb cauliflower, cut into bite-size chunks
Instructions
Spray a large, Dutch oven (4-6 qt), with oil. Heat the pot over high heat. Add your beef cubes and brown the meat, 3-5 min. Remove meat to a bowl and set aside.
If needed, spray your Dutch oven again with oil. Add onions and carrot chunks and sauté until golden, 10 min. Add mushrooms, celery, and garlic, and sauté 2-3 min.
Reduce heat to medium. Add tomato paste, bay, thyme, and pepper. Mix until evenly distributed.
Add wine and deglaze the pan, scraping up any stuck bits of goodness with a flat wooden spoon.) (You wouldn't want to scratch the pan!)
Return beef to the pan and simmer, 2-3 minutes to reduce the wine.
While the wine is simmering, in a small bowl, pour the beef broth into the flour. Whisk until smooth. Add the broth mixture to the Dutch oven.
Bring the pot to a simmer, then reduce the heat to medium-low and simmer 45 min to 2 hours. (The longer you simmer, the more tender the meat will become.)
About 10 minutes before you are ready to serve dinner, heat 1 qt of water in a large saucepan to boiling. Reduce heat to a simmer and add cauliflower. Simmer 5 minutes, or until cauliflower is just barely tender.
Serve stew over a bed of cauliflower.
Nutrition Information
Serving size:
4 SERVINGS
Calories:
413
Fat:
9.7g
Saturated fat:
3.6g
Carbohydrates:
25.6g
Sugar:
9.7g
Sodium:
688mg
Fiber:
6.8g
Protein:
50.1g
Cholesterol:
127mg
Be sure to watch award-winning Recipe Rehab on CBS, Saturday morning, February 15. That's when the official winning recipe will be chosen. (Check your local listings for air-time).
You can find more information about Certified Angus Beef® on their blog, Pinterest, and Twitter.
If you liked this recipe, here are some similar dishes you may enjoy!