Beef Stroganoff is so much more than the 50s and 60s made it out to be. Our easy and authentic Russian Beef Stroganoff recipe combines tender beef and flavorful mushrooms in a creamy sauce for an elegant, yet quick dish.
What is Russian beef stroganoff?
Stroganoff (or Stroganov) is a simple and comforting Russian dish consisting of sauteed pieces of beef served in a sour cream sauce.
It dates back to the mid 19th century, and is named for a member of the Stroganov family, who were a group of highly successful Russian merchants and landowners: the richest businessmen in Tsarist Russia.
The first known recipe shows up in the mid 1800s in a Russian cookbook.
After the fall of Tsarist Russia, the dish found popularity in China. Then, during WWII, Russian and Chinese immigrants as well as US servicemen brought the dish to the US.
Popularity of beef stroganoff in the US
In the 50s and 60s, Stroganoff saw quite a bit of popularity in the US, but overtime its image was marred by canned cream of mushroom soup and poor cuts of meat that were slopped over noodles or rice and served in school cafeterias.
It saw so much popularity, it really became an iconic dish. Unfortunately, it was this cafeteria version that everyone in the States came to associate with the name.
If you've been scared off by bad cafeteria versions of beef stroganoff, now is the time to give it another chance.

What cut of beef do you use in stroganoff?
The best beef to use in beef stroganoff is a cut that works well with quick cooking. That means you need something that is fairly tender in its own right.
We like to use a sirloin steak, but flank steak is another good option.
The important thing is to cut the steak into thin slices, or chunks, by cutting across the grain. This shortens the fibers of the meat, making it more tender with less cooking.
How do you make authentic beef stroganoff?
The first time we made homemade stroganoff, as we sat down to dinner, we were a bit in disbelief at what was sitting in front of us.
Could it be?
An elegant version of beef stroganoff?
This dish is hearty and full of flavor. With chunks of beef and ample, tender mushrooms.
And, it's quite easy to make!
We saute our mushrooms first and then remove them from the pan. This is an extra step, but it really does wonders to create different elements in the dish, rather than having everything taste the same.
After the mushrooms, it's time for the onions and beef to be sauteed.
Then, it's time to make the gravy with beef broth and seasonings.
Sour cream gets stirred in at the end to thicken the sauce and make it extra creamy!
In less than 30 minutes, you have an incredibly comforting dish that can be served with a number of accompaniments.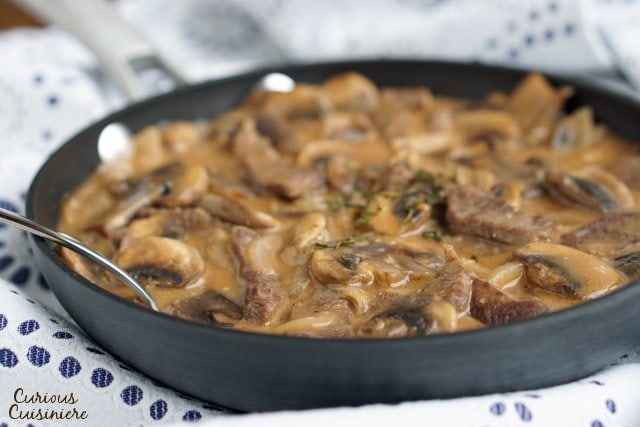 What is traditional beef stroganoff served with?
In Russia, you will most often find traditional beef stroganoff served over fried shoestring potatoes (French fries). It can also be found served over mashed potatoes or rice.
Here in the States, pasta is the most common accompaniment to beef stroganoff, particularly twisted egg noodles.
Whichever way you go, having something to soak up the delicious gravy is a must!
And, while not culturally appropriate, this dish pairs perfectly with a Bordeaux-style wine.
Yield: 4 - 5 servings
Traditional Beef Stroganoff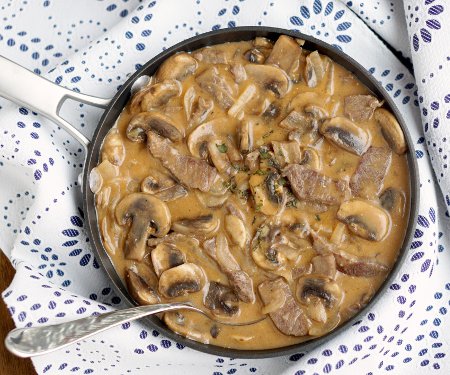 Our easy and authentic Russian Beef Stroganoff recipe combines tender beef and flavorful mushrooms in a creamy sauce for an elegant, yet quick dish.
Ingredients
2 Tbsp salted butter, divided
8 oz button mushrooms, sliced
1 onion, thinly sliced
1 lb sirloin steak, sliced thinly, against the grain
2 Tbsp unbleached all-purpose flour
1 c beef broth, (we prefer low sodium)
½ tsp ground mustard seed, or 1 Tbsp whole grain mustard
1 Tbsp tomato paste
½ lb egg noodles, dry
½ c sour cream
½ tsp salt
¼ tsp ground black pepper
To Serve
Sauteed shoestring potatoes, mashed potatoes, rice, or cooked egg noodles
Instructions
In a large skillet, heat 1 Tbsp of butter. Saute the mushrooms in the butter over medium high heat for 2 minutes. Remove the mushrooms from the pan and set aside.
Add the remaining 1 Tbsp butter to the pan and heat until melted. Add the onions to the butter and saute for 1-2 minutes.
Toss the beef chunks with the flour and add them to the saute pan. Cook until browned, 2-3 minutes.
Add the beef broth, mustard powder, and tomato paste to the saute pan along with the cooked mushrooms, scraping the bottom of the pan to pick up any stuck bits.
Simmer the mixture over medium heat for 10-15 minutes, until the beef is cooked to your liking.
Place the sour cream into a small bowl and mix a little of the broth from the skillet with the sour cream to warm it. Pour the warmed sour cream mixture into the saucepan and mix to combine.
Taste the stroganoff and add the salt and pepper, to taste.
Serve the stroganoff along side of potatoes, rice, or noodles, of your choosing.
Notes
This recipe from 2015 was updated in April 2017. We made the stroganoff easier and more authentic. Enjoy!
Nutrition Information:
Yield:
4
Amount Per Serving:
Calories:

399
Saturated Fat:

6.6g
Cholesterol:

125mg
Sodium:

607mg
Carbohydrates:

22.6g
Fiber:

2.2g
Sugar:

3.9g
Protein:

41.9g
If you liked this recipe, here are some similar dishes you may enjoy!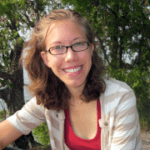 Sarah is one of Curious Cuisiniere's founding duo. Her love for cultural cuisines was instilled early by her French Canadian Grandmother. Her experience in the kitchen and in recipe development comes from years working in professional kitchens. She has traveled extensively and enjoys bringing the flavors of her travels back to create easy-to-make recipes.