If you love soft pretzels, you will love the dense, chewy dough and beautifully browned, salty crust of Laugenbroetchen, or German pretzel rolls.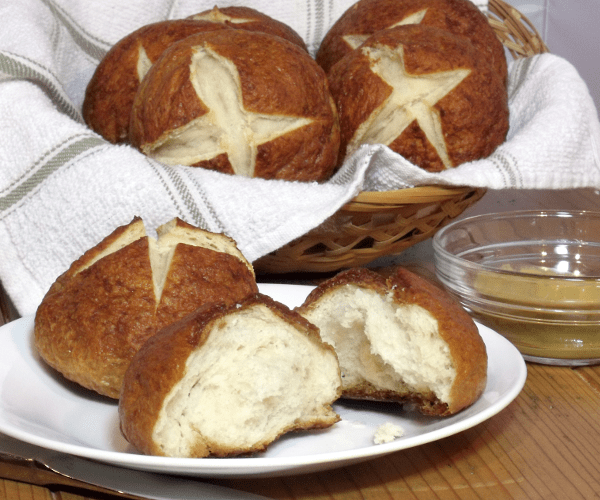 A Pretzel Roll?
I had never eaten a pretzel roll until I found my way to Wisconsin.
It showed up on my plate, encasing big, juicy burger. A bun that tasted like a pretzel and looked, well, slightly pretzel-ish.
Upon my questioning, every native Wisconsinite around me was astonished that I had never seen, much less heard of, a pretzel roll.
And let me tell you, after that first, delicious pretzel roll experience, I haven't stopped craving that dense, chewy dough and beautifully browned, salty crust.
We had the opportunity to introduce my family to the delicious wonder that is a pretzel in roll form one time when they came to visit.
Their response was similar to my own.
"And… here we have, some kind of… roll?" Followed soon by, "What!? They're really good," as my brother helped himself to another.
Tim and I just smiled.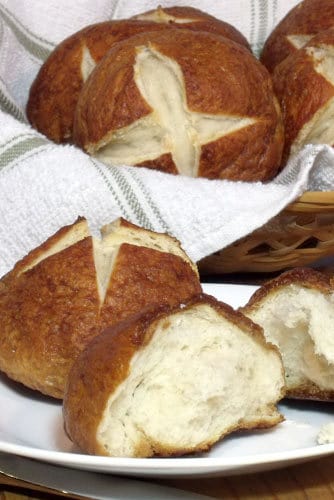 Laugenbroetchen: A pretzel in roll form
Laugenbroetchen literally translates to lye roll, and while that may seem unappealing at first, we have to realize that all pretzels are poached in a lye solution before baking.
It's what gives them their characteristic crust and chewy texture.
(To be clear, we're talking about food-grade lye here, not the kind of lye that you may use as an oven cleaner. Please don't attempt to use that lye to poach your next batch of pretzels.)
The lye does coats the dough with a high pH (alkaline) solution, which, when baked, creates that nice browning effect. The higher the pH the darker the crust will be.
But, thankfully, lye isn't the only way to achieve that characteristic brown pretzel crust.
Baking soda has a much weaker pH, but, as you can see, still gives a nice brown crust.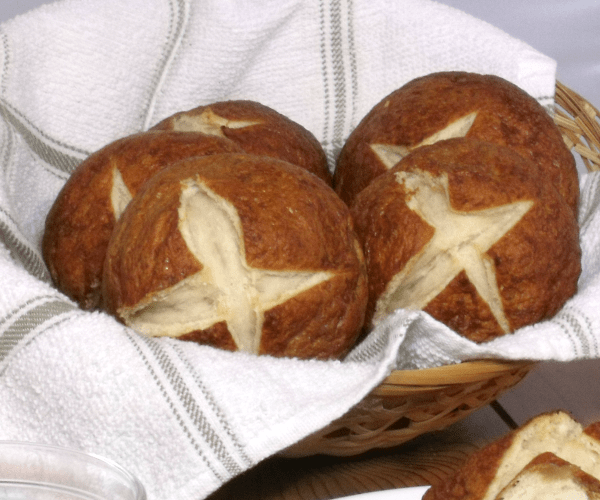 Making Soft Pretzels as Rolls
Soft pretzels really aren't difficult to make, but they do require a bit of attention for the poaching of the dough.
Don't be discouraged if your first attempt doesn't turn out the way you hoped.
They can be a bit nuanced, and we have found that things like this are always simpler the second time around.
The roll form is a bit easier than your classic twisted soft pretzel though, since you don't have to worry about shaping and keeping the perfect pretzel form.
That in mind, if you've never made soft pretzels before, I would recommend starting out making pretzel rolls, just to get your hands into the dough and to try out the poaching process.
Laugenbroetchen (German Pretzel Rolls)
If you love soft pretzels, you will love the dense, chewy dough and beautifully browned, salty crust of Laugenbroetchen, these German pretzel rolls.
Yield: 12 dinner rolls
Ingredients
For The Dough
2 1/4

tsp

active dry yeast

(1 packet)

1 1/2

tsp

salt

1 1/2

tsp

sugar

1

c

water,

warmed to 105F
To Poach The Pretzels
8

cups

water

1/4

c

baking soda

Coarse salt
Instructions
In a large bowl, mix together flour, yeast, salt, and sugar.

Make a well in the middle of the dry ingredients, and add warm water and mix well, until the dough comes together. (Add more water, 1 Tbsp at a time, if necessary to create a smooth dough.)

Turn dough onto a lightly floured surface and knead 7-10 minutes, until the dough becomes smooth and elastic. (Alternately, mix 2-3 minutes using the dough hook of a stand mixer. Or, use your bread machine's dough setting, following the manufacturer's instructions and picking up this recipe again at step 5.)

Place dough in a greased bowl, cover with a damp towel, and let rise until doubled, about 45 minutes.

When dough has doubled, punch in down and knead a few times. Divide the dough into 12 even pieces. Roll each piece into a ball. Place balls onto a well-greased sheet of parchment or wax paper, about 2 inches apart. Cover loosely with a damp towel and let rise until puffy and nearly doubled- 20-30 min.

Ten minutes into the dough's rising time, start the 8 cups of water boiling in a 3-4 quart pot and preheat the oven to 450F.

Once dough has doubled, add the baking soda to the boiling water. (Do this carefully, as the baking soda will fizz up considerably.)

Adjust heat so that the water barely maintains a gentle simmer. (You want tiny bubbles to give your dough a smooth crust, big bubbles will beat up your dough and result in a mottled-looking crust.)

Carefully, so you don't deflate the risen dough, add a few rolls to the water at a time, making sure there is enough room in the pot that they do not touch.

Poach dough 30 seconds on each side. (It is important not to over-poach the rolls, or they won't continue to rise in the oven. During the poaching, you just want to create a nice film on the outside of the rolls.)

Remove dough from the water with a large slotted spoon. Let as much water drain back into the pot before placing the rolls onto a greased baking sheet. Repeat with remaining dough.

Once all rolls have been poached, gently cut a deep X into the top of each roll using a serrated knife. Sprinkle with coarse salt.

Place rolls into the oven and bake 14-15 minutes, until nicely browned.

Let rolls cool on a wire rack.
Notes
If you would like more burger bun style rolls, divide dough into 6 equal portions, and follow the same instructions for dinner rolls, but bake for 17-20 minutes.
If you liked this recipe, here are some similar dishes you may enjoy!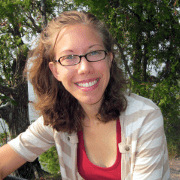 Sarah is one of Curious Cuisiniere's founding duo. Her love for cultural cuisines was instilled early by her French Canadian Grandmother. Her experience in the kitchen and in recipe development comes from years working in professional kitchens. She has traveled extensively and enjoys bringing the flavors of her travels back to create easy-to-make recipes.