Baked Falafel gives you all the healthy, nutty falafel goodness without the hassle or added fat of frying, and it's just as good for stuffing into a pita! 
Middle Eastern Falafel
If you've ever bitten into a crisp and nutty, falafel-laden pita, rounded out with veggies and topped with a creamy sauce, then you probably know that there is just something about falafel that makes them SO crave-worthy.
For a long time, we would seek out falafel from street vendors whenever we got a craving. Since we're not huge fans of deep-frying at home, we thought that falafel would be difficult and tedious to make.
But, now that we've conquered the recipe, we're doing a serious happy dance, because we have a secret.
We can have falafel whenever the craving strikes.
With only a little forethought, and a little, SIMPLE prep-work, our falafel cravings can be met!
A Little History Of Falafel
Falafel is a Middle Eastern appetizer made of a bean paste that has been deep-fried.
Traditionally falafel was made from fava beans, and in Egypt it is still made that way today. Other places in the Middle Eastern world now make their falafel out of chickpeas (or a combination of chickpeas and fava beans).
This chickpea version is the one that has become widely popular in the Western world over the past few years. In the Middle East, these patties are traditionally served with hummus and tahini.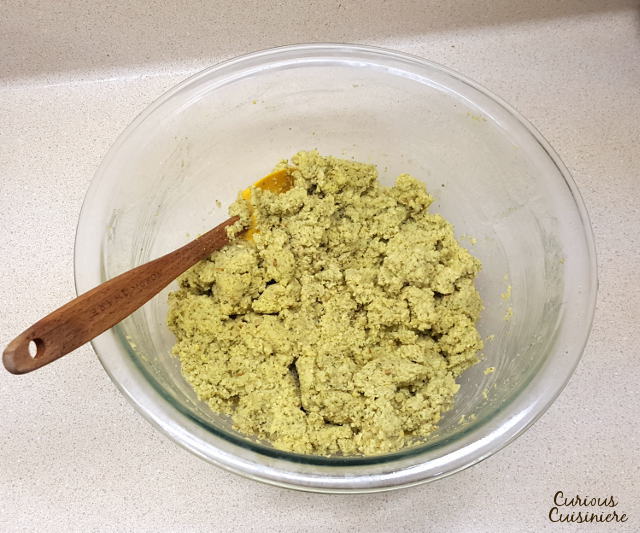 Sure, it might not look too pretty, but your falafel dough should be fluffy and want to stick together. It is important to make sure you grind it until it reaches this point!
Making Homemade Falafel: Two Methods
There are two types of recipes you will find if you browse for a falafel recipe. The most common uses canned chickpeas, but the more traditional method uses dried chickpeas.
Cooking beans releases their starch, and starch is what traditionally acts as a binder for falafel.
If you use canned chickpeas, which have already been cooked, the starch has already been released. Because of this, you have to mess around with other binding agents to get your falafel patties to stick together. Most commonly, these recipes use flour and baking soda to bind the beans together, some recipes will even use eggs. When going with this version, you will find yourself doing a very delicate dance with the binding agents. Will the patties stick together or not? You might not know until you drop the falafel into the hot oil.
Let's just say, there's a reason that these patties are traditionally made with ground, uncooked beans.
Using uncooked beans means that the starches are released as the patty cooks, holding it together and giving it that wonderfully fluffy texture.
You don't want to be grinding dry chickpeas though. (Take our word on that one.) The beans need to be soaked in water for 12-16 hours. When soaked, the chickpeas will absorb water, doubling or tripling in size and softening considerably. They soften so much that, after soaking, it is possible to grind these uncooked beans into a thick paste.
If you grind them fine enough, they only need a little heat to become soft and tender falafel patties.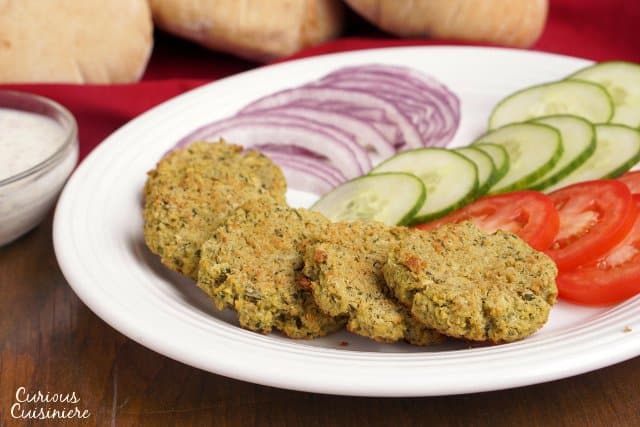 Fried vs Baked Falafel
Traditional falafel are deep fried, giving them a moist interior and a golden, crisp exterior. But, if you want to avoid the mess of the deep fryer (and the extra calories that the oil adds) baking them is a great alternative.
Baked falafel won't get quite as crisp and golden as the deep-fried version, but they are still just as tasty. To help our falafel get some of that golden color we brush them with olive oil before baking.
We have included instructions for baking and frying in the falafel recipe below. Try them both and see which you like best!
Freeze Some Falafel For Later
Leftover falafel dough can be stored in a sealed container in the freezer for up to 1-2 months. Thaw it completely before cooking.
Or, shaped falafels can be frozen on a sheet pan. Once solid, they can be transferred into an air-tight container and stored in the freezer for 1-2 months. Thaw the patties completely before cooking them the same as you would if they were fresh.
Baked Falafel
The chickpeas for this recipe will need to be soaked for 24 hours before making the falafel.
Yield: 18 (2 inch) falafel
Ingredients
For The Falafel
1

c (1/2 lb)

chickpeas,

dry

1 ½

tsp

lemon juice

¼

c

fresh parsley

or 1 Tbsp dry

¼

c

fresh cilantro

2

garlic cloves,

minced, or ½ tsp garlic powder

½

onion,

quartered

1 ½

tsp

cumin

1 ½

tsp

ground coriander seeds

1 ½

tsp

salt

¼

tsp

ground black pepper

1/8

tsp

cayenne

(optional, or more if you like spicy falafel)
For Serving
Tomato slices

Lettuce

Red onions,

sliced

Hummus

or tahini sauce
Instructions
The Day Before
Place the chickpeas in a large container and cover with 4 inches of water. Let them soak for 24 hours.
Making the Falafel
Drain the chickpeas and place them in the food processor. Add the remaining falafel ingredients into the food processor and process until the mixture is smooth and uniformly ground, adding a little water as necessary for the dough to stick together. (We needed 2 tsp.)

Shape the dough into balls, using roughly 2 Tbsp of mixture each. Press each ball into a 1/2 inch thick patty. Place the shaped patties on a greased baking sheet and let rest for 15-30 minutes.
To Bake the Falafel
Preheat your oven to 375F.

Place the shaped falafel on a well greased baking sheet. Brush the tops of the falafel patties with olive oil.

Bake the falafel for 20-25 minutes, until golden on the bottom and lightly golden on the top and edges. (If desired, flip the patties, carefully, after 15 minutes for better browning on both sides.)
To Fry the Falafel
Heat ½ inch of oil in a frying pan (or saucepan) over medium heat to about 350F. (To test if the oil is hot enough, pinch a little of the dough and put it into the oil. If it sizzles and browns slowly, then your oil is ready. If it turns dark very fast, then your oil is too hot.)

Gently drop the shaped falafel patties into the hot oil. Fry for 2-3 minutes on the first side. Turn the falafel in the pan and fry for an additional 1-2 minutes on the second side.

Remove the cooked falafel from the oil and place on a paper towel lined plate. Continue until all falafel have been fried. (You can fry more than one at a time, just be sure not to overcrowd the pan.)
Serving
Serve the falafel with hummus and vegetables or make a sandwich with pita bread and your favorite toppings.
Notes
This recipe from April 2016 was updated May 2017. We made the falafel even more tasty! Enjoy!
---
We've updated our pictures since we first shared this recipe, but we've left the original images here as a fun throwback. Enjoy!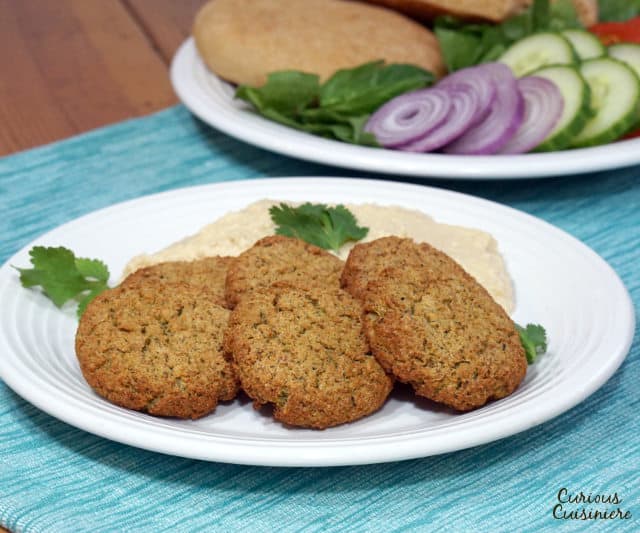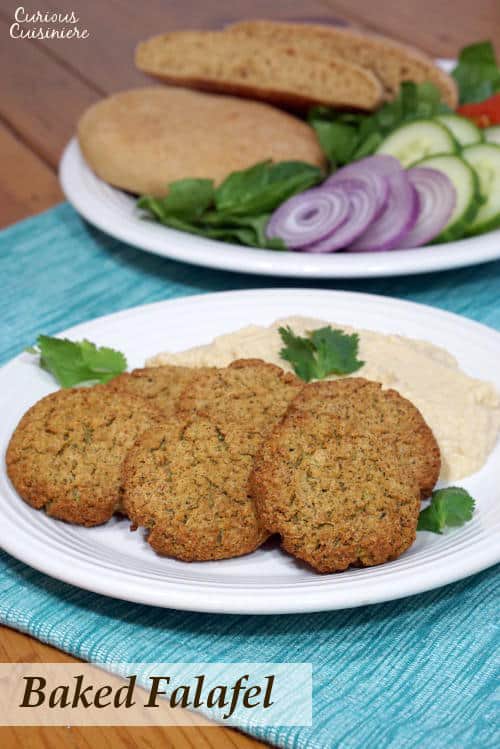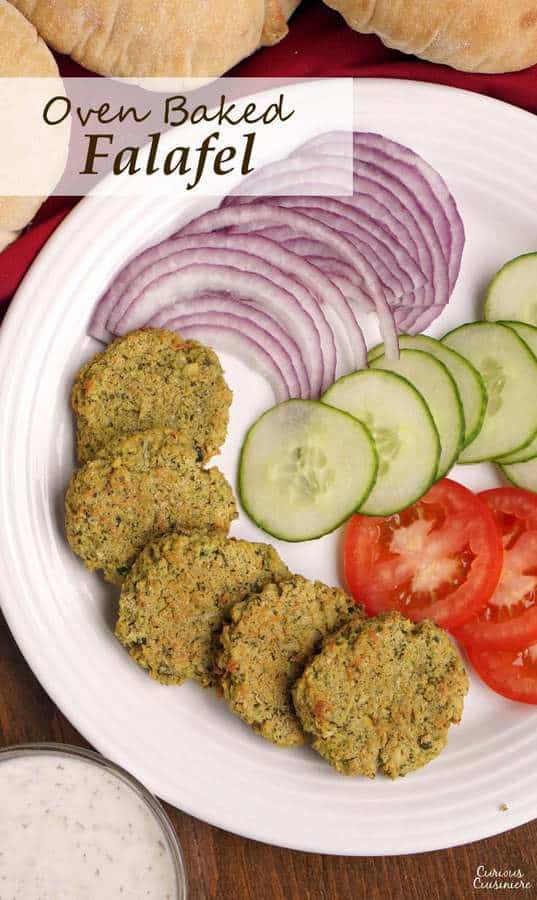 If you liked this recipe, here are some similar dishes you may enjoy!