Full of chunky seafood and topped with cheddar cheese, British Fish Pie is unlike any fish pie you have ever encountered. 
British Fish Pie
Fish Pie is a classic British dish that can be as simple or as elegant as you decide.
If you think the concept looks familiar, you're right. British fish pie is a seafood take on shepherd's pie. But, there are a few differences. (Besides the obvious fishy filling.)
At its most basic, British fish pie is made up of chunks of firm fish are baked in a white sauce and topped with mashed potatoes. From there, you'll find many variations, depending on the region and the chef.
Choosing Fish For Your Fish Pie
Traditionally, fish pie was the perfect way to use up any cheap, unwanted cuts of fish. After poaching and baking, cream sauce and potatoes, the quality of the cuts really doesn't matter.
It is common, however to use at least two or three different types of fish in your fish pie. Many times salmon makes up a part of this trio, along with something smoked (like haddock). These two add a really nice flavor to the pie. But, if you can't find a smoked fish, don't worry, we used a combination of salmon and Pollock in our fish pie, and the result was delicious!
We do prefer to use fish that is a bit firmer (think salmon, cod, haddock, and Pollock). Firm fish will hold up nicely as the pie bakes, giving you chunks of fish to dig your fork into as you enjoy your pie.
Making British Fish Pie Your Own
Many recipes for fish pie call for adding hard boiled eggs into the pie filling. We thought the idea sounded interesting, and while it might sound strange, we loved the flavor and texture that the eggs added to the creamy sauce and seafood filling.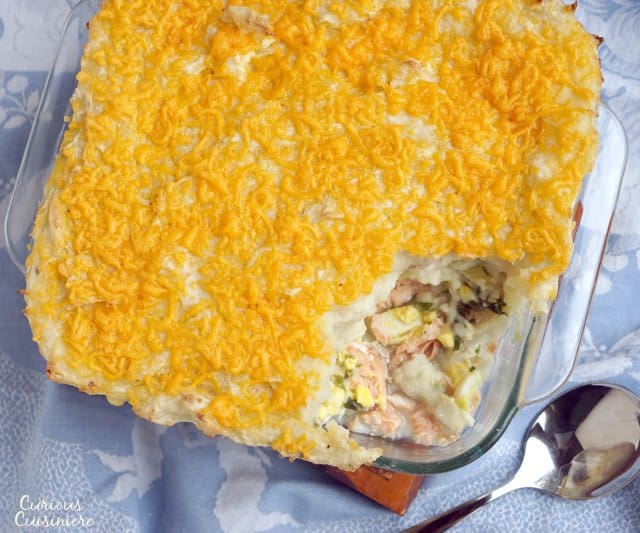 We also decided to add some leeks into the sauce for our fish pie. Onions or leeks are a common addition to the creamy sauce, and we loved the light onion flavor that the leeks gave.
If you're looking for a little more green in your pie, wilted spinach or peas are also common additions.
And, the cheese.
Honestly, the idea of cheddar cheese with fish threw us a bit as we were making this pie, but we decided to go for it, and we're so glad we did. The cheese adds a nice sharpness and flavor pop to the pie.
And, really. Who can resist mashed potatoes covered in cheese?
British Fish Pie
Full of chunky seafood and topped with cheddar cheese, British Fish Pie is tasty and comforting.
Yield: 1 (8x8) baking dish (Double the recipe to fill a 9x13 dish.)
Ingredients
2

lbs

russet potatoes,

peeled and cubed

2

lb

mixed firm white fish fillets

(salmon, cod, haddock, Pollock), cut into large chunks

2

c

milk

2

bay leaves

3

Tbsp

unsalted butter,

softened

2

garlic cloves,

minced

1

small

leek,

chopped

½

tsp

salt

¼

tsp

ground black pepper

Pinch

nutmeg

4

hard boiled eggs,

peeled and chopped

½

bunch

fresh parsley,

leaves only, chopped

¾

c

cheddar cheese,

shredded
Instructions
For the Mashed Potatoes (Or use 4 cups of prepared, seasoned, warm mashed potatoes.)
Place the potatoes in a large saucepan and cover them with water. Bring the water to a boil over medium high heat. Reduce the heat to medium and boil for 20 minutes.

Drain and mash the potatoes to a creamy consistency with 1 Tbsp milk and 1 Tbsp butter (if desired). Season with salt and pepper to taste.
For the Fish Pie Filling
While the potatoes are cooking, place the fish, milk, and bay leaves into a new pot. Bring to a simmer over medium high heat. Reduce the heat to medium low and poach the fish until tender, 5-8 min. Remove fish from the poaching liquid and set aside. Reserve the milk.

Melt the butter in a large skillet. Add the garlic and chopped leek. Saute over medium heat for 3-5 minutes, until softened.

Mix in the flour, stirring until moistened.

Add the fish poaching milk slowly and cook over medium heat until thickened slightly, but still pourable, 2-3 min, stirring continually.

Remove the sauce from the heat and season with salt, pepper, and nutmeg. Mix well and adjust seasonings to taste.
Putting It All Together
Preheat your oven to 375F.

Layer the poached fish in a greased, 8x8 baking dish.

Scatter the chopped hard boiled eggs and parsley over the fish.

Pour the sauce over the eggs and parsley.

Top the pie with the mashed potatoes, pushing it to the edges to seal in the filling.

Sprinkle the cheddar cheese over top of the potatoes.

Bake for 40 minutes, or until bubbly and golden.*

Remove the pie from the oven and let it stand for 10 minutes before serving with peas or fresh greens
Notes
*To make this pie a day ahead: Prepare it up to the point of baking. Cover and refrigerate overnight. Remove the pie from the refrigerator 1 hour before baking. Bake for 40-50 min, until bubbly. (Tenting loosely with aluminum foil near the end of baking time, if necessary.)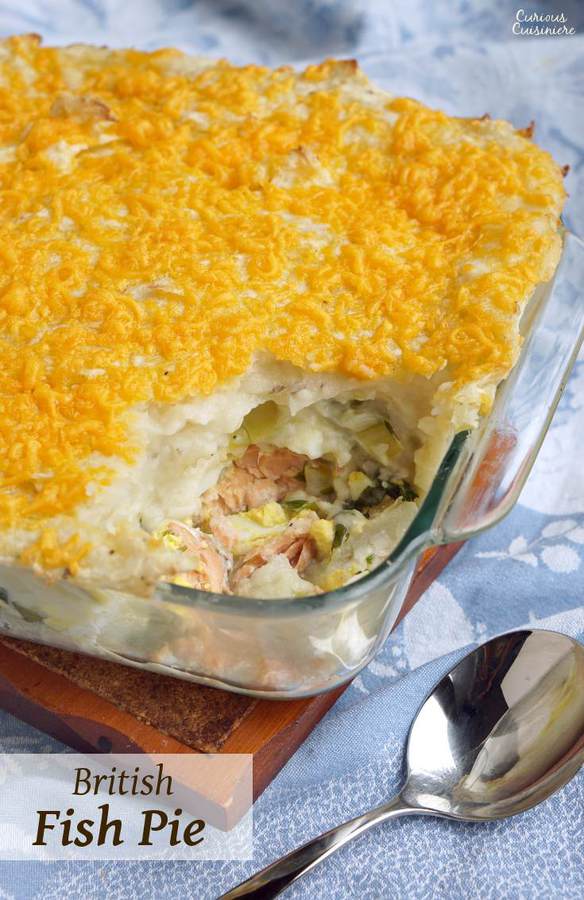 If you liked this recipe, here are some similar dishes you may enjoy!