If you like this dish, sign up for our newsletter to get tasty, cultural inspiration straight to your inbox. Where will you travel this week?
Corned Beef Hash is a hearty way to start off your day, and the perfect, simple use for leftover corned beef.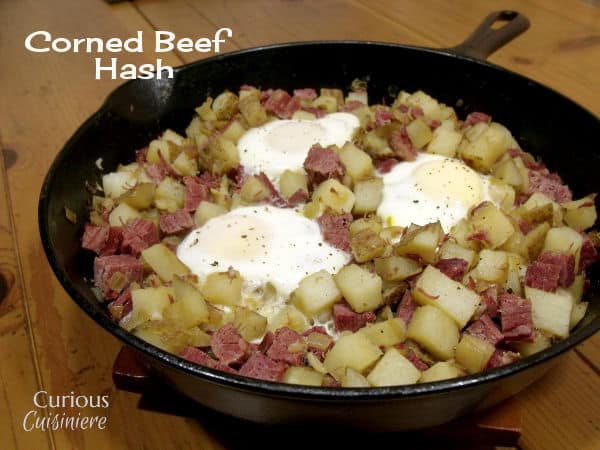 The History Of Breakfast Hash
The origins of a simple breakfast hash trace their roots to England, so, really, we're getting closer to Irish heritage with this breakfast than we do with a Corned Beef and Cabbage dinner.
Americans adopted this hearty breakfast dish during the World War II era, when it became a popular breakfast dish in New England and across the country.
A hash was an easy way to re-purpose fresh meats and other staples during a time when those ingredients were being rationed heavily. Corned beef is an affordable cut, so it was quite commonly chopped up with potatoes and other vegetables to make this dish.
It's the chopping that is truly key to a hash, since we get the term hash from the French word hacher, meaning to chop. How finely chopped the ingredients are varies by cook, some leave their ingredients diced, like we do, while others will finely mince the meat or use shredded potatoes. The options lead quite a bit of variety in how the final state of this dish appears.
Our Corned Beef Hash Recipe
We've taken the concept of hash and added in leftovers from our Corned Beef and Cabbage dinner. The corned beef gives this hash a wonderful, salty, corned-beef flavor, which mingles perfectly with the mild potatoes and hearty eggs.
Toast up some Irish Soda Bread, and you have yourself a tasty (and easy) breakfast!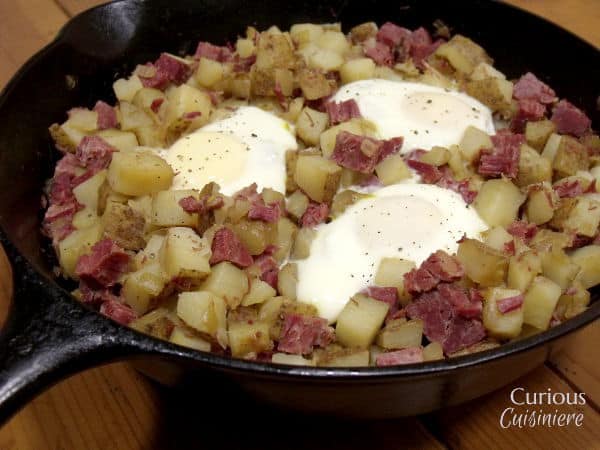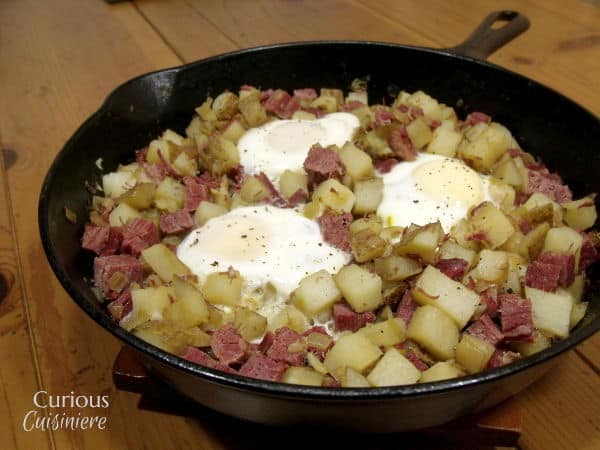 Corned Beef Hash
Corned Beef Hash is a hearty way to start off your day, and the perfect, simple use for leftover corned beef.
---
Ingredients
1

onion,

diced

2

Tbsp

water

1

lb

potatoes,

diced

2

c

cooked corned beef,

diced

½

tsp

salt

¼

tsp

ground black pepper

3

eggs

(more if desired)
Instructions
In a large, cast iron skillet, heat onions with 2 Tbsp water. Sweat for 1-2 min over medium high heat.

Add potatoes, cover, and cook for 5 minutes, until the potatoes begin to soften. (Adding more water if necessary.)

Remove the lid and mix in the corned beef, salt, and pepper. Cook for 2-3 minutes, until corned beef is heated through.

Make 3 indentations in the hash mixture and crack an egg into each. Cover and cook 3-5 minutes, until the eggs are done to your liking.
---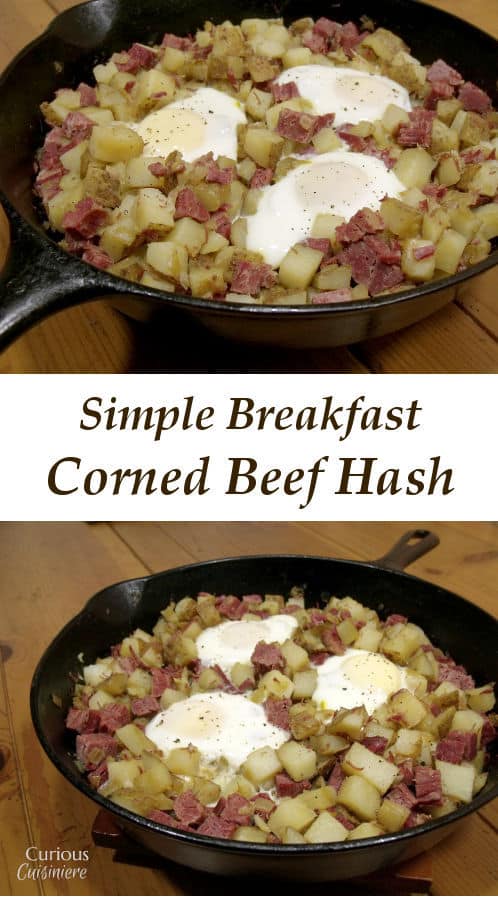 If you liked this recipe, here are some similar dishes you may enjoy!