Traditional Italian Giardiniera is full of large chunks of pickled vegetables and is served as an antipasto or appetizer. This recipe for canning giardiniera uses no oil, so it is the perfect way to preserve your summer produce. 
What Is Giardiniera?
Giardiniera (pronounced JAR-di-NAIR-ah) is a traditional Italian antipasto dish made up of pickled vegetables.
It's also a traditional Italian way to preserve summer produce so that it can be enjoyed all winter long.
What Is In Giardiniera?
Since the main goal of giardiniera is to preserve the summer harvest, it is common to find quite an array of vegetables used.
It's quite simply whatever you happen to have an abundance of!
Often in giardiniera you will find vegetables like:
green beans
cauliflower
carrots
sweet peppers
small onions
It's not uncommon to also find:
zucchini
eggplant
summer squash
celery
other beans
brussels sprouts
artichokes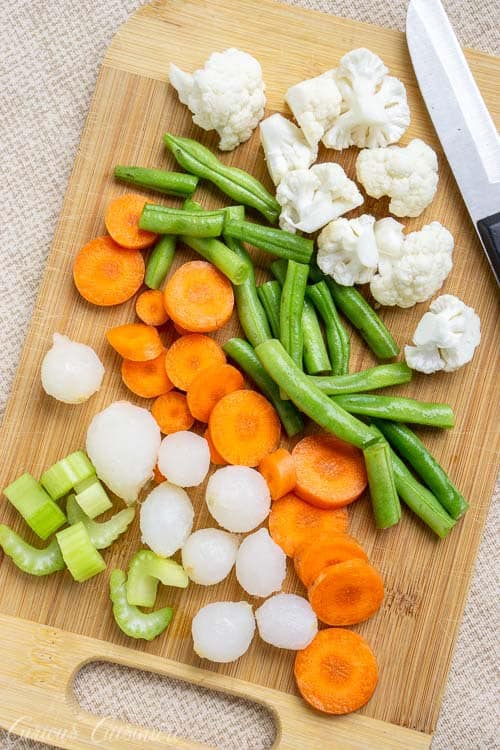 Many Variations Of Giardiniera
There is a wide range of ways to make giardiniera, depending on what region (or country) you're in.
Some regions in Italy will make a giardiniera with smaller vegetable pieces. And some regions will also add olive oil to the marinade for the vegetables.
In the States, Chicago, Illinois is the main hub for giardiniera. There, they use a finely diced giardiniera as a condiment.
How To Make Giardiniera For Canning
For our giardiniera recipe for canning, there is one important adjustment we have to make from other giardiniera recipes.
Oil.
When canning, you can't use oil.
So a giardiniera recipe for canning needs to be simply pickled vegetables in vinegar and seasonings, rather than a marinated vegetable in a mixture of oil and vinegar.
We're not straying far from the traditional version though, because that is how they make their giardiniera in Northern Italy.  They just used vinegar, like this recipe below. (This is in contrast to Sicily, where it is more common to use some oil in the marinade.)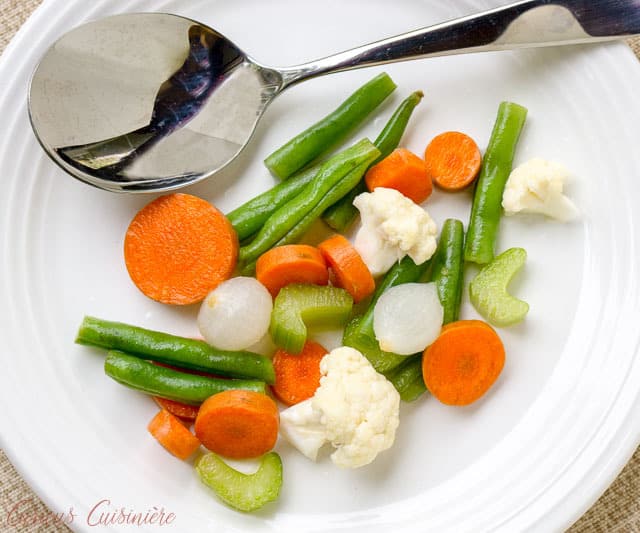 What Is Italian Antipasto?
Antipasto is Italian for "before food". So, it is the course that comes before the main meal is served.
You could also call them an appetizer or hors d'oeuvres.
Antipasto can be cooked or raw. It could be an arrangement of meats and cheeses, bruschetta, olives, giardiniera, or other dishes.
Often, multiple antipasto dishes are served together on the same large platter. (Then you have antipasti, the plural of antipasto.) Antipasti are put together to create a complementary arrangement of flavors and textures. And, they are also chosen to prepare your palate for the meal to come.
How to Serve Giardiniera
As an antipasto, it is common to serve giardiniera along side of a salumi platter, or with cheese, olives, and/or bread.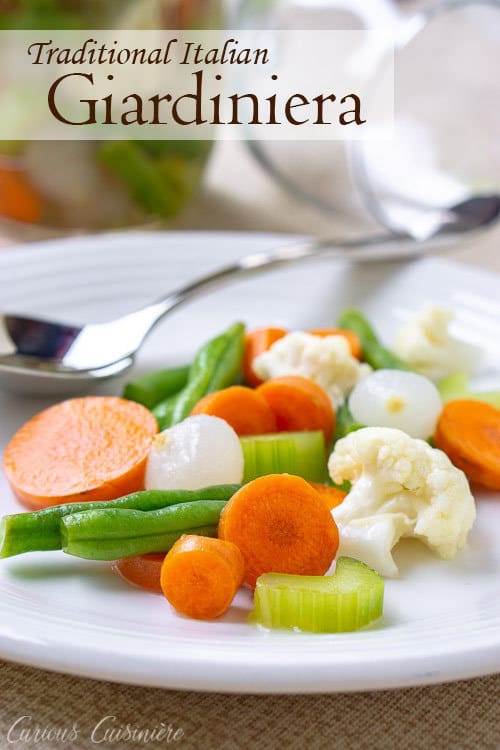 Traditional Italian Giardiniera for Canning
Traditional Italian Giardiniera is full of large chunks of pickled vegetables and is served as an antipasto or appetizer. This recipe for giardiniera for canning uses no oil, so it is the perfect way to preserve your summer produce.
For best flavor, this recipe should be made over two days.

Yield 4 c (1 quart)*
Servings:
16
(1/4 c) servings
Ingredients
Day 1
1

c

pearl onions

or small onions, quartered

1

c

green beans,

cut into 1 inch pieces

1

c

cauliflower,

cut into bite-sized pieces

1

c

carrots,

cut into rounds

1/2

c

celery,

sliced

2 ½

c

water

¼

c

salt
Day 2
4

c

white vinegar

1

Tbsp

sugar

¼

tsp

whole peppercorn

2

bay leaves

2

whole cloves
Instructions
Day 1
Chop all of your vegetables into bite-sized pieces and place them in a large bowl.

In a liquid measuring cup, mix together 2 ½ c water with ¼ c salt, until the salt has dissolved.

Pour the salt water over the vegetables, to cover. (If the water doesn't completely cover the vegetables, make another batch of salt water, as needed.)

Set the vegetables aside to rest in the salt water bath for 12 hours or overnight.
Day 2
Drain and rinse the vegetables.

In a large soup pot, mix the vinegar, sugar, peppercorn, bay leaves, and whole cloves. Bring the mixture to a boil.

Add the drained and rinsed vegetables and bring everything to boil.

After coming to a boil, scoop the vegetables into clean, warm canning jars.**

Ladle the hot liquid over the vegetables in the jars, leaving ½ inch of head space.

Cover the jars with clean lids, placing the seal around the lip of the jar. Tighten the bands over top of the lids.

Process the jars in a boiling water bath for 10 min for pint jars or 15 minutes for quart jars.

Remove the jars from the water canner and set on a cooling rack to cool completely.

Once cool, remove the bands and test the seals on the lids of the jars. Any jars that did not seal should be refrigerated and used within 1-2 months.

Wipe off the jars that have sealed properly and finger tighten the bands on them.

Store in a cool, dry place for 1 year.
Notes
*This recipe can be scaled up as needed to fit the amount of produce you have on hand.
**You can also skip the canning, and store this giardiniera in the refrigerator for 1-2 months.
If you liked this recipe, here are some similar dishes you may enjoy!