Have you heard of salumi? These tasty Italian cured meats, including Prosciutto, Pancetta, and Capocollo are perfect for sandwiches, appetizer spreads, and so much more!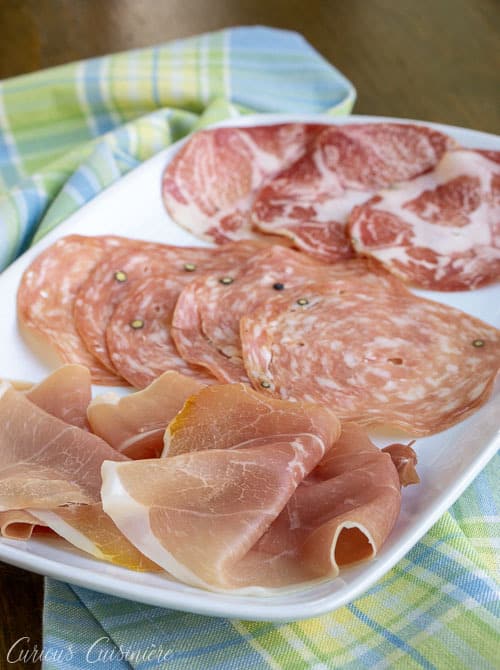 No, that is not a typo – salumi and salami are not the same thing.
But they are both things you will be wanting to get to know better.
The more you try, the more there is to discover and enjoy, so here's a short guide about what is salumi and some of the main kinds.
What Is Salumi?
Salumi is basically the Italian name for charcuterie.
Italy produces a broad range of cured and smoked meats and sausages.
Many of them are regional specialties and have quite specific processes and oversight to ensure the quality of the product – the most prized are "PDO" products (protected designation of origin).
You will find many of them in stores in the US, but do be aware that often you will more easily find US-made versions. Purists would argue while they are cheaper, they don't have that same conditions or oversight so may not be as good.
Salumi vs Salami
We'll dive more into exactly what salami is later in the article, but basically, what you need to know is that salumi includes many kinds of salami, but also whole cured pieces of meat like prosciutto and bresaola.
So basically, all salami is salumi. But, not all salumi is salami.
What Are Some Types Of Salumi?
Types of salumi vary across Italy, but many share similar styles and processes.
The majority are made from pork, but other meats may also be used.
Here are some of the most popular types of salumi to look out for and some regional versions.
Prosciutto
What is prosciutto?
Prosciutto is a dry-cured ham that is then aged and served in thin slices. It is not cooked and often known as 'prosciutto crudo' to distinguish it from cooked ham. It is usually made as a whole rear leg of pig or wild boar, typically only salted although other seasonings may be used.
Where is proscuitto from?
Prosciutto is made in a few areas, primarily in the North of Italy. Probably the best known and most prized is Prosciutto de Parma from Emilia-Romana. There is also Prosciutto de St Danielle from Friuli-Venezia Giulia and Speck from South Tirol in the Alps near Austria.
How do you use proscuitto?
Prosciutto is great on its own as part of an appetizer plate, but it can also be used in recipes and served for example in sandwiches such as Piadina.
Some of the traditional ways to eat it include wrapped around breadsticks (grissini) and on a plate along with some parmesan or slices of melon.
Capocollo or Coppa
What is capocollo?
Capocollo a cured meat made from a single muscle that runs down the back of a pig. It is similar to prosciutto but can seem slightly sweeter as it tends to be cured with wine and garlic. It is also a bit drier and darker in color.
Where is capocollo from?
Capocollo is made both in Italy and the French island of Corsica, where it is known as Coppa. Within Italy, it is primarily made in Southern and Central areas, one of the better known being in Calabria.
How do you use capocollo?
Capocollo is common as an antipasti, as well as in sandwiches including muffaletta, and on pizzas. It's one of the ingredients, along with prosciutto and sopresatta, in Italian Easter pizza, pizza gain.
Pancetta
What is pancetta?
Pancetta is a kind of bacon made from pork belly that is salted and spiced with pepper and sometimes other spices.
Where is pancetta from?
There are two main types of pancetta – a rolled version that's from the North, and a slab variety from the Central/Southern part of Italy.
How do you use pancetta?
The two main types of pancetta have different uses.
The rolled variety is typically eaten raw in thin slices, sometimes as a sandwich filling.
The slab version is more common in cooking, often diced into small cubes. It can be used in spaghetti alla carbonara (although some would say guanciale, a similar product, is more traditional). It's a great one to experiment with in simple dishes, like this asparagus salad with pea shoots and pancetta.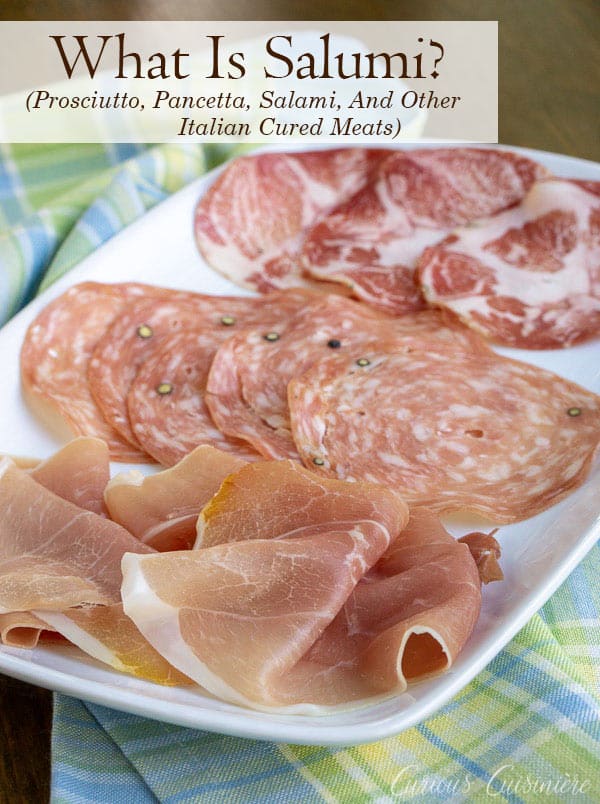 Salami
What is salami?
Salami is a cured sausage typically made from fermented or dried meat. The meat is usually pork and/or beef. Many salami include flavorings such as garlic and pepper and others include paprika. Different salami vary in size, both of the width of the product itself as well as how finely chopped the pieces of meat are inside it.
Where is salami from?
Salami comes in a huge range of varieties, well beyond just Italy.
Many Italian salami are easy to know where they are from as the name is after the city or region they are from. Those from Italy that are best known are Genovese from Genoa and Sopresatta from Calibria but there are many more.
Some versions of Italian salami have evolved in the 'new world' such as the Neapolitan salami that evolved into pepperoni.
How do you use salami?
Salami has a wide variety of uses. It's not quite as prized in antipasti, but can be used that way, as well as in sandwiches, on pizza and more.
Bresaola
What is bresaola?
Bresaola is one of the few non-pig salumi, being salted dried beef. But, you can also get pork and venison versions, as well as horse.
It is from a very lean cut, that is extensively trimmed before being rubbed with a salt and spice mixture which typically includes aromatics like juniper and cinnamon.
Where is bresaola from?
Bresaola originates from the Lombardy region of Italy.
How do you use bresaola?
Bresaola can be served as part of an antipasti plate on its own, or sometimes with oil, balsamic and/or a simple arugula and parmesan salad.
Mortadella
What is mortadella?
Mortadella is one of the few cooked salumi and is a kind of thick pork sausage. You may well recognize it as a pale pink luncheon meat.
Where is mortadella from?
Mortadella comes from Bologna and as a result, is often known in the US as Bologna.
How do you use mortadella?
Mortadella is probably most commonly used as a sandwich filling but can be eaten just as it is.
As you can see, salumi encompass a wide range of cured meats and sausages. These meats bring a lot of flavor to whatever they are used in, be it an antipasti platter, luncheon sandwich, or dinner main dish.
Which salumi have you tried? 
If you liked this recipe, here are some similar dishes you may enjoy!