Piadina are thin, Italian flatbreads that are made by street vendors and sold sandwich-style loaded with tasty fillings like fresh mozzarella and flavorful prosciutto.
Piadina: Italian Flatbread
Piadina (pronounced pea-ah-DEE-nah) is a thin flatbread from the Romagna region of north-central Italy.
This bread was originally considered poor man's food because it was the quick bread that would carry a family over between batches of yeast bread (which were made once a week).
Since it is supposed to be a quick, daily bread, it is made from a very simple dough. The dough was traditionally cooked on a special terracotta dish, rather than a flat pan or griddle, but nowadays you will find all three surfaces used for cooking piadina.
The thin flatbread is very pliable (think of it like a thick and sturdier flour tortilla), making it easy to fold it around fillings to make a light meal or snack.
Italian Street Food Sandwich
What was originally a family staple has become a popular Italian street food, sold by street-side kiosks to hungry passers by.
The flatbreads are filled with fresh mozzarella, cold cuts (prosciutto and Italian ham), tomatoes, and greens. Then they are folded and grilled until the filling ingredients are nice and toasty.
It's the perfect lunch on the go!
Or, if you're looking for a sweet snack, you can also find piadina filled with jam or Nutella, much like you would fill a French crepe!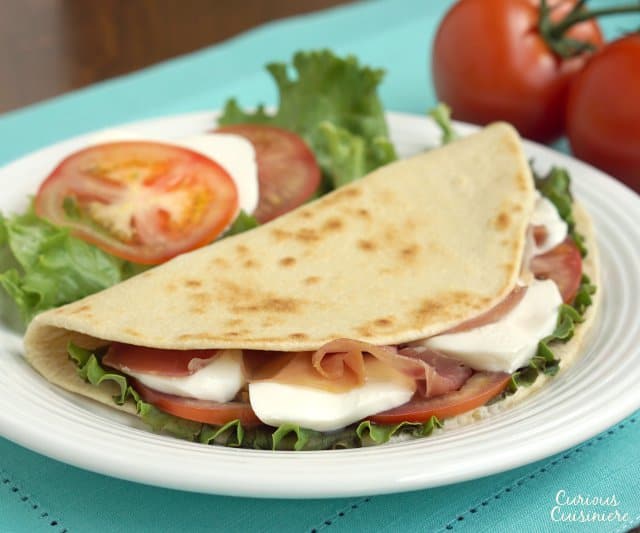 Regional Variations on Piadina
As you travel inward from the east-central Italian coast, you will find that the piadina changes.
Starting on the coast, the breads are larger in diameter and very thin. As you move more inland, the breads get smaller in diameter, but thicker.
You will find piadina made with a number of different ingredient substitutions as well.
Olive oil makes for a lighter a crisper piadina, while lard will make for a softer and richer bread. Using milk also makes for a softer piadina, while using water makes for a more firm bread. Some recipes will use a little leavening agent to soften the bread as well, while other's don't bother.
Our Piadina Recipe
After looking at a number of different piadina recipes, we came up with a recipe for piadina that creates a nice, soft and supple dough that is easy to work with.
The resulting flatbread is soft and pliable from using milk and baking powder, but the edges crisp up nicely after it is filled and spends a little longer on the pan.
It is tasty torn and eaten on its own, but oh-so-good filled with fresh mozzarella and prosciutto and left to crisp up just slightly!
Piadina (Italian Flatbread Sandwichs)
Piadina are thin, Italian flatbreads that are made by street vendors and sold sandwich-style loaded with tasty fillings like fresh mozzarella and flavorful prosciutto.

Yield: 6 (9 inch) flatbread
Ingredients
For The Flatbread
1 ½

tsp

baking powder

¾

tsp

salt

3

Tbsp

olive oil

½

c

warm water

6

Tbsp

warm milk
Possible Fillings
Prosciutto di Parma

Sliced mozzarella or Fontina cheese

Greens:

Arugula, Lettuce, Cabbage

Red onions,

sliced

Tomatoes
Instructions
In a large bowl, combine the flour, baking powder, and salt. Mix together.

Add olive oil and mix until evenly crumbly.

Make a well in the middle of the flour and add the warm water and milk. Mix with your hands (or with a fork) until the dough comes together into a dough that is soft, but not sticky. (If necessary, add a little more water to get the dough to come together nicely.)

Turn the dough out onto a clean work surface and knead for 5-7 minutes until it is soft and smooth.

Divide the dough into 6, roughly even, pieces. Roll each piece into a ball and place the balls to rest on a flour-dusted surface covered with a damp tea towel for 30 minutes

Close to the end of resting time, heat your griddle or 10 inch cast iron skillet.

Working with one ball at a time, roll the dough into a disc roughly 9 inches in diameter. (The flatbreads should be about 2 mm thick.) Gently place the dough onto the hot griddle.

Cook the bread over a medium heat for 2-3 minutes on each side, until lightly golden but still pliable, pricking any bubbles that appear with a fork.

Remove the flatbread from the griddle and wrap it in a clean tea towel if you'd like to continue cooking the remaining dough. (Once all the dough is cooked, you can add your fillings as desired and grill to heat the bread and fillings as described below.)

Or, add your sandwich fixings to the flatbread while it is on the griddle and fold the piadine into a half moon around the fillings. Heat the sandwich on the griddle for 2-4 minutes until the fillings are warm and the cheese is melty.

Serve immediately.
Notes
Piadina are best fresh but they can be made ahead of time and refrigerated in a well-sealed container for a week or frozen and re-heated in a hot pan.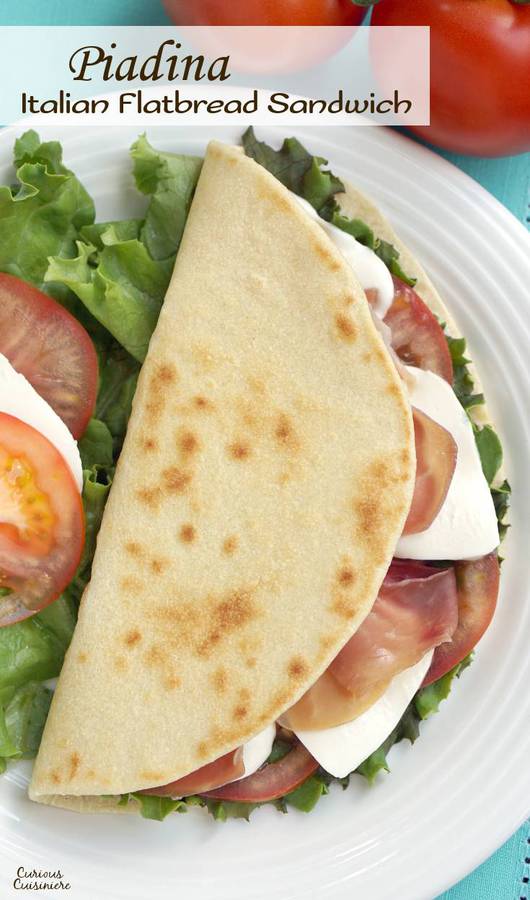 If you liked this recipe, here are some similar dishes you may enjoy!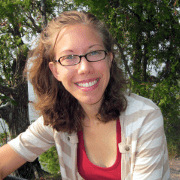 Sarah is one of Curious Cuisiniere's founding duo. Her love for cultural cuisines was instilled early by her French Canadian Grandmother. Her experience in the kitchen and in recipe development comes from years working in professional kitchens. She has traveled extensively and enjoys bringing the flavors of her travels back to create easy-to-make recipes.