This one recipe will let you make Indian Roti, Chapati, and Puri. And, we'll dive into the differences between these breads and other Indian breads, like naan. Get ready to learn how easy and fun it is to make Indian flatbread!
Indian Flatbread
Indian cuisine has many types of flatbreads, and sometimes it can be difficult to tell them apart.
So, lets take a look at some of them side by side.
What is Roti?
Roti means bread, specifically unleavened bread. But, while this is our basic, general Indian term for bread, it is also the name of a particular type of bread.
Roti (sometimes also called phulka, meaning "puffed") is an unleavened bread that is made from wheat flour and water.
The rounds are traditionally cooked on a hot tava (or tawa) griddle. (A cast iron skillet makes a great substitute!) Sometimes you will find roti finished over an open flame, which really encourages a nice puffing!
What really makes roti different is that there is no ghee (clarified butter) or oil used on the skillet. It is cooked completely dry.
This bread is characterized by the way that the heat of the hot skillet makes the dough puff up into something that resembles a very thin walled pita bread.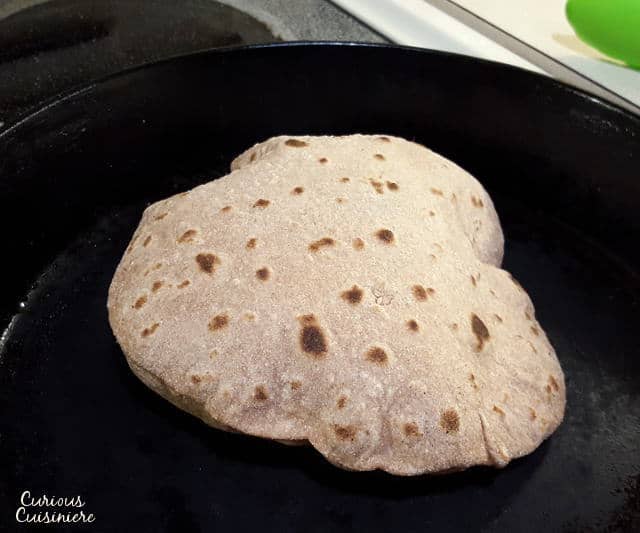 What is Chapati?
Chapati is the exact same as roti in many parts of India.
However, in the southern part of the country, the only difference is that the unleavened wheat dough is cooked in just enough oil to very lightly fry it.
What is Puri?
Puri the third variation on the basic roti.
In this case, the same, thinly rolled, wheat dough is deep-fried.
This makes puri beautifully golden and crispy.
What is Paratha?
Paratha is another unleavened bread, cooked similarly to chapati. However, the dough is shaped by a process of folding and rolling, giving it a different texture.
Paratha is often stuffed with other ingredients such as potatoes, peas, eggs, or really anything!
While the other flatbreads are typically eaten as an accompaniment to a meal, stuffed paratha are commonly eaten as a meal themselves.
What is Naan?
We've pretty much only been talking about unleavened breads (breads without yeast, baking powder, or baking soda) up until now. So, we'll touch only briefly on the classic Indian leavened bread, naan.
Naan is traditionally cooked inside a tandoor (a clay oven).
It is typically a bit chewier and thicker than the unleavened breads because the leavening allows the bread to puff in a different way than the air pockets we've seen in the unleavened bread.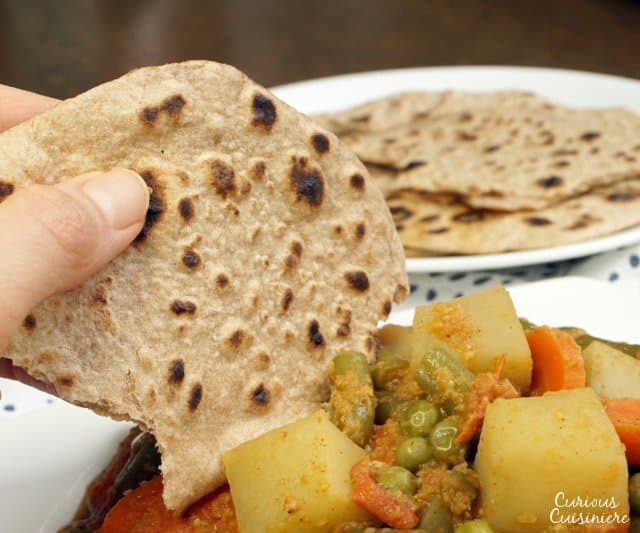 Making Roti, Chapati, and Puri
The fun thing about Indian unleavened flatbread, is that once you have the basic recipe for roti, you can make chapati and puri too.
It all depends on how much oil you're willing to use!
The process really couldn't be more simple: flour and salt go into a bowl and then warm water and a little liquid fat are mixed in.
We like to use our hands to do the mixing because you can really keep a pulse on how much moisture you are adding to the dough, making it easier to get the amount just right!
You will need to get your hands dirty anyway when you knead the dough, because with so few, simple ingredients, a really good kneading is what gives this bread its texture and softness.
So. Let's get bread-making!
Yield: 8 (6 inch) roti
Indian Roti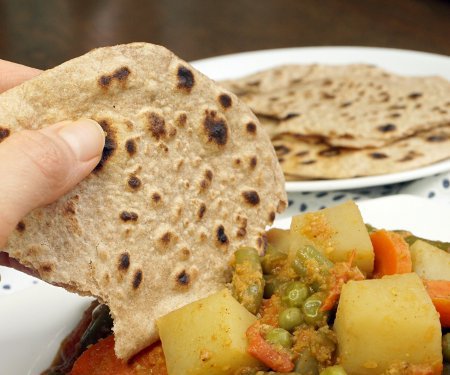 This soft unleavened Indian flatbread is easy to make with simple ingredients. This one dough recipe can be cooked three different ways to make either roti, chapati, or puri. Make some to accompany your next curry dish!
Ingredients
1 tsp salt
¾-1 c warm water
2 tsp ghee, (clarified butter) or oil
Instructions
Mix the flour and salt in a bowl. Add a bit of the warm water and the ghee. Mix with your hands to combine.
Continue adding water, mixing constantly with your hands until a soft and slightly sticky dough forms.
Turn the dough out onto a lightly floured surface and continue kneading until the dough is very soft and pliable.
Divide the dough into 8, roughly even, sections. Roll each section into a ball.
Flatten each ball and roll each section out, on a lightly floured surface, to 6 inches in diameter. (Keep the dough that you are not working with covered with a lightly damp tea towel to keep them from drying out.)
To Make Roti
Heat a cast iron skillet (or other sauté pan) over medium high heat.
Place the rolled out dough onto the hot, dry skillet.
Cook the roti on the first side just until the bottom is dry and the roti releases from the pan, roughly 1 min.
Flip the roti and cook it on the second side for 2 min until brown spots start to form.
Flip the roti back to the first side and move it in the pan as it cooks and puffs, pressing lightly with a towel on the area that is puffing, to encourage the air to spread out through the roti. Cook the roti for 30 sec - 1 minute, until fully puffed or until the bottom has brown spots.
Remove the roti. Brush it with ghee or oil, if desired, and wrap it in a tea towel to keep it moist.
Continue with your remaining dough. (You may need to reduce the heat slightly as you continue to cook your roti. If the bubbles in your roti are burning and popping, most likely your pan is too hot.)
Serve the roti immediately or transfer the roti to a bread basket covered with a towel to keep them warm.
To Make Chapati
Heat 1 Tbsp of oil in a cast iron skillet and cook the rolled out dough rounds in the skillet as directed above. (The bread may not be as likely to puff.)
To Make Puri
Fill the skillet with 1 inch of oil. Heat the oil to 350-370F and deep fry the flattened dough rounds, flipping once, until golden.
Let the puri cool on a paper-towel lined plate.
Nutrition Information:
Yield:
8
Serving Size:
1 flatbread
Amount Per Serving:
Calories:

112
If you liked this recipe, here are some similar dishes you may enjoy!