Kachumbari is a light and fresh tomato and onion salad that makes for a perfect summer side dish to pair with your grilled meats!
Kachumbari: Bring On Fresh Flavors
Kachumbari is a fresh tomato and onion salad that is popular in East Africa, particularly in Kenya, but also in Tanzania, Rwanda, Burundi, and Uganda.
This salad with a Swahili name is popular as a side dish or condiment for summer-time grilled meats and rice dishes.
Think of kachumbari like pico de gallo in Latin American cuisine, but while pico de gallo is used primarily as a garnish or condiment, kachumbari is eaten as a side salad as well as being used as a condiment.
A Simple Summer Salad
Kachumbari really is such a simple dish that is perfectly bursting with summer flavors. Tomatoes, onions, avocado, and chili peppers come together, flavored with a light lime juice and cilantro dressing.
With so few ingredients, each one shines forth like a bright and crisp reminder of warm weather and fresh flavors.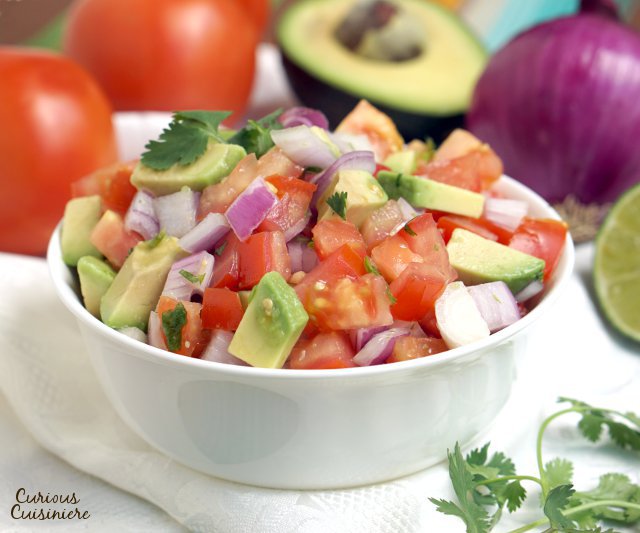 How To Make Kachumbari: A Trick To Get The Bite Out Of Fresh Onions
The one unique (and very important) element to remember when making kachumbari is the soaking of the onions.
We had never heard of soaking onions before adding them to a fresh salad before, but trust us, it's worth the (very little) effort it takes.
You know that pungent bite you experience when you bit into a piece of strong, raw onion?
It's enough to make you go super light on the raw onions in any fresh dish.
But kachumbari is pretty onion heavy. And we don't want that bite.
To remedy this problem the onions for kachumbari are massaged with salt and then covered in water. As they soak in the salty water, the bitterness is pulled from the onion.
You'll be surprised how mild and flavorful the onions are after even a brief soak in the salt water brine. It mellows them out perfectly, making them ready to play nicely with the other fresh ingredients in this salad.
Honestly, this is a trick we'll be using for other summer salads and coleslaw as well!
Kachumbari (Kenyan Fresh Tomato and Onion Salad)
Kachumbari is a light and fresh tomato and onion salad that makes for a perfect summer side dish to pair with your grilled meats!

Yield: 3 c
Ingredients
½

medium

red onion,

diced

1

tsp

salt

2

large

tomatoes

¾

avocado

1

small

chili

(optional)

½

lime,

juiced (approx 1 Tbsp juice)

1

Tbsp

fresh cilantro,

chopped
Instructions
Place the diced onion in a small bowl and massage the salt into the onion pieces. Cover the salted onions with water and let stand for 10 min.

Meanwhile, dice the tomatoes, avocado, and chili (if using). Place them in a medium bowl.

Drain the onions and add them to the vegetables.

Finish by adding the lime juice and cilantro.

Mix well and taste the salad. Add salt or more lime juice if desired.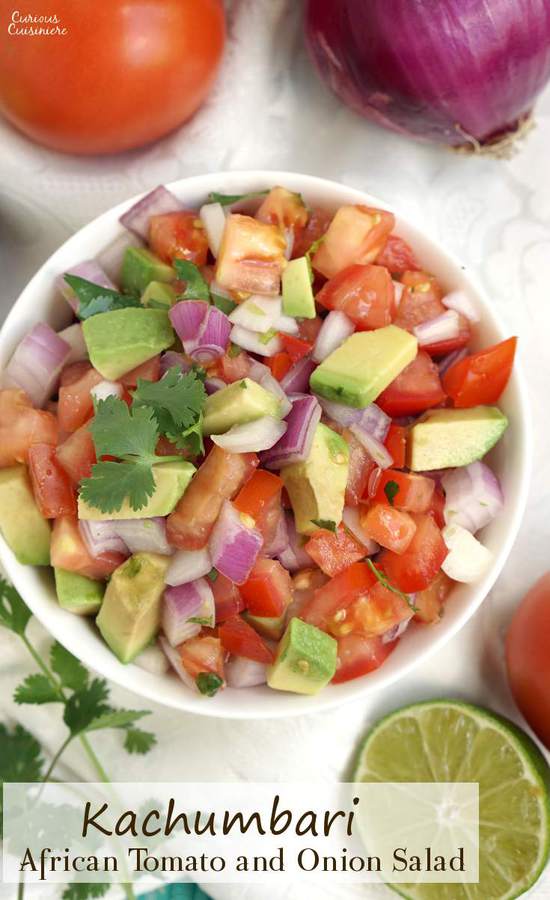 If you liked this recipe, here are some similar dishes you may enjoy!