This grilled Thai Beef Salad, Yam Neua, is a simple salad with a bright and tangy Thai dressing, making for an easy and lighter way to enjoy your summer grilled steak.
Yam Neua: Spicy Beef Salad
Yam Neua (also written yum nua) is a classic Thai salad that is incredibly simple to put together. Most of the salad ingredients are very basic, crisp, and fresh: lettuce, cucumber, tomatoes, red onion.
The grilled beef adds protein and just enough heft to make this salad a great, full meal.
A good steak (particularly if it's Certified Angus Beef® brand) adds wonderful flavor to the salad. But, there are two things that really make this salad stand out: herbs and the dressing.
Using Fresh Herbs In Salad
I don't know why, but here in the States, we're not the most fluent with using fresh herbs in our salads. This Thai beef salad highlights one reason that we need to become more familiar with these leafy, green flavor enhancers.
Tossing fresh cilantro and fresh mint in with the greens for this salad adds an incredible burst of flavor that complements the other fresh ingredients so well.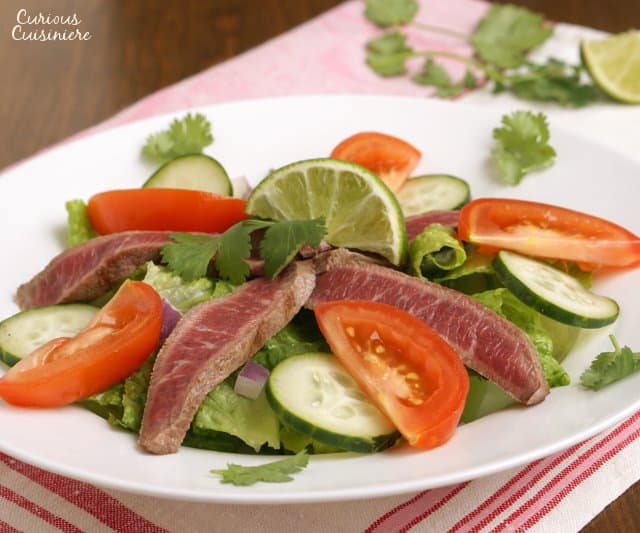 Thai Dressing for Thai Beef Salad
Asian salads tend to be very unique in that they are dressed with incredibly flavorful, tangy and fresh dressings.
For this Thai dressing, the five key flavor components of Thai cuisine must be present and balanced in the dressing: sweet, sour, salty, bitter, and spicy (hot).
In this dressing, we get the sweet element from the sugar, the sour from the lime juice, the salty from the fish sauce, and the spicy from the chilies. You can dial up the heat in this salad if you like by adding more chilies to the dressing. (Which is why sometimes this salad is known as "Spicy Beef Salad.")
The bitter element comes in once you add the dressing to the salad and it mixes with the light grill char that is on the steak.
Working With Fish Sauce
Now, if you're not familiar with fish sauce, it is quite a strong ingredient. Typically we only use it in small amounts to add a robustness to the background of a dish. So, using it as a prominent ingredient in this dressing (while tasty) was a bit of a shocker to our taste buds.
We've cut back the amount of fish sauce in our recipe below to make it a bit more friendly if you're not used to fish sauce. But if you've never cooked with it before, we'd recommend adding it a little at a time to the dressing, tasting as you go.
Once you hit a balance that your taste buds like, then you're good to go!
Yam Neua (Grilled Thai Beef Salad)
This grilled Thai Beef Salad, Yam Neua, is a simple salad with a bright and tangy Thai dressing, making for an easy and lighter way to enjoy your leftover summer grilled steak.
Ingredients
For The Meat
1

lb

flat iron steak

or flank steak, at room temperature

Salt and pepper
For The Dressing (Yield: 6 Tbsp/3 oz)
1

lime,

juiced (roughly 3 Tbsp juice)

1 ½

Tbsp

fish sauce

2

tsp

sugar

(palm sugar if you can find it)

1

Thai chili

or ½ jalapeno or Serrano, minced
For The Salad
2

heads

romaine lettuce

1

cucumber,

sliced

2

Roma tomatoes,

sliced or ½ c cherry tomatoes, halved

½

small

red onion,

sliced

1

c

fresh cilantro

coarsely chopped

½

c

mint leaves,

coarsely chopped
Instructions
Preheat your grill (or skillet) to a high heat. (Roughly 450F. You should be able to hold your hand a few inches from the cooking surface for 3-4 seconds.)

Sprinkle steak generously with salt and pepper. Grill until your desired doneness is reached. (About 5 minutes on each side for medium. Actual cooking time will depend on the thickness of your steak and the heat of your grill)

Remove the steak from the grill and let rest for 5-10 minutes before slicing thinly against the grain into bite size pieces.

While the beef is resting, prepare the dressing by mixing all the dressing ingredients.

Arrange the grilled meat on the bed of lettuce and garnish with remaining salad ingredients. Top with the dressing, as desired.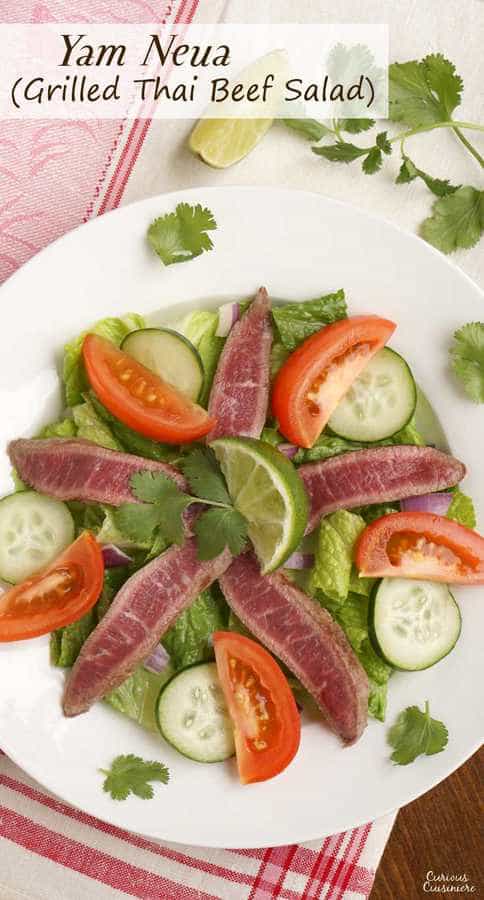 If you liked this recipe, here are some similar dishes you may enjoy!