A hearty vegetarian pot pie filled with sweet and nutty butternut squash and earthy lentils. Perfect for a cool fall evening.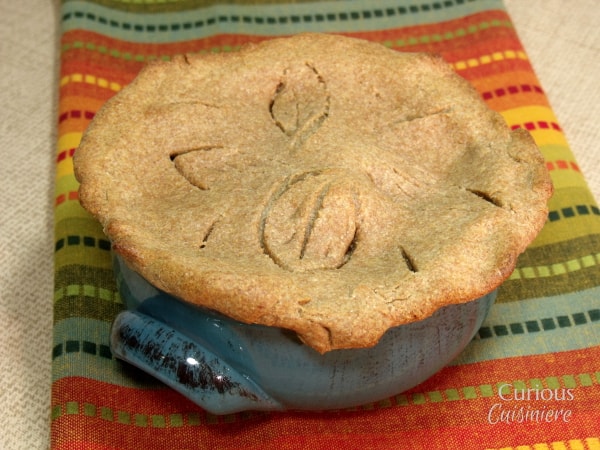 So, I guess it's officially here.
Fall that is.
Not only is today the first official day of fall, but despite my resistance, but we're starting to cool down and the leaves are beginning to turn.
The one consolation?
Fall means apples, squash, and cranberries. Not to mention hearty soups and stews, oatmeal for breakfast, and warming drinks.
If I think about the positives, maybe the colder weather won't get to me as much. Right?
Delicious fall recipes start with squash!
While Tim gets excited about the onset of cooler weather, I am the opposite. Keep me warm as long as possible please!
But, I do love fall foods, and squash is one of our staples.
Typically we stock up on a bunch of different squash just as the season is ending and keep them to eat through the winter. They make great additions to soups and stews or make a great vessel for stuffing, like our Rice Pilaf Stuffed Acorn Squash.
Butternut Squash Vegetarian Pot Pie
Today, we've combined sweet and nutty butternut squash and earthy lentils in a hearty vegetarian pot pie with a whole wheat crust.
The filling is a bit unconventional if you are used to chicken or turkey pot pies, but even though it's a vegetarian pot pie, the lentils make this an incredibly heartym stick-to-your-ribs kind of dish.
We used two 5″ x 2″ casserole dishes when we baked this up. If you'd like to use a single dish, a 1 – 1 1/2 quart casserole dish should do the trick, and the crust recipe here should have you covered as well.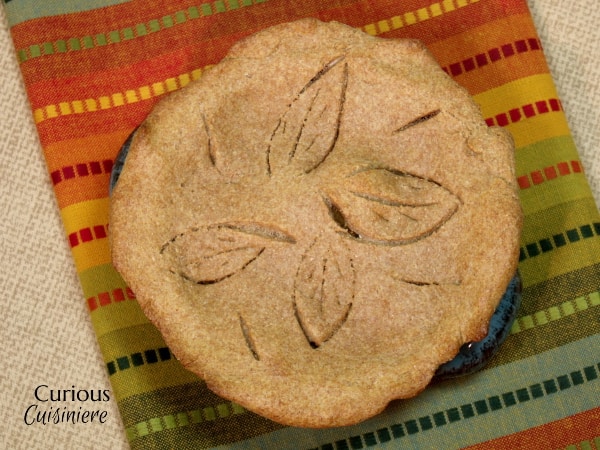 Butternut Squash and Lentil Vegetarian Pot Pie
A hearty vegetarian pot pie filled with sweet and nutty butternut squash and earthy lentils. Perfect for a cool fall evening.
Yield 2 (5x2 inch) pot pies
Ingredients
Lentil Prep
½

c

lentils,

dry

1

c

water
For the Crust
½

tsp

salt

¼

c

unsalted butter,

cold

¼

c

sour cream

3

- 4 Tbsp

water,

ice-cold
For the Filling
1

onion,

diced

4

c

butternut squash,

peeled and cut into 1/2" cubes (roughly 1/2 a medium squash)

2

Tbsp

whole wheat flour

1

tsp

rosemary,

whole

½

tsp

ground white pepper

¼

tsp

sage

¼

tsp

salt

Dash

whole fennel seeds

(5-7 seeds)

3

Tbsp

white wine

(Dry or fruity will work here, they will just give a slightly different flavor to the pie.)

¾

c

vegetable broth

(we prefer low sodium)
Instructions
Lentil Prep
In a small saucepan, combine lentils and water. Cover and bring to a boil. Reduce heat and simmer 10-15 min, until lentils are just barely tender. Remove from heat.
For the Crust
While the lentils are cooking mix flour and salt in the bowl of your food processor. Process to mix.

Add butter and pulse until evenly distributed in small chunks.

Add sour cream and pulse until combined.

Add water, one Tbsp at a time, pulsing after each addition, just until the crust dough becomes sticky enough that it will hold together without crumbling or tearing when pressed. (It took 2 Tbsp for us.)

Remove the dough from the processor and press into a ball. Wrap with plastic wrap and chill while continuing on with the filling.
For The Filling
Preheat oven to 400F.

In a large, non-stick frying pan, heat onions until they begin to soften (4-5 min). (If they begin to stick add 1 Tbsp water.)

Add squash to the onions and continue to cook 5-7 min, until the squash begins to soften.

Add flour and seasonings. Stir until combined.

Pour in vegetable broth and wine. Mix well, scraping the bottom to deglaze any stuck bits. Bring mixture to a simmer.

Add warm lentils (along with any extra water) and give the mixture a bit stir.
Finishing off the Vegetarian Pot Pies
Place your casserole dish(es) on a foil, lined baking sheet.

Ladle filling into your casserole dishes.

Take the pie crust ball from the fridge and roll out, on a lightly floured surface, to about a 1/8 inch thick. (It should be approximately a 10-11" round.) Cut out the shape you need for your top crust and cut some vent holes. (This is easier to at least start while the crust is not over top of a soft filling.)

Spray the top edge of your casserole dish with cooking spray, so your crust doesn't stick.

Gently, using a spatula or bench knife, move the crust to top filling. (You can gently make adjustments to your vent holes or decorations now.) Crimp edges if desired.

Bake pies for 25-30 min, until the crust is golden and you can hear the filling bubbling.

Let stand 5 minutes to cool and absorb any excess moisture before serving.
Nutrition
Calories:
369
kcal
|
Carbohydrates:
61.4
g
|
Protein:
12.7
g
|
Fat:
8.1
g
|
Saturated Fat:
4.6
g
|
Cholesterol:
18
mg
|
Sodium:
636
mg
|
Fiber:
11.9
g
|
Sugar:
5
g
If you liked this recipe, here are some similar dishes you may enjoy!