This Wheat Berry Bread is a soft, yet hearty bread that reminds us of Germany with its deep, malty sweetness and nutty, soaked wheat berries.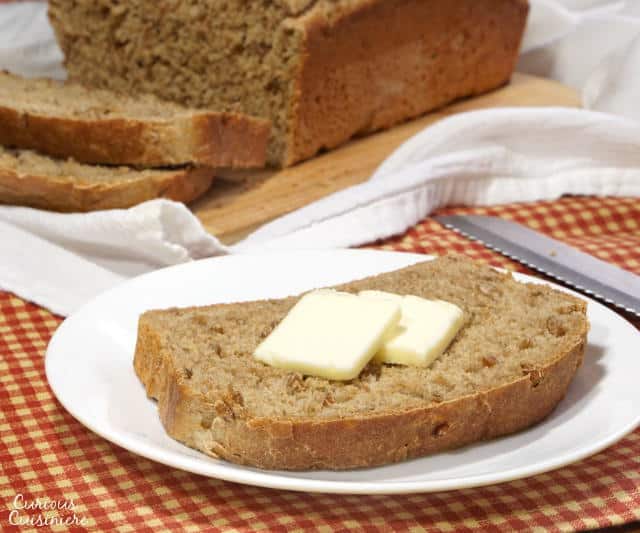 With the hearty foods Germans are known for and their love affair with the liquid version of grain, it would come as no surprise that Germans are big on their bread as well.
Classic German Bread
Typical German bread is very hearty and crusty; what we in the States would classify as artisan bread. During the time Tim and I spent there, we found a lot of rye bread, sourdough-style, and grainy breads.
What we have for you today isn't quite a traditional German bread, however we have taken a nice grainy bread and kicked things up a notch, by simmering the wheat berries in a mixture of honey and a dark German beer.
What is a wheat berry?
Wheat berries are the whole wheat kernel, and they look similar to thick rice grains or barley. Flour is ground from these guys, but for flour to keep all the fiber, protein, and iron that is jam-packed into each little berry, the flour needs to be simply the ground berry, with nothing added or taken out. Once you start messing with nature, bad things start to happen.
But, enough about flour for now. Wheat berries are incredibly hard (think a grain of rice), but when you soak them, they become tender and chewy with a nutty and earthy flavor. Many people will use them like barley or rice for pilafs or breakfast dishes, but they do take a lot of cooking to reach their tender state.
Our Soaked Wheat Berry Bread
Soaking the wheat berries overnight before using them in the bread gives them a nice, chewy texture while infusing the berries with the sweet flavor of honey and the malty depth of the beer.
This is a hearty bread, nutty from the wheat berries and with a light, malty sweetness from the beer. It reminds us of some of the lighter breads we had while we were in Germany, and it is great with a hearty breakfast, or accompanying a winter soup or stew.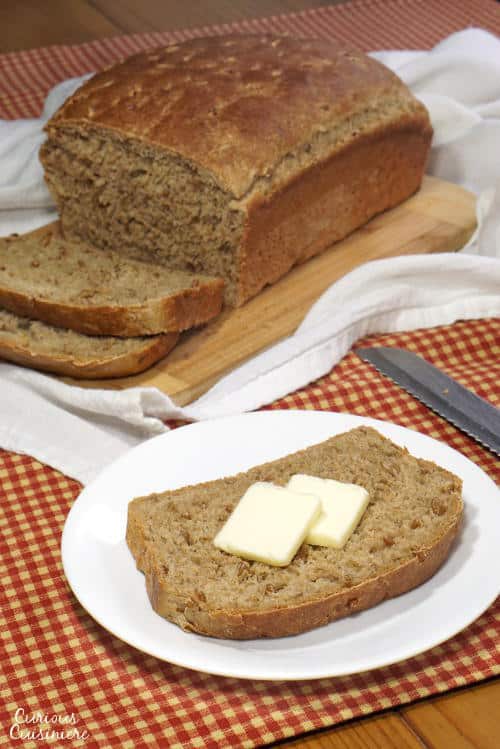 Soaked Wheat Berry Bread
Prepare the wheat berries for this recipes a day in advance and let them soak overnight in the refrigerator.
Yield: 1 (9x5) loaf
Instructions
At least 6 hours before you want to make bread
In a medium saucepan, combine wheat berries, beer, and honey. Bring the mixture to a boil. Simmer, covered, over medium-low heat for 1 hour, stirring occasionally and adding water is needed. Remove the berries from heat. Let the mixture cool and then let the berries soak for 6-12 hours in the fridge.
Making the bread
Drain the liquid from the soaked wheat berries into a liquid measuring cup. Add enough water to equal 1 cup. Warm this mixture to 90-100⁰F.

Place this liquid mixture into a large bowl. Sprinkle the yeast over the liquid and let it stand for 5 minutes until soft and foamy.

Add the milk, melted butter, whole wheat flour, wheat bran, wheat gluten, and the drained wheat berries. Mix until combined. Add ½ c all purpose flour, and mix to combine. Cover and let set until bubbly, 20-40 min.

Add the salt and remaining all purpose flour ½ cup at a time until a soft dough forms.

Turn dough out onto a lightly floured surface and knead until smooth (10-15 min).

Shape dough into a ball and place it into a well-greased bowl, turning to coat the dough in oil. Let the dough rise in a warm, draft-free place until doubled (30-40 minutes).

Knock back the dough, shape it into a log, and place into a greased loaf pan. Cover and let rise again until doubled (30-40 minutes). (The dough is ready to bake when lightly pressing the side of the loaf with your finger leaves an imprint rather than springing back.)

During the last 10 minutes of rising time preheat the oven to 375⁰F.

Bake the bread for 30-35 minutes, or until the bread is golden and sounds hollow when tapped.

Remove the bread from the oven. After 5 min, remove the bread from the pan to let cool on a wire rack.

Bread will keep in an air-tight container on the counter for 4-5 days.
Notes
This recipe from 2013 was updated in August 2016. We made a few tweaks to make the bread even better. Enjoy!
---
Like we mentioned, this is one of the recipes from the early days of Curious Cuisiniere.  We've left these original images here as a testament to how far we have come. Enjoy the throwback!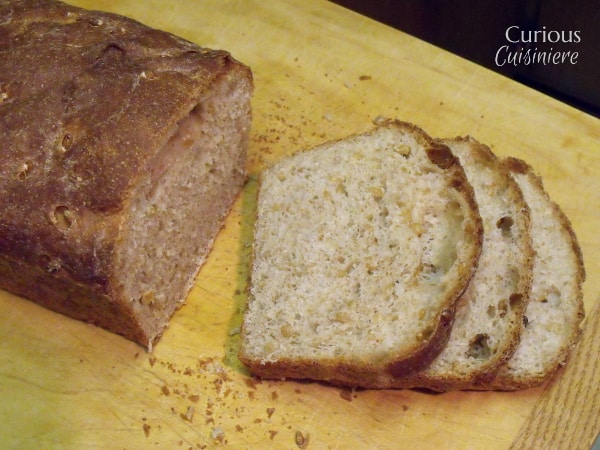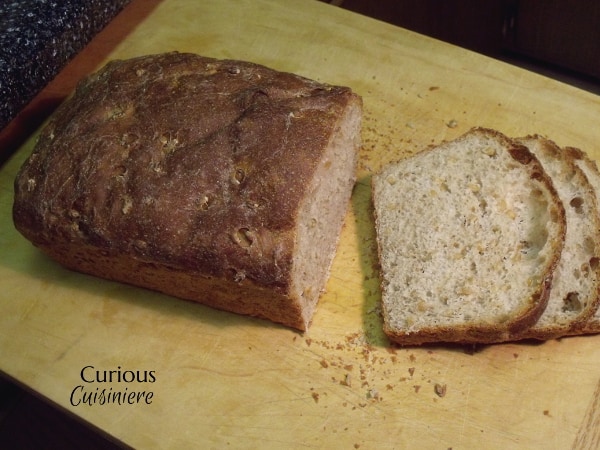 If you liked this recipe, here are some similar dishes you may enjoy!