Ensalada Nochebuena is a bright and colorful Mexican Christmas Eve Salad full of seasonal vegetables and fruits. It's the perfect light and festive addition to your Christmas table! 

How Is Christmas Celebrated In Mexico?
Christmas in Mexico is not just a day or two of festivities, but rather, it is a season that begins on December 12th with the Feast of Our Lady of Guadalupe and ends on January 6th with the Epiphany.  
For the nine days before Christmas, children perform nightly Posada processions.
"Posada" is the Spanish word for "lodging" or "inn", and these processions remember the journey of Mary and Joseph and their search for somewhere to stay in Bethlehem.
Nochebuena: Mexican Christmas Eve Celebrations
Christmas Eve ("nochebuena", or "the good night", in Spanish) is time for the final Posada, followed by a large family meal in the evening. After the meal, many families will go to midnight Mass (which is called "Misa de Gallo" or "Mass of the Rooster", because it is said that the only time a rooster crowed at midnight was on the night Jesus was born.
At midnight, church bells ring and fireworks are set off to announce the celebration of the birth of Christ.
Traditional Foods For The Mexican Christmas Eve Meal
In Mexico, Christmas Eve is the time for the big Christmas meal.
The centerpiece of the meal may be a large roast turkey or a roasted pork leg.
You will always find tamales on the table. These labor-intensive treats are reserved for special occasions and holidays.
It is also common to serve a soup on Christmas Eve, like pozole or a salt cod soup called bacalao.
There are plenty of festive drinks like chocolate atole and Christmas punch. And, of course, there are desserts like bunelos (crispy fried dough), sweet tamales, or wedding cookies.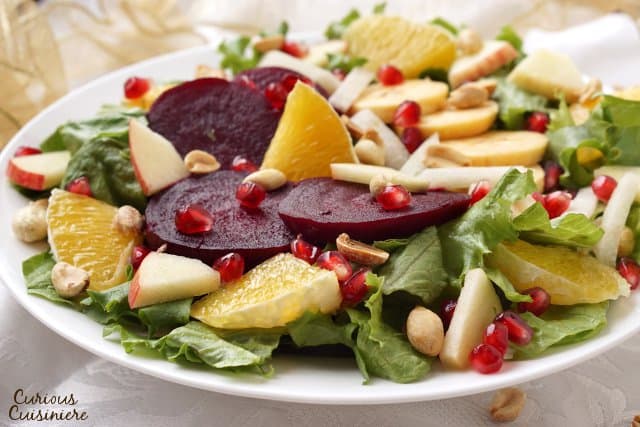 Mexican Christmas Eve Salad
A side dish that you will find on nearly every Mexican Christmas Eve dinner table is Ensalada Nochebuena, or Christmas Eve Salad.
This salad is a wonderful blend of in-season fruits and vegetables that creates a bright and beautiful display on the table.
There are many different versions of this salad, depending on the region of Mexico and the individual preferences of the family. But the concept is always the same: fruits and vegetables layered together with a smattering of nuts (or seeds) and a citrus dressing.
Most versions of this Christmas Eve salad start with a green lettuce base, which is then topped with layers of beets, jicama, apples, oranges, and other seasonal produce.
It is common to find variations using plantains, bananas, pineapples, pomegranates, and more.
Everything is topped off with peanuts or pepitas for an extra crunch.
A light dressing of citrus (typically orange) juice, sometimes with fresh herbs like mint or cilantro brings the fresh ingredients together. (Sometimes a little Mexican crema is mixed in to the dressing to make it slightly creamy.)
What Is Jicama And What Does It Taste Like?
While most of the ingredients in Ensalada Nochebuena are pretty familiar to us in the States, there are two that we don't typically cook with: jicama and plantain.
Jicama (HEE-kah-mah) is a crisp and nutty tuber. It is round, with a slightly tough brown skin, but once peeled (with a knife or a vegetable peeler) it brings a juicy crunch to salads and other dishes that it is used in.
Some people describe jicama as a 'savory apple". And that's a pretty good description. It is juicy and crisp, like an apple. But with a light sweetness that is closer to a water chestnut. (And, as a bonus, jicama flesh won't discolor the same way an apple will.)
When choosing jicama, looks for roots that are dry and unblemished with smooth, evenly colored skin.
Our grocery store carries jicama in the produce section near the fresh ginger root and fresh horseradish roots. If your grocery store doesn't carry it, try a more specialty grocer or a Latin American or Asian market.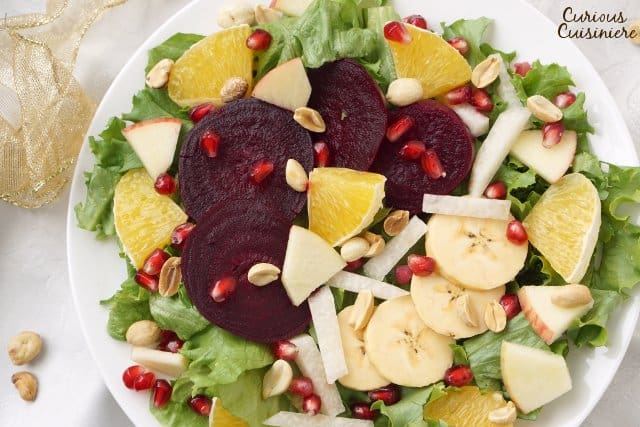 What Is The Difference Between A Plantain And A Banana?
Plantain is a relative of the banana, but they are starchier and lower in sugar than their banana relative. And while  still a fruit, they're typically cooked and used in more savory dishes.
You can often find plantains at your grocery store near the bananas. Just look for what looks like a banana, but bigger, with thicker skin, and possibly green (or brown), not the classic even yellow.
How To Choose A Plantain
When plantains are green they are actually fully ripe (not like green bananas). Green plantains are starchy and have a flavor similar to a potato.
When plantains have ripened to yellow, they have a slightly sweeter flavor.
When black, the plantains are sweetest and best used for a dessert or other sweet application.
So for our recipe today, we'll be looking for a yellow or black plantain, since we'll be eating it raw and want a light sweetness.  
Our Ensalada Nochebuena Recipe
We always love an excuse to grab a plantain or jicama, so we decided to use them in our Christmas Eve Salad.
If you can't find them (or don't want to), you can always substitute a banana for the plantain and water chestnuts for the jicama. Or, you can omit them all together.
That's the nice thing about this salad! It's the perfect playing ground for your favorite winter produce!
Ensalada Nochebuena (Mexican Christmas Eve Salad)
Ensalada Nochebuena is a bright and colorful Mexican Christmas Eve Salad full of seasonal vegetables and fruits.
Ingredients
For The Salad
½

head

romaine lettuce,

chopped

2

medium

beets,

boiled, peeled and sliced*

1

very ripe

plantain

(yellow with black spots), sliced (optional) or a banana

1

c

jicama,

peeled and diced (optional) or water chestnuts

1

large sweet

apple,

sliced into wedges

1

large

orange,

peeled and sectioned

½

c

peanuts,

unsalted

1

c

pomegranate arils

(seeds)
For The Dressing
¼

c

orange juice

2

Tbsp

red wine vinegar

1

Tbsp

olive oil

1

Tbsp

fresh mint

or 1 tsp dry mint

⅛

tsp

salt

Honey or sugar

(to taste)
Instructions
On a large serving platter (or in a clear salad bowl), place the chopped lettuce.

Layer the sliced beets over the lettuce.

Layer the remaining fruit and vegetables over the lettuce as desired, using a combination of sliced and diced ingredients (for visual interest).

Top the salad off with a sprinkling of peanuts and pomegranate arils.

In a small bowl, combine dressing ingredients.

Drizzle the dressing over the salad just before serving.*
Notes
*To Boil The Beets. Place whole, unpeeled beets in a saucepan and cover with water. Bring to a boil and simmer for 20 minutes, until tender when tested with a fork. Remove the beets from the water and let cool to touch. Peel the beets by rubbing the skins vigorously with a paper towel. Slice the cooked and peeled beets to use in the salad. (Careful, the beet juice will stain!)
Because of the staining nature of beet juice, it is best to keep this salad nicely layered until serving. Once the salad is tossed, everything takes on a festive pink hue from the beets!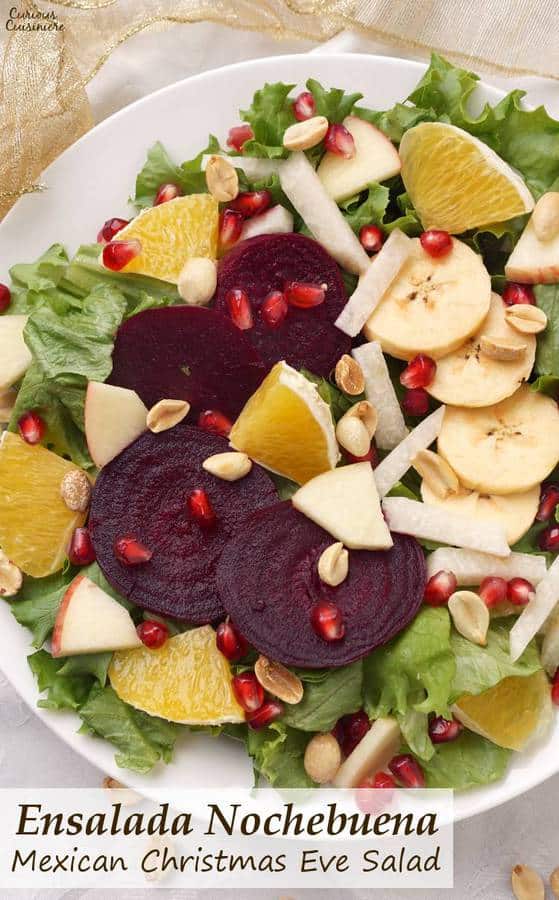 If you liked this recipe, here are some similar dishes you may enjoy!